How to buy a smart lock
Adding some intelligence to your home security system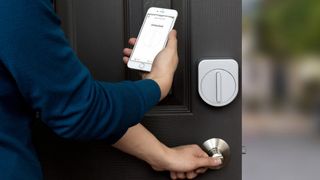 (Image credit: Wikimedia)
How to choose
This is part of a regular series of articles designed to guide you through the process of buying a particular device or type of product. Read them all here.
Smart locks are a great way to bring safety and convenience to your home. They can be configured to automatically lock and unlock depending on your location (or rather, the location of your smartphone), controlled remotely, and even grant guests temporary access.
As well as being a great example of voice-controlled tech that makes you feel like you're living in the future, smart door locks are helpful for disabled users who can unlock the door and welcome a guest into their home without getting up.
The best smart locks also work with the best smart speakers and integrate with several smart home platforms. They can team up with security cameras and video doorbells to create a system that alerts you to a visitor and interact with that visitor, including letting them in to your home, all from your smartphone. In other words, they're among the best smart devices to invest in, if you're looking to "smarten" your space.
And, contrary to what you might think, most smart door locks are easy to install. They are designed to fit in the space left behind by your existing lock, and some can even still be used with your existing deadbolt – handy for when the landlord needs to visit or you forget to replace the lock's batteries.
Speaking of which, smart locks are usually run on AA batteries, which power a mechanism that turns the lock. These will need replacing every so often, so you need to keep tabs on their remaining life. Your door won't suddenly fly open the moment the batteries run out, because their power is only used to move the mechanism, not to keep the door locked. In other words, these locks can be just as safe as what's already fitted to your door.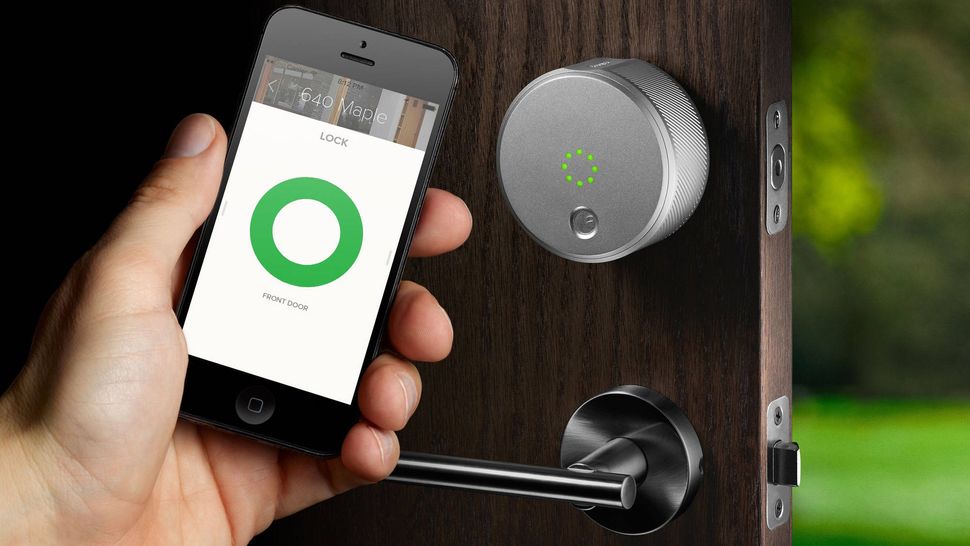 What to look for
Your first consideration should be the style of deadbolt your current lock has. This, along with the design of the lock, latch, handle and door itself will determine what type of smart lock is best for you. In some cases, you might have a door, deadbolt and latch that aren't compatible with any smart lock currently available.
Compatibility also varies by country, with smart locks generally geared towards the locks, latches and handles of US doors. These can also work in the UK and Europe, but be aware that not all smart locks available today are compatible with all types of regular lock.
Once you have identified the deadbolt style of your door, it's time to look at smart lock features and design. Some smart locks are much larger than others and can be quite bulky, especially on the interior side of the door. Others are available in a range of colors and finishes to help match the decor of your home.
Some models, like the Google Nest x Yale Smart Lock, have a numerical keypad on the outside, allowing you to unlock the door by punching in a code, as well as via a smartphone app. With this lock it's also possible to create unique access codes for one-time or occasional visitors. For example, you can create a code for an emergency plumber to gain access to the property while you're away, then disable that code after they've left.
Other options, like the August Smart Lock Pro, replace the deadbolt but retain the external components from your old lock. This means the keyhole remains and can still be used, alongside the option to have the smart lock open via an app, or even as you approach the door.
We also recommend checking which smart home systems the lock is compatible with. The smart lock by Nest and Yale only works with Google's Nest platform, whereas the Schlage Sense Smart Lock is compatible with Apple HomeKit, Alexa and Google Assistant, but not SmartThings. Smart locks can be used independently, but there are benefits to having a lock that communicates with other smart home devices.
What specs do you need?
Generally speaking, smart locks are rather simple devices. The major specifications to look out for are the deadbolt style, dimensions, power and compatibility. They all function in a broadly similar way, by offering control of your door lock via smartphone app, voice command or automation.
Beyond the physical compatibility of the lock, you'll want to look at the design and the connectivity options. Does it look good on your door? Does it work with any smart home devices you already own? Can it be configured to work the way you want it to? Will it respond to your voice assistant of choice?
Wireless connectivity is also a factor to consider. Some smart locks connect to your phone via Bluetooth, while others, like those from August, rely on a Wi-Fi bridge which talks wirelessly to the lock and also hooks up to your router for an internet connection. Thankfully for August Smart Lock Pro buyers, the bridge is included.
Those looking to future-proof their smart home should also consider Matter support. Matter is a new smart home standard that, while still far from commonplace, has the potential to help lots of different devices speak the same wireless language.
It aims to bridge the gap between Amazon Alexa, Google Home, Apple HomeKit and Samsung SmartThings. The Yale Assure Lock SL and Aqara Smart Lock U100 are compatible with Matter, and other smart locks should gain support in the near future too.
Should you wait for deals?
Smart door locks are on a far slower release cycle than annually-updated smartphones, so their price fluctuations are harder to predict.
That doesn't mean they don't get discounted though, and you should definitely pay attention to the big annual sales events like Amazon Prime Day, Black Friday and Boxing Day; if any of those are on the horizon, wait it out and see if those smart lock prices take a tumble.
Away from the big sales events, do your research and check the age of the smart lock you're interested in. If it's several years old then there's a chance a new one will be along soon. That said, these are the kind of device where innovation happens infrequently, and any smart lock bought today will feel like a serious upgrade on the centuries-old key in your pocket.
Our top picks
The best smart lock overall
Specifications
Deadbolt style:
Replacement
Dimensions:
Exterior: 2.59" x 4.59" x 0.08" / Interior: 2.78" x 7.03" x 2.02"
Power:
4xAA batteries (included)
Reasons to buy
+
Stylish
+
Responsive
+
Simple to use app
Reasons to avoid
-
Only works with other Nest smart home devices
-
Quite expensive
-
No feedback to confirm unlocking
Our favorite smart lock, the Nest x Yale is well designed and with a great app that's easy to use. The lock works by you punching in a code on the illuminated keypad to unlock, then the door is locked with a press of the Yale logo.
If you want more functionality, including an internet connection for control from afar – handy for letting in the cleaner while you're on holiday, for example – you'll need to also buy the $30 Nest Connect hub.
This also connects the door lock to other Nest devices and lets you build a smart home system driven by the Google Assistant and Google Home app. The lock only connects to other Nest devices, however, so if you're building an Alexa or Apple HomeKit smart home and want a compatible door lock instead of one that operates in isolation, you're best looking elsewhere.
We like how the Nest lock has a more streamlined design than some rivals, and how it is super-easy to set up. It's also well designed and available in a few different colors, including Satin Nickel, Oil Rubbed Bronze and Polished Brass.
Read the full Nest x Yale Smart Lock review
The best budget smart lock
Specifications
Deadbolt style:
Replacement
Dimensions:
Exterior: 3" x 5" x 1" / Interior: 3" x 8" x 2"
Power:
4xAA batteries (included)
Compatibility:
Apple HomeKit, Amazon Alexa, Google Assistant
Reasons to buy
+
Easy to install
+
Generate codes for guest access
+
Works with HomeKit, Alexa and Google Assistant
Reasons to avoid
-
Very large on interior side
-
App is fiddly to use
-
Not compatible with SmartThings
Smart locks aren't just about unlocking the door without rummaging in your bag. Thanks to their internet connection they can also be used to grant temporary access to visitors.
This smart lock from Schlage lets you generate codes for guests to use instead of a key, making it easy for a friend to check in on the cat while you're away. The codes can then be deleted afterwards.
We also liked how easy this lock was to install, and how it works with Alexa, Google Assistant and Apple's HomeKit smart home platform. This means you can use other devices, like your Apple TV or Amazon Echo smart speaker, to unlock and lock the door. That might sound a bit niche, but if you've also got a HomeKit-compatible security camera or video doorbell, it means you can be alerted to a visitor, see who they are, speak to them and let them in, all without leaving the sofa.
The Schlage isn't perfect though, as we're less keen on how bulky the interior side of the lock is, and how the smartphone app is fiddly to use. It is also worth noting that this lock does not work with the SmartThings ecosystem, so users of that smart home platform should look elsewhere.
Read the full Schlage Sense Smart Lock review
The best premium smart lock
Specifications
Deadbolt style:
Replacement
Power:
4xAA batteries (included)
Compatibility:
Apple HomeKit, SmartThings, Google Assistant, Amazon Alexa
Reasons to buy
+
Sleek, discreet design
+
Works with existing keys
+
Bundled with Wi-Fi bridge
Reasons to avoid
-
Expensive compared to others
-
Much bigger than cheaper August lock
-
App can be slow to respond
August makes premium smart locks with great aesthetics and a quality finish, and the company's Pro model is our favorite premium smart lock. Compatible with HomeKit, SmartThings, Google Assistant and Alexa, the August Smart Lock Pro comes bundled with the company's Wi-Fi bridge, so it's easy to setup and connect to your existing smart home system. The design means it can still be used with your existing keys – handy if you forget to replace the batteries before they run dry, or your landlord wants to visit.
We love the sleek and discreet design of this lock, and how it automatically unlocks the door when you (or rather, your smartphone) gets within about 25 feet, granting you keyless access. Our reviewer also praised how responsive the lock is, and how good the August app looks.
We're also fans of how the 'smart alerts' system sends your phone a notification when the August locks or unlocks, and also when the door is left ajar. However, this lock is pretty expensive compared to other models and although the app is nicely designed it can sometimes be a little slow to respond.
Read the full August Smart Lock Pro review
Sign up for Black Friday email alerts!
Get the hottest deals available in your inbox plus news, reviews, opinion, analysis and more from the TechRadar team.
Alistair Charlton is a freelance technology and automotive journalist based in London. His career began with a stint of work experience at TechRadar back in 2010, before gaining a journalism degree and working in the industry ever since. A lifelong car and tech enthusiast, Alistair writes for a wide range of publications across the consumer technology and automotive sectors. As well as reviewing dash cams for TechRadar, he also has bylines at Wired, T3, Forbes, Stuff, The Independent, SlashGear and Grand Designs Magazine, among others.