How to buy a coffee maker
Whether you're after incredible espressos, luscious lattes or chilled cold brew, here's how to find the perfect coffee companion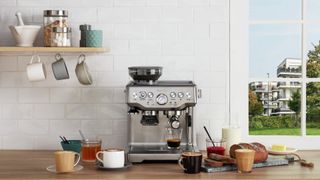 (Image credit: Breville)
Sometimes we imagine life without coffee and it scares us. So you probably won't be surprised to discover that we take our coffee very seriously, and that means we've tested an awful lot of coffee makers. Whether you're looking for something cheap and cheerful or fancy becoming your own barista, there are lots of models to suit every kind of coffee, every kind of kitchen and every kind of coffee aficionado.
If you're in a hurry and just need quick recommendations, our current favorite coffee machines are the Breville (Sage in the UK) The Oracle Touch, the Breville The Barista Express Impress, and the Pixie by Krups. But if you take your coffee seriously you might want to look in a bit more detail before deciding what to buy, and that's why we've put this guide together for you.
How to choose
This is part of a regular series of articles designed to guide you through the process of buying a particular device or type of product. Read them all here.
So how do you choose yours? First of all, we need to explore the different kinds of coffee machines that you can buy. Although there's often some overlap between different categories, especially when you spend a bit more money, most machines fall into one of four key coffee categories.
The first kind of coffee maker, and one of the simplest, is the drip coffee maker. That has a funnel where you put a filter and ground coffee; hot water then drips through the coffee and into the jug or mug on the hotplate below. Jug-based coffee makers are good for making multiple cups simultaneously, but leave the coffee on the hotplate for too long and you can end up with sour, stewed coffee of the kind that many office workers and canteen visitors are all too familiar with.
The second kind of coffee maker is the pod coffee maker, which again is very simple but is even more convenient: instead of ground coffee you simply pop in a coffee pod. Pods are available in a wide range of varieties for all kinds of drinks, and the key brands here are Dolce Gusto and Nespresso. One of the big benefits of pod machines is that because each pod is a single serve, you can easily make different drinks for different people without having to clean out the machine and refill it with grounds or beans for each variety.
Next, we have the espresso machine. This looks very much like the ones you see in coffee shops and works in the same way: it creates a hockey puck-shaped lump of coffee and blasts highly pressurised hot water through it to produce a thick espresso. That espresso can be drunk solo, doubled up for extra strength or used as the base for creamy coffees such as lattes and flat whites. The resulting coffee is great but espresso machines are a little more complex and fiddly – and typically need a little more cleaning – than other kinds of maker.
Finally, there's the bean-to-cup coffee maker. These are usually espresso machines too, but they have a crucial extra part: a coffee grinder to grind your chosen beans fresh for each cup. Some bean-to-cup machines are completely automated and do everything including frothing up the milk, but others focus solely on the coffee and provide a steam wand for you to do the frothing.
As a rule of thumb, drip and pod coffee makers are the cheapest and simplest but espresso and bean-to-cup coffee makers make coffee that's closer to, and in some cases indistinguishable from, the best coffee you can buy from a barista.
Although the vast majority of coffee machines are electrical, it's always worth mentioning the Aeropress: it's a coffee press into which you put coffee grounds and hot water (or cold water if you're a fan of cold brew). It uses air pressure – provided by you pushing down on it – to push water through the coffee to extract flavor, and its built-in filter means you don't get gritty results. It's a great device that's handy for travel too, and costs from $39.
What to look for
First of all, you need to decide what kind of coffee you prize.
If you want barista-style coffee, you'll want an espresso machine – and if you don't want to do barista-style work, you'll want a bean-to-cup model.
If you like speed, simplicity and being able to try lots of different coffees whenever you fancy, a pod-based machine is made for you.
If you want to make coffee as easily and cheaply as possible, a drip coffee maker will be just the trick.
And if you want the freshest possible coffee, you'll want to make it from beans rather than from pre-ground packed coffee – and that means you'll need either a bean-to-cup machine or an espresso machine and a grinder.
Secondly, you need to decide how much coffee you're going to drink and whether you'll be in a hurry to drink it. A drip maker with a big jug makes a lot of coffee but is best suited to multiple drinkers; pod and bean-to-cup machines are better for single serves. Espresso machines can be slightly more fiddly, depending on the model, but they typically heat up very quickly.
Two key features to consider are water tank capacity – smaller means more frequent refilling – and brewing time. A drip coffee maker can take 10 minutes to brew or even more for larger capacity models; a bean-to-cup, pod coffee maker or espresso machine can heat up in seconds.
Another factor to consider in pod, espresso and bean-to-cup machines is water pressure. Around 9 bars is the sweet spot for espresso but some roasters will recommend higher pressures for some of their beans or blends. The higher the pressure, the faster the flavour (in theory at least) can be extracted – but there are other variables, such as how finely ground your coffee is and whether the machine is delivering consistent pressure or if that pressure starts to tail off when the water starts to flow, which means the actual pressure you get is far less than the headline pressure stated by the manufacturer. This is an area where reading reviews is crucial.
Something else to consider is cleaning and maintenance. All coffee machines will need to be descaled from time to time, a process that's essentially just running a few cycles with a descaling solution in the water tank and then flushing it with clean water. But other cleaning will differ depending on the kind of coffee maker you buy. With drip coffee makers it's really just a matter of emptying the filter and giving the area a quick rinse every day; bean-to-cup machines typically have an internal compartment for coffee grounds so you can empty that and the drip tray every day and give it all a quick wipe. Espresso machines, particularly ones with steam wands, tend to be the messiest: they're not hugely messy but will require a bit more time to clean than enclosed coffee makers.
There's another cleaning issue to consider with integrated milk frothers: you'll need to clean any leftover milk from the frother's inside and outside every day to avoid unpleasantness. Most such frothers will have a clean setting on their controls that'll push steam through them to keep the insides clean, and it's important that you use it daily.
What features do you need?
Do you take milk? Drip coffee makers rarely have milk frothers so you'll need to do that separately. Many espresso and bean to cup machines have built-in milk frothers or steam wands, aka cappuccinatores; the former is faster and less messy but you'll need to clean it properly; the latter is more entertaining. In many coffee makers with a steam wand, you can also use it to dispense hot water so you can make tea and other non-coffee hot drinks too.
Cheaper machines tend to have a one-size-fits-all approach to coffee: there's a single strength setting. More expensive, more complex ones enable you to adjust the strength – typically by changing the pressure and, if they also grind the beans, the coarseness or fineness of the grinding. The most advanced coffee machines often do this electronically via touch-screen displays but more classic designs have manual controls.
Most coffee makers are designed to make hot drinks, but if yours can make espresso then it can make iced coffee too: it's just a matter of pouring your coffee, typically an espresso, over ice.
Cold brew coffee – coffee made with cold water in order to reduce its acidity – is more complex, however, and usually takes hours. Some automatic coffee makers can deliver something close to cold brew in much less time: for example, some premium De'Longhi coffee makers have a five-minute cold brew feature that uses lower pressure and room temperature water and which is designed to then be poured over ice.
That pseudo-cold brew method is ideal for most people, but if you're determined to get the real thing then there are plenty of dedicated cold brew coffee makers around. One of the better options is from OXO's Good Grips range, the OXO Brew: that's around $65 and takes 12-24 hours to produce cold brew coffee, which can then keep for up to two weeks in the fridge. It also works with hot water to create normal coffee. As ever with OXO its version is a little more expensive than many rivals but it's typically well made, smartly designed and built to last.
Should you wait for deals?
Unless the coffee maker you have in mind is a newly released model, yes. Coffee makers seem rather like the best TVs in that unless you're buying the very latest model shortly after it launches, the recommended retail prices are often much higher than the price you'll end up paying if you shop around or wait for a deal. And this is a good time of year for deals, as we have Black Friday and Cyber Monday coming soon and the post-Christmas sales not long afterwards.
Because coffee makers are such popular products they're usually at the forefront of Black Friday deals and other big sales events; this year's Black Friday coffee maker deals have already begun. At the time of writing (mid-October) we're already seeing up to 50% off Nespresso machines; During Amazon's early October Prime Big Deals Days we saw huge discounts on De'Longhi La Specialista coffee makers, Breville Baristas and many others. The discounts on mid-range and premium coffee makers during such events can be very large indeed.
Our top picks
The best bean-to-cup coffee maker for most people
Specifications
Type:
Bean to cup machine
Tank capacity:
84.5 fl oz / 2.5L
Reasons to buy
+
Excellent, consistent espresso
+
Automatic dairy and alternate milk frothing
+
No experience needed
Reasons to avoid
-
No pro-size 58mm portafilter
-
Full-manual machines cheaper
Breville's (Sage in the UK) top-of-the-range coffee maker is eye-wateringly expensive but it's our current favorite bean to cup machine. The coffee it makes is incredible, the touch screen makes it easy to customize your brew and it's exceptionally easy to use. It's also the most expensive machine of its kind we've tested, with a sticker price of $2,799. Provided you can afford it, we think this is the best coffee maker for delivering barista-quality coffee without requiring barista-level skills.
The Oracle Touch is similar to the original The Oracle, with automated grinding, dosing, and tamping, as well as automated milk texturing. This Touch model adds touchscreen control for even simpler use.
Using separate boilers for milk and coffee, the Oracle Touch produces enough steam pressure to create that ever-elusive micro-foam. We also tested the steam wand with soy milk, and not once did it curdle or split, as is often the case in coffee shops. Digital thermometers cut off the steam to stop the milk from scalding. All you have to do is pour it.
There's no getting away from the high price, but if you love good coffee and know you'll get a lot of use out of it, it's hard to find a downside other than its comparatively large size.
Read our full Breville/Sage The Oracle Touch review
Our favorite Nespresso coffee maker
Specifications
Tank capacity:
0.7L / 0.74qt
Reasons to buy
+
Compact
+
Easy to use
+
Inexpensive
Reasons to avoid
-
No milk frother
-
Only two drink choices
-
Parts aren't dishwasher safe
The best Nespresso machines are perfect for coffee lovers who'd rather not have the wait, the effort or the mess of more traditional coffee makers. And right now the best of the bunch is the cute Pixie by Krups. It'll have your coffee ready in well under a minute from a cold start, it's really easy to use and it produces consistently great coffee.
The Pixie offers two coffee options, espresso or lungo (this is larger than an espresso, but still a small strong coffee at just 3.9 fl.oz/ 110ml). It doesn't feature a milk frother or any other settings, so this won't be a machine for everyone. That said, with the addition of a separate milk frother, you can create virtually any espresso-based drink you can think of.
On test the Pixie proved to be easy to use, offering a hassle-free way of making a morning coffee. But this is a machine for those who value convenience. If you're looking for the best possible coffee flavor, you'll need a machine that grinds beans to order. Having said that, this pod machine will give you consistent and perfectly drinkable coffee without any mess, or the need for any barista skills.
Read our full Pixie By Krups review
The best espresso machine
Specifications
Tank capacity:
2L / 2.1qt
Reasons to buy
+
Integrated burr grinder with 35 grind settings
+
Fun to make barista-style coffee at home
+
Beautifully designed
Reasons to avoid
-
Large on the worktop
-
No option for ground coffee or pods
-
Water tank isn't as large as we'd like
It's another win for Breville/Sage here: the Barista Express Impress is our favorite espresso machine thanks to its integrated conical burr grinder with 25 grind settings, its gorgeous design and of course, its excellent espressos. This is very much one for would-be baristas and other coffee aficionados; there are simpler and more affordable options for excellent espresso, but this one is far and away the most fun to experiment with.
The key feature here is the Impress Puck System, which is designed to make it easier to get the right amount of coffee. It achieves that with a smart dosing system that calculates exactly how much coffee is required, and it has Assisted Tamping to compress the grounds with the same amount of pressure that a real barista would use. The result is a cleaner, more accurately measured coffee puck.
That precision also helps with cleaning: it's considerably less messy than many espresso makers. In our tests we found that a simple wipe of the steam wand and emptying the drip tray was all we needed to do each day.
Read our full Breville The Barista Express Impress Review
Sign up for Black Friday email alerts!
Get the hottest deals available in your inbox plus news, reviews, opinion, analysis and more from the TechRadar team.
Contributor
Writer, broadcaster, musician and kitchen gadget obsessive Carrie Marshall (Twitter) has been writing about tech since 1998, contributing sage advice and odd opinions to all kinds of magazines and websites as well as writing more than a dozen books. Her memoir, Carrie Kills A Man, is on sale now. She is the singer in Glaswegian rock band HAVR.