The REM-Fit 1000 Hybrid mattress is a budget-friendly mattress that offers a comfortable sleeping experience. It's not perfect, but it delivers a lot for the very affordable price. The medium-firm feel is ideal for side-sleepers, and the motion isolation is top notch, making it a great choice for those sharing a bed. However, it sleeps warm and the edge support isn't the best. Overall, a solid choice for shoppers on a budget.
Pros
+

Excellent motion isolation

+

Low price for a hybrid

+

Comfortable side and back sleeping
Cons
-

Edge support not the best

-

Sleeps warm

-

Too soft for stomach sleepers
Why you can trust TechRadar We spend hours testing every product or service we review, so you can be sure you're buying the best. Find out more about how we test.
REM-Fit 1000 Hybrid mattress: Two-minute review
The REM-Fit 1000 Hybrid mattress offers decent quality and very good value for money, and is a strong recommendation for anyone on a budget who still wants modern mattress features. But what kind of value for money are we talking about here? Over the last month it's had a perpetual price of around £260 for a double, which is very cheap for a hybrid (most beds in the budget bracket are all-foam designs).
For that price, you'd expect to make a few concessions, and that's true here – the REM-Fit compete with the pricier models in TechRadar's best mattress guide. To start with, it sleeps a little warm. But then this is true of most cheap memory foams. After a month of sleeping on it, I found this warmth increasingly less of an issue – though that may also be a reflection of a generally fairly cool UK summer.
The comfort of the REM-Fit 1000 Hybrid mattress is undeniable – I consistently slept very well on this mattress, and enjoyed the medium-firm feel. And the 1000 pocket springs that sit beneath the foam upper levels mean it's also very supportive. Thanks to this combination I found that it also relieved some pressure on my back when sleeping on my side, and my partner found that back-sleeping was also supportive and comfortable.
Another highlight for me is the motion isolation – the fact that if my partner moves in the middle of the night, I am not immediately aware of it. In fact it's better than that. We have a newborn, and he's picked up from his side-cot into our bed up to half a dozen times a night, and the movement that I feel is minimal. Swapping from a traditional spring mattress to this hybrid mattress has been a revelation for this alone.
Those looking for above-average edge support might need to look elsewhere, however. Although it's perfectly passable in giving support to lift yourself out of bed, I certainly felt a little bit unstable when lying up close to the edge of this mattress.
That's the quick version. Now let's dig into each of those areas in more detail – read on for my full REM-Fit 1000 mattress review...
REM-Fit 1000 Hybrid mattress review: Price
Sales mean a double usually costs £260
... which is the the budget price bracket
REM-Fit's cheapest model
At time of writing, the REM-Fit Pocket 1000 mattress is the cheapest mattress in the UK-based company's range. And although you will see a retail price for this mattress going for £379 for the double, the truth is it's usually around £260, and I've even seen it sell for as cheap as £227. Indeed, as far as I can see, the REM-Fit model has a perpetual discount on all its mattresses – around 30%.
Here's a breakdown of what each sized mattress currently sells for:
Single: RRP £299 (normally sells for £209.30)
Double: RRP £379 (normally sells for £265.30)
King: RRP £425 (normally sells for £297.50)
Super King: RRP £499 (normally sells for £349.30)
As you can see from TechRadar's mattress sales guide, this constant discount is par for the course for many mattress retailers. However, unlike some mattress manufacturer deals, you won't get added pillows or sheets, or white glove delivery service.
When you buy a REM-Fit 1000 Hybrid mattress, you will receive a 100-night sleep trial, whereby you can decide it's not for you and return it at no extra cost. You will also get a 15-year guarantee, so should you have any material issues down the line, a refund or return can be organised. These are about standard in the wider market, and as you'd expect for a budget mattress.
REM-Fit Pocket 1000 Hybrid mattress review: Specs
Swipe to scroll horizontally
| | |
| --- | --- |
| Price (double size) | RRP £379.00 (usually £265.30) |
| Type | Hybrid |
| Materials | Memory foam, other foam, pocket springs |
| Firmness (1-10) | Medium-firm (7/10) |
| Depth | 20cm |
| Delivery | Free standard 2-person delivery |
| Trial | 100 nights |
| Guarantee | 15 years |
REM-Fit 1000 Hybrid mattress review: Design
20cm tall hybrid mattress
Combines memory foam and pocket springs
Machine-washable cover, but no handles for moving
The REM-Fit 1000 Hybrid mattress is constructed of five layers: a cover; a memory foam layer; a high density support foam; tall pocket springs; all surrounded by another high-density foam that circles the horizontal layers.
The top cover is removable via a zip that runs around the perimeter on the underside of the mattress, and can be machine-washed. There are no handles, to help with maneuvering. This cover layer is actually slightly padded, but the real layer for comfort is the next memory foam layer, followed by a different kind of foam that promises body contouring.
Beneath the foams sits a layer of pocketed springs. These are individually wrapped so there is no chance of the springs mixing together providing less-than-great support, or 'roll-together'. They're described as being 12-16cm, and I've reached out to the brand to clarify which is correct, or if it's a mix of the two. Finally, the foam that wraps around all the above layers provides the mattresses edge support.
On an aesthetic note, the REM-Fit logo is printed in a warped style all over the top of the mattress, which I liked (being a fan of 90s logos and branding), though many may find it a little odd for a mattress.
Design score: 4/5
REM-Fit 1000 Hybrid mattress review: Comfort & support
This all-rounder offers sinking comfort and support
REM-Fit give it a 7 / 10 firmness – we think it's more 6 or 6.5
Front sleepers may want more firmness
When it comes to comfort, firmness, pressure relief and support, the all-rounder budget REM-Fit Hybrid pocket 1000 scores a lot higher than we'd expect from its price point. So let's take a look at each section.
First the comfort and firmness. Both me (male) and my partner (female) are 5' 10 and around 11 stone, and both sleep on our sides and back. In both positions, we found that there is enough sink to the 1000 to give it a feeling of luxury, especially for back sleeping, though certainly not to the extent of really deep, premium beds. Although the site states that the Hybrid 1000 is 7 out of 10 in firmness, I'd say it's a little less firm than that (a 6 or 6.5 out of 10).
Due to this sink and depth, I found that the memory foam easily accommodated my shoulders during sleep so that I felt that my spine and pelvis were aligned. There has certainly been no pressure build up sleeping in the 1000 over time – a common occurrence for side-sleepers when facing a lower quality mattress.
For this reviewer, I loved where the firmness and comfort met. The REM-Fit 1000 hits a sweet spot of softness and support. To explain that in a more measurable way, when I put a 5kg weight in the middle of the mattress, there was an indentation of around 3/5cm depth, and when the weight was taken off, it instantly disappeared.
REM-Fit 1000 Hybrid mattress review: Motion isolation
Great motion isolation for budget model
Scored well in our tests
Motion transfer – how a mattress transfers a sleeper's movement – is important for couples sharing a bed, especially if they include a light sleeper, easily disturbed by any midnight movement.
I am such a light sleeper, and so I was pleasantly surprised to find the REM-Fit 1000 score better than expected in suppressing motion from my fidgety partner. With its layers of memory foam and its independently pocketed springs, the majority of movement was absorbed and not easily transferred throughout the weeks of testing.
And testing there was! With our newborn alongside us, frequently brought into bed for feeding during the night, there was a lot of movement to quell, and the REM-Fit 1000 did it excellently.
In our test, we dropped a 2.5kg weight four, 10 and 25 inches away from a wine glass, balanced in the middle of the mattress, to see how well the bed combated motion transfer. And the 1000 did well – with little to no movement from the furthest distance; a mild shudder from the 10-inch mark, and a noticeable movement from the shortest distance, but not enough to trouble the glass too much. An impressive result for a budget hybrid.
Motion isolation score: 4/5
REM-Fit 1000 Hybrid mattress review: Temperature regulation
Sleeps warmer than advertised
Decent temperature regulation for a budget option
A lot is made of temperature cooling technology in mattresses, but the truth is that any mattress with several layers of foam is going to trap more heat on the surface than an innerspring bed. The more premium the mattress, the better the memory foam is at minimising that trapped heat, but the REM-Fit 1000 is not premium. And so, as you'd expect, it sleeps fairly warm.
However, it isn't the warmest sleeping experience I've ever had, and it actually seemed to lessen the more I slept on it (though of course other factors such as a cooler climate played a part). It's worth noting that I moved from an innerspring mattress to this hybrid memory foam mattress, and so the increased warmth was probably more pronounced at the beginning.
Score: 3 out of 5
REM-Fit 1000 Hybrid mattress review: Edge support
Average edge support on side of bed
Lower than average support at the foot
The supportive edge of a mattress is important to give you confidence in pushing yourself off the bed in the morning, and especially if you're a sleeper that likes to place yourself right at the edge of a bed. The REM-Fit Hybrid 1000 does not excel in edge support, but it's still good enough for this price range of mattress. In our test, I placed a 5kg weight on each side of the bed, and it sank around 10cm – probably more than we'd like to see.
When sitting on the edge of the mattress, I found this to translate into more give than I'd prefer, and when sleeping right up to the edge, I didn't feel like there was a supportive barrier, as more premium mattresses will offer (though I certainly didn't fall out of bed either).
But this is a budget model, and for the price you pay, there is still enough edge support to make you feel confident in pushing yourself out of bed, and sitting on the edge of the bed without slipping off.
Score: 3 out of 5
REM-Fit 1000 Hybrid mattress review: Delivery & setup
Mattress delivered vacuum-packed, rolled and boxed
No issues with off-gassing
Two-person free delivery
REM-Fit boasts a two-person delivery for free, and on the site says that that is room-specific. Just tell the delivery men where you want the boxed mattress to be put in your house, and they'll oblige.
I have to report that that wasn't the case in my delivery. The REM-Fit Pocket 1000 was brought to my door, and that was that (but I didn't then know about the two-person delivery feature). Regardless, it was easy enough for two people to bring up the stairs and set up.
Speaking of which, setting up was incredibly easy. Taking the bed out of the box and the vacuum-packed plastic was easy. A clever plastic case opener was included – a plastic hook with a hidden razor blade that made cutting the plastic away both easy and safe.
Once laid out, REM-Fit suggests waiting a few hours for it to properly take its shape and be ready for sleeping, but I found it to be much quicker. It seemed good to go within 20 minutes (though I waited for the suggested time anyway).
There was no off-gassing that I noticed – the smell that comes from a recently unpacked modern mattress. I shut bedroom windows to make sure I could detect any odour, but was pleased to find nothing.
Setup score: 4.5 / 5
REM-Fit 1000 Hybrid mattress review: Customer reviews
At time of writing, very few customer reviews
Probably sure to its recent release
The only 'review' that I could find online referencing the REM-Fit Pocket 1000 Hybrid gave it a glowing recommendation, but also smacked of AI in action. In either case, there was scant else to find online – either on Amazon or on the linked Trust Pilot reviews on the main site. All the latter user reviews reference other REM-Fit models, so I presume that there is a lack of user reviews as the 1000 was only recently released (though I am still waiting on the exact release date from REM-Fit).
Should you buy the REM-Fit 1000 Hybrid mattress?
Although the REM-Fit 1000 Hybrid mattress isn't perfect, it has a lot going for itself, and as REM-Fit has cleverly picked its battles with the 1000's features, I can whole-heatedly recommend this mattress to certain users.
The highlights of the REM-Fit 1000 Hybrid mattress are many. First there's the comfort and support. Both me and my partner felt the 1000 had sufficient depth and sink (more than the 7/10 advertised firmness suggests). That made it really comfortable, especially for side and back sleeping, and the mattress retained its shape after prolonged use.
It also feels like a quality mattress, thanks to the deep support that it offers. Wherever you are positioned, the soft memory foam comfort gives way to the reassuringly solid support of the mattresses' pocketed springs (though this support is less impressive around the edges).
There's no getting away from the fact that this mattress sleeps warm – especially during the summer months. Even in a well-ventilated room (though not with air conditioning), the layers of memory foam which provide the body-contouring comfort also provide a heat trap. This is, of course, not unique to the REM-Fit 1000 Hybrid mattress, but it's still worth thinking about, especially if you hate warm sleeping.
I was really impressed with the motion isolation, and even with a fidgety partner, and a bouncing baby boy to keep me company, I was impressed with the lack of transferred movement over the mattress.
REM-Fit 1000 Hybrid mattress review: Alternatives to consider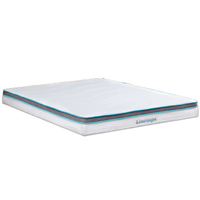 Linenspa Memory Foam Hybrid
If you're on a really tight budget, one of the best cheap mattresses out there is the Linenspa Memory Foam Hybrid mattress. For under £200, don't expect the highest quality or durability, but based on reviews, it seems to offer decent comfort and support for that extremely low price.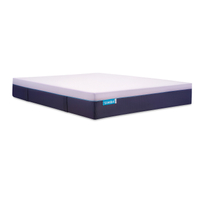 Simba Hybrid Pro mattress
Willing to pay more money, and looking for a back-sleeper's dream? The Simba Hybrid Pro is a fantastic mattress for overall pressure relief. Another medium-firm option, you get top quality back and neck support, but at the expense of a removable, washable outer cover. Read more in our Simba Hybrid Pro review.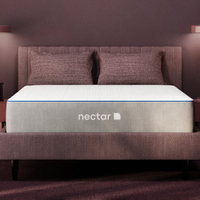 Nectar Essential Hybrid
If cool sleeping is key to you, then we can recommend the Nectar Essential Hybrid mattress. It's quite a jump in price from the REM-Fit 1000, even though it's the budget option from Nectar, but it offers good temperature regulation. It's also ideal for back sleepers, and offers great motion isolation. Read more on our Nectar Essential Hybrid review.
How I tested the REM-Fit 1000 Hybrid mattress
When testing a mattress, there's no substitute for sleeping on it for several weeks to find out how it fares. I slept on the REM-Fit 1000 Hybrid, along with my partner, for over two months to consider specific features of the mattress.
The major external factor that affected my review outside of REM-Fit's control was the summer climate that covered my testing period. However, with a summer sheet bedding, a well-ventilated room, and an ever-changing sEnglish summer temperature, I was still able to review the temperature control of the mattress as objectively as possible.
I also ran standardised tests with weights to see how the mattress responded, and assessed its softness, depth of give, edge support and motion isolation.
Beren has been a design and tech journalist for over a decade, covering everything from the best digital drawing software to the most ergonomic office chairs. He is currently on the hunt for the perfectly designed mattress, allowing him and his partner to get through their newborn's first few months with minimal sleep deprivation and maximum comfort.