LG A3 OLED TV: everything we know about the mysterious cheaper model
The budget LG OLED TV is still around in 2023, but not everywhere, it appears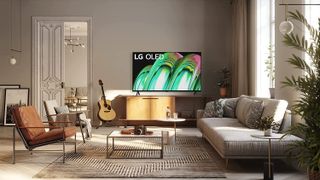 (Image credit: LG)
What's happening with the LG A3 OLED TV? LG has confirmed this mystery screen for 2023 as a successor to last year's entry-level LG A2 OLED. However, it's currently unclear when and where shoppers will see it – if at all.
The LG A2 came to the US, UK and Europe. But so far, it seems as if this year's A3 OLED may only come to the latter. The A2 is currently on sale at an absurdly low price compared to the best OLED TVs (in the US, it's only $600 for a 48-inch model), which may be a sign that it wasn't a huge seller – and there's fierce competition among mid-range TVs these days.
That said, LG has discontinued OLED lines before (like the gorgeous E9 OLED, RIP), and it doesn't look like the TV brand is completely giving up on its A Series screen just yet. The LG B3 is the cheapest model that's been announced for the US and UK so far, but it's not impossible that A3 model that's appeared on European LG websites will make it elsewhere too.
So if you're interested in a low-cost LG OLED TV, this is what we know about the A3 OLED so far. But don't get too excited in case this oddly mysterious OLED doesn't end up arriving in your region.
LG A3 OLED TV: Expected price and release date
The LG A3 OLED is likely to launch in early to mid 2023, though it will likely appear slightly later than the LG C3 and LG G3. Last year's LG A2 came in 48-inch, 55-inch, 65-inch and 77-inch sizes, which we expect will be the situation here – though not all sizes were available in all countries. As we've said, it sounds like any model of A3 will release only in mainland Europe, though it could also come to the UK and US during the course of the year.
There's no confirmed price for the LG A3 OLED, but it's likely akin to last year's A2 launch prices below. (Just keep in mind that these prices massively dropped in the months after release.)
48-inch LG A2: $1,299 / £1,299
55-inch LG A2: $1,299 / £1,699 / AU$3,000
65-inch LGA2: $1,599 / £2,199 / AU$4,000
77-inch LG A2: $2,799
LG A3 OLED TV: Design and features – what's new?
LG's A Series is the runt of the litter. That means it uses a different OLED panel to LG's other OLED TVs, and doesn't include as advanced features elsewhere.
Let's start with the screen, which appears to be the same 60Hz OLED screen as the previous model based on information available online, which means it's nowhere near as bright as the screen in the LG C3.
Instead of a high-end Alpha a9 processor, the A Series appears to use the cheaper a7 Gen 6 chipset, which also be found in the B3 this year. It's a new chip, but the a7 chipset isn't as advanced as its a9 counterpart, meaning you should expect a little more video noise in dark scenes and some judder during moments of sudden movement. Essentially, you're getting the kinds of vivid images, bright colors, and deep blacks expected from an OLED TV – but quite flagship image handling.
We should note that there's a little confusion around some LG A3 specifications – we've seen some sources cite it as having HDMI 2.1 support and VRR, though we think neither is likely for this budget model.
HDMI 2.1 spec is usually saved for higher-end screens, particularly with 120Hz panels – meaning the LG A3 OLED can make do with the older HDMI 2.0 standard, which can still transfer 4K video over cable from a games console and the like, but not at the high frame rate or 8K specification that's technically possible on HDMI 2.1 TVs.
You shouldn't expect high-end gaming features like VRR or FreeSync either – though ALLM (auto low latency mode) should be supported, as well as eARC for connecting a soundbar with lossless audio. While LG's new OLED range also introduces a QMS (Quick Media Switching) feature for jumping speedily between HDMI inputs, the A3 likely doesn't have the specs to support this.
LG TVs are pretty predictable regarding built-in audio, so the A2's two-channel speakers with AI upmixing and Atmos compatibility are likely to return here.
A revamped webOS platform with custom user profiles and user-specific recommendations and avatars is common to all 2023 LG OLEDs. This also includes support for Matter, the increasingly popular smart home standard; multi-view for watching different sources simultaneously; and a personalized picture preset based on your viewing preferences at setup. We'd expect to see it here, but that's not confirmed so far.
All in all, you should expect the specification of the A2 OLED, with a few improved tricks with its a7 processor and the new webOS platform coming to all 2023 LG OLED TVs.
LG A3 OLED TV: What we think so far
The LG A3 OLED remains something of an enigma, and sadly unobtainable for many of us if LG sticks to its currently announced line-ips – but regardless of some finer details, a successor to the A2 is an excellent thing for those after a budget-friendly entry point to LG's OLED range.
It may be harder to justify the A3's reduced specs over time, though, with the C3 and G3 utilizing brightness-boosting 'OLED evo' tech, and the B3 OLED offering HDMI 2.1, which is increasingly becoming an expected standard on the best 4K TVs. While the LG A3 OLED should release somewhere in 2023, the jury's out on whether the A Series range will continue for much longer at this rate.
Get daily insight, inspiration and deals in your inbox
Get the hottest deals available in your inbox plus news, reviews, opinion, analysis and more from the TechRadar team.
Henry is a freelance technology journalist, and former News & Features Editor for TechRadar, where he specialized in home entertainment gadgets such as TVs, projectors, soundbars, and smart speakers. Other bylines include Edge, T3, iMore, GamesRadar, NBC News, Healthline, and The Times.