I made air fryer garlic bread and it's now my go-to side for all meals
This air fryer garlic bread oozes with flavor and cooks in just five minutes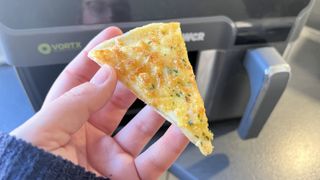 (Image credit: Future / Victoria Woollaston)
Whether you're looking for a quick starter, a tasty side, or just want an easy snack, this air fryer garlic bread recipe has it all.
Not only does it contain relatively few calories, considering how indulgent it tastes, but it's also one of the cheapest, easiest and fastest recipes I've tried in all my time testing the best air fryers.
There's also a strong chance you have the majority of the ingredients already in your larder and refrigerator.
Below, I show you how easy it is to turn the humble tortilla wrap into oozy, melt-in-the-mouth garlic bread in five minutes.
Air fryer deals
If you're yet to take the plunge and buy yourself an air fryer, or are looking to upgrade, check out our top-rated air fryers below, all available to buy now for the best prices.
Air fryer garlic bread recipe
The air fryer garlic bread recipe I have followed is from Idris Doosi via his @doosifit TikTok channel. It's already been watched 1.4 million times and counting.
Air fryer garlic bread ingredients
The use of tortilla wraps and melted cheese makes this air fryer garlic bread closely resemble a quesadilla. This means that if you want to add meat, vegetables, or other ingredients to the first layer, you can elevate this recipe from a side dish to a full meal.
1 tbsp butter (or butter alternative)
2 tortilla wraps
2oz/56g mozzarella (or cheese alternative)
Garlic powder
Herbs – the original recipe used Italian seasoning but I like using parsley
Air fryer garlic bread method
To make air fryer garlic bread you will need the following:
If you use low-carb tortillas and low-fat cheese, this recipe contains around 380 calories with 26g of protein. The macros will change, however, depending on the type of tortilla and cheese you choose.
Step 1: Spread a tablespoon of butter over a tortilla wrap using either a knife or the back of a spoon to create a thin layer.
Step 2: Sprinkle half the cheese over the buttered tortilla.
Step 3: Top with half the garlic powder, and season with the herbs of your choice.
Step 4: Place the second tortilla on top of the first and top with the remaining cheese, garlic powder, and herbs.
Step 5: Set the air fryer to 375°F/195°C and cook the garlic bread for 5 minutes.
Step 6: Carefully remove the tortilla from the air fryer – we use a fish slice – and cut off any crispy edges using a pizza cutter or knife.
Step 7: While the garlic bread is still warm, cut it into slices and serve.
Air fryer garlic bread verdict
I've tried cooking shop-bought garlic bread in the air fryer before and while it's always tasted fine, it's not given me the indulgent hit of cheese and garlic that all the best garlic breads tend to have.
This homemade air fryer garlic bread recipe is the answer to my cheesy prayers. The different layers give it a bread-type texture while the butter helps keep everything moist.
I hadn't expected this recipe to taste quite as good as it does, especially given the fact it contains so few calories and is a source of protein.
It's definitely one of the more surprising foods to cook in an air fryer but I now make it every time I cook Italian food or have friends over and it always goes down a treat.
If you're still sitting on the fence and wondering whether to buy an air fryer, you may want to read our article to decide whether air fryers are worth it?
Sign up to receive daily breaking news, reviews, opinion, analysis, deals and more from the world of tech.
Victoria Woollaston is a freelance science and technology journalist with more than a decade's experience writing for Wired UK, Alphr, Expert Reviews, TechRadar, Shortlist and the Sunday Times. She has a keen interest in next-generation technology and its potential to revolutionise how we live and work.