As dual-basket air fryers go, the Tower Vortx Eco Duo is both affordable and packed full of features that are typically only seen on more expensive models. Sadly, this cheaper price becomes immediately apparent in the air fryer's mixed performance. For meat dishes, we can barely fault the Eco Duo: it cooks evenly while adding a delicious crunch. Yet, for other dishes – in particular, for homemade chips – it's the worst performance we've ever seen. The overall design is lacking, and the size makes it unsuitable for many kitchen worktops. However, it's a great air fryer for those new to air-fryer cooking because it's simple to use, or those likely to use it occasionally, since many of its flaws will feel minor.
Pros
+

Cooks multiple foods at once

+

Easy to use

+

Great for meat dishes
Cons
-

Bulky, unattractive design

-

The basket is too compact

-

Wildly varying performance
Why you can trust TechRadar We spend hours testing every product or service we review, so you can be sure you're buying the best. Find out more about how we test.
One-minute review
Tower has been in the household appliances game for more than a century, and the brand claims to have "the most extensive range of air fryers in the UK."
Each model comes with so-called Vortx technology, which Tower promises will cook your food 30% faster than many of the other best air fryers on the market, all while sitting at the more affordable end of the price spectrum.
One of the newest entries in this range is the Tower Vortx Eco Duo Basket air fryer. Its name comes from the fact it has two baskets – a 5.2-litre/5.5-quartz basket, and a 3.3-litre/3.5-quartz one.
For the past month, I've cooked a variety of sweet and savoury dishes in my Tower Vortx Eco Duo air fryer review unit, including this air fryer mozzarella sticks recipe, this bread pudding, these delicious and healthy chicken tenders, as well as chicken wings, chips, and more.
The Tower Vortx Eco Duo Basket isn't the most compact air fryer, nor is it the most attractive. However, for cooking quick, healthy meals – or when you're knocking up multiple meals for different members of your fussy family – it's at least an affordable choice.
Tower Vortx Eco Duo Air Fryer review price & availability
List price: $195/£160/AU$279
Available in the UK
Tower is a British brand and, at present, the Tower Vortx Eco Duo air fryer is only available to buy in the UK from Tower, Amazon, Argos and Very.
At £160/$195/AU$279, the Tower Vortx Eco Duo Air Fryer is one of the more expensive models in the Tower air fryer range. Coming in just behind the £170/$205/AU$297 Vortx 7L Steam air fryer.
The cheapest Tower air fryer is £60/$73/AU$105, while the cheapest dual-drawer model in the collection costs £150/$182/AU$262. Similar dual-basket models from rivals such as Ninja, Tefal and Instant Pot retail for around £200/$250/AU$350 plus.
The Ninja Foodi Dual Zone air fryer is the most like-for-like model to the Tower Vortx Eco Duo I've used. The 7.6-litre/8-quartz model costs £199/$250/AU$345, meaning it offers slightly less capacity than Tower's model, but does have similar touchscreen controls, and synchronised finishing features.
The Ninja Foodi comes with six cooking options, versus Tower's four – adding reheating and dehydrating to the standard air frying, roasting, baking, and grilling – yet it's larger and bulkier, and offers fewer presets (six vs Tower's eight.)
This makes the Tower Vortx Eco Duo good value for money in its own right, and even more so when compared to rival models. The downside is that you do get what you pay for, and the lower price of the Tower Vortx Eco Duo matches its lower performance.
The specs of my Tower Vortx Duo Basket Air Fryer review unit
Price: £159.99
No. of baskets: 2
Capacity: 5.2 litres/5.5 quartz; 3.3 litres/3.5 quartz
Presets: 8
Cooking functions: 4
Dimensions: 36cm x 42cm x 31cm/14.1in x 16.5in x 12.2in
Weight: 6.5kg/14.3lbs
Tower Vortx Eco Duo air fryer review design
Mix of colours and finishes makes it look cheap
Bulky and boxy shape
Difficult to clean
I'm yet to find an air fryer that I'd call attractive – and the design of the Tower Vortx Eco Duo air fryer is particularly unattractive.
The mix of colors and finishes – from the matte metal coating to the plastic drawers, black rubber handles, and the shiny black touchscreen – as well as the boxy shape makes the air fryer look much cheaper than it is. This mix of materials also makes the air fryer a pain to clean. The touchscreen picks up fingerprints easily, the baskets show water marks, and the rubber attracts fluff from cloths.
It's a large appliance, too. It would be unfair to expect a large-capacity air fryer to be small and not take up significant worktop space, but the shape and dimensions of the Tower Vortx make it particularly bulky. Especially the oversized air vent and the large LED display.
Across the whole appliance there seems to be a fair amount of wasted space that, if reduced, would allow it to fit more comfortably on a kitchen countertop. For instance, there are large areas of dead space between the various touchscreen buttons. This makes the screen larger than it seemingly needs to be, without adding much to the overall functionality.
When you remove the baskets, there's also appears to be what looks like a large amount of empty space surrounding each one. Of course, there needs to be room for the mechanics and electronics that power the air fryer to work, but it all seems a bit much.
Elsewhere, while it's great that you can cook two different meals or snacks at the same time, I'd have preferred both baskets to be the same size. The smaller basket is often too small for roasting and baking, especially if the items you're cooking need space between them for proper cooking. It's best used for sides, small portions and snacks, but even then you have to choose the size of your food items carefully.
The larger basket goes someway towards making up for this. It has enough room for a beef joint or small chicken, and it easily fits multiple chicken wings without them coming into contact with one another. Yet, if you're looking for a dual-basket air fryer that lets you cook two full meals separately, rather than a main and a side, you may find the Tower Vortx falls a little short.
It should also be noted that the air fryer's instruction manual recommends adding an extra five minutes to anything cooked in the larger basket. The air fryer automatically adds these minutes to the total time when you select a preset in the larger drawer, but you have to remember to add this time manually if you're not using a preset.
On a more positive note, the Tower Vortx Eco Duo's touchscreen is easy to use. The presets are aligned along the top of the display and are depicted with basic icons to help you see, at a glance, which preset is best suited to which food. These presets are Fries/Chips, Cake, Steak, Chicken, Drumsticks, Prawns, Sausage, and Pie.
To switch between each preset, you have to press the Preset Selection key. It would be more intuitive if you could simply touch the desired icon, but this is a minor complaint.
Cycling through the icons shows the relative temperature and cooking times for each food item (and basket), and this makes it quick and easy to select and go. Just choose which basket you want to use, press the appropriate icon, and start the cooking process by pressing the power button.
It's then almost as simple to manually select the desired temperature and time. Select the basket, press the thermometer/clock icon, and increase or decrease each setting using the arrows on either side of the LED display. For such a relatively impressive number of presets and cooking functions, this is welcomed.
If you're using both baskets and your respective foods cook at different speeds, you can also use the Smart Finish key. Once you've selected your desired settings for each basket, press the Smart Finish key and the air fryer will carry out both programs simultaneously, but delay the start of the shorter program so they finish at the same time.
The only thing I'm yet to fully grasp is how to end a cooking cycle early. I resort to turning off the air fryer at the mains, or manually reducing the time and letting it run its course.
I've scoured the instructions, and online, but can't find a faster solution. This is another minor point but it's worth noting because it's one of the only things that takes away from just how easy this air fryer is to use.
Tower Vortx Eco Duo air fryer review performance
Varied results between basket sizes
Terrible at cooking homemade chips
Great at cooking meat
For my homemade chips test, I peeled and cut Maris Piper potatoes into 1cm sticks weighing a total of 500g/1.1lbs. I then soaked them in cold water for 10 minutes before drying them thoroughly with a kitchen towel and tossing them in 1/2 tbsp of oil. I put the oiled potatoes in the smaller basket and used the Chips preset to cook them for 20 minutes at 200°C/390°F. I also shook them twice throughout this cooking period.
The results were terrible. A handful of the chips had some colour to them, but the rest were still raw. I let them cook for an extra ten minutes, yet there was very little improvement. I've since tried cooking them in the larger basket and the results are better, but still not anywhere near good enough, with many of the chips remaining raw.
Tower recommends parboiling chips and potatoes before cooking them in the air fryer, but this hasn't been necessary with any other air fryer I've used. Certainly not to the extent that's needed with the Vortx Eco Duo.
Frozen chips fared better, in both the small and large baskets. The majority came out crispy on the outside and fluffy on the inside, and there were only a small handful of chips that missed the mark when cooked in the smaller basket. They were cooked, they just weren't as tasty or crispy as the rest.
When cooking meat, though, there was a marked improvement. Chicken wings, cooked using the Chicken preset, came out great every time. The meat inside was well cooked but still juicy; the chicken skin was crispy, and this crispiness was even across the whole wing. They were full of flavour and looked great. I've since repeated this test by coating each chicken wing with cornflour, salt, pepper and paprika, and I can't recommend them enough.
The best recipe I've cooked in the Tower Vortx Eco Duo to date, and it's also one that works great in the smaller basket, is this Cheetos-covered mozzarella sticks air fryer recipe. It's a favourite of mine and my youngest, and the air fryer makes it a quick and easy snack at any time of day.
In terms of noise, the air fryer is almost whisper-quiet. It recorded just 59dB on the decibel meter on my phone, which the app describes as being equivalent to a "quiet street."
Note, too, that the air fryer also doesn't become too hot to the touch during cooking, reaching just 29.5°C/85.1°F when cooking at 200°C/390°F.
Should you buy the Tower Vortx Eco Duo air fryer?
Swipe to scroll horizontally
Tower Vortx Eco Duo Air Fryer

| Attributes | Notes | Rating |
| --- | --- | --- |
| Price | Good value compared to rivals, but you get what you pay for | 4/5 |
| Design | Easy-to-use touchscreen makes up for ugly, boxy design | 3/5 |
| Performance | Wildly mixed results depending on the food, and basket size | 3/5 |
Buy it if...
You want a dual-basket air fryer on a budget
It's unlikely you'll find a more affordable dual-basket air fryer with the range of features seen on the Tower Vortx.
You use your air fryer only occasionally
The Tower Vortx is best used for the occasional snack or meal, or as an extension of your main oven.
You're a keen meat eater
The Tower Vortx performs best, and most consistently, when cooking meat – especially chicken.
Don't buy it if...
You have a small kitchen
The Tower Vortx is bulky and boxy and takes up a lot of worktop space.
You want an air fryer to replace your oven
The performance, capacity and capabilities of the Tower Vortx aren't enough to replace a regular oven.
You have a fussy family
The Tower Vortx Eco Duo promises the ability to cook multiple meals for different family members, but in reality it falls short of this promise.
Tower Vortx Eco Duo air fryer review: also consider
Swipe to scroll horizontally
| | Ninja Foodi Dual Zone | Instant Vortex ClearCook |
| --- | --- | --- |
| Price | $240/£199 | $241/£200 |
| No. of baskets | 2 | 2 |
| Capacity | 7.6L/8 quartz | 7.6L/8 quartz |
| Presets | 0 | 0 |
| Cooking functions | 6 | 6 |
| Weight | 18bs / 8.2kg | 16.8lbs / 7.6kg |
If you want a Tower air fryer but not a dual-basket model, here are a couple more options to consider...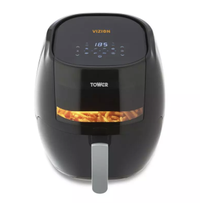 Tower Vortx Vizion 7L Digital air fryer
Part of the Tower Vortx range, this air fryer comes with the same Vortx technology and digital controls as the Tower Vortx Eco Duo, but it has a single, 7-litre/7.4 quartz basket with a viewing window that lets you keep track of your food while cooking, without having to open the drawer and let in cold air.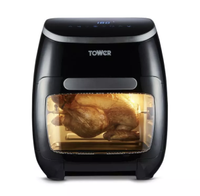 Tower Xpress Pro Combo 11 Litre 10-in-1 Digital Air Fryer Oven with Rotisserie
What the Tower Xpress Pro Combo lacks in Vortx technology, it makes up for in the form of a rotisserie oven. You can use it as a regular air fryer, with a viewing window and digital controls, or as an oven to cook rotisserie chicken.
How I tested the Tower Vortx Eco Duo
I used the Tower Vortx Eco Duo air fryer for various meals for a month
It was used to make desserts, snacks, sides, chips, chicken wings and more
I've been using the Tower Vortx Eco Duo air fryer to cook the majority of meals for myself, my partner, and our two childrens, for the past month. This has ranged from roast dinners and mid-week meals to post-school snacks, air fryer potato wedges for film night, baked desserts, homemade and frozen chips, chicken wings, and more.
For each of the food items that have their own presets, I cooked them as per Tower's instructions. For instance, the Chips preset for the smaller basket is set at 200°C/390°F for 20 minutes, or 25 minutes at the same temperature in the larger basket.
Tower recommends adding 1/2 tbsp of oil to chips and fries, and shaking them at various points throughout the cooking process.
The instruction booklet additionally lists set time and temperature settings for different types of potatoes (thin frozen fries, thick frozen fries, potato rosti, wedges, cubes, and so on) as well as various meat, poultry and snacks.
For other recipes, where the cooking temperature and times were more subjective, I used the manual settings.
I've been reviewing household appliances and gadgets for almost 15 years and have been specifically focused on air fryers for the past five. I'm also a huge foodie and welcome an opportunity to try something new.
Read more about how we test
First reviewed February 2023
Victoria Woollaston is a freelance science and technology journalist with more than a decade's experience writing for Wired UK, Alphr, Expert Reviews, TechRadar, Shortlist and the Sunday Times. She has a keen interest in next-generation technology and its potential to revolutionise how we live and work.