We followed this air fryer TikTok recipe - it's the only thing I'll be eating from now
The whole plate contains just 361 calories and 43g of protein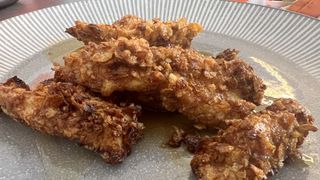 (Image credit: Future / Victoria Woolaston)
One of the biggest appeals of buying the best air fryer is being able to make quick and healthy recipes at the press of a button, and one of the best places we've found to discover such recipes is TikTok.
Food writer and author of the Very Hungry Greek cookbook, Christina Kynigos (@veryhungrygreek) is a great source of healthy cooking inspiration and when her honey-garlic chicken tender recipe recently went viral, we had to give it a go.
The recipe itself is quick and simple. It takes just 20 minutes from start to finish and contains a number of cupboard staples and everyday items, including paprika, soy sauce, honey, and cornflakes. This also makes it an affordable choice.
Most importantly, though, it's absolutely delicious. An entire plate of tenders contains 361 calories and 43g of protein and it's hard to believe that something so healthy could taste this good. Plus, it's easy to swap in vegan alternatives for the chicken and honey, or replace the cornflakes with a breading of your choice. All without sacrificing taste.
Whether you're looking for a filling lunchtime snack, a protein source for your salads and main meals, or want to impress guests, you can't go wrong with these tenders. If getting fitter (and healthier) for 2023 is a goal, keep your eyes peeled for TechRadar's GFF23 week, starting tomorrow.
Best air fryer deals
The air fryer is a fast, healthy, and easy way to make a variety of foods. If you've yet to buy one, here are some of our top-rated air fryers that are available to you through this handy tool for the best prices:
Healthy air fryer chicken recipe
The air fryer chicken recipe we opted to follow was by food writer and author of the Very Hungry Greek cookbook, Christina Kynigos (@veryhungrygreek).
If you want to cook a double batch we recommend adding a grill tray to create two layers of strips, in order to ensure an even and crispy coating throughout.
You will also need to adjust the calorie and protein content if you swap out any of the ingredients, or increase the amount.
Healthy air fryer chicken ingredients
We followed the recipe as outlined by Christina Kynigos (@veryhungrygreek) on TikTok, but here it is for you to follow without going on social media:
1 chicken breast, cut into strips with visible fat removed (tofu strips and plant-based chicken alternatives will work)
30g cornflakes, crushed
1 egg, beaten (you can also use egg whites on their own, or replace this ingredient with a starch "egg" made by mixing cornstarch with water)
Salt and pepper
1tsp paprika
Low-fat cooking spray
1 heaped tbsp honey (or agave nectar/vegan honey alternative)
1tsp soy sauce
2-3 crushed garlic cloves
How to cook healthy honey-garlic chicken tenders
We cooked this honey-garlic chicken tender recipe in our Tower T17099 Vortx Eco Dual Basket Air Fryer at 200ºC for 15 minutes.
A single chicken breast cut into strips should fit comfortably in even the smallest of air fryer baskets.
1. Season the chicken strips
After cutting the chicken breast into strips, season the entire plate with a pinch of salt, pepper, and paprika. Rub the seasoning into the chicken.
2. Add the cornflake coating
Coat each chicken strip in egg before placing them individually into the crushed cornflakes. Roll each strip in the cornflakes, pressing the crumb into place.
It can be tempting to do all of the strips at once, to save time, but – speaking from experience – this creates a soggy mess of cornflakes that don't stick to the strips properly and don't crisp up as we liked.
3. Place in the air fryer
Switch on the air fryer. This appliance doesn't need to preheat – it's hot from the get-go – so simply set the desired temperature and time.
For a single chicken breast, we got the best results at 200ºC (392ºF) for 15 minutes but this may need to be adjusted depending on which protein source you're using, and how many strips you're cooking.
Try to maintain space between each strip, so they're not touching, and spray the entire tray with a low-fat cooking spray of your choice.
With most air fryers you shouldn't need to rotate the strips as the air should circulate evenly.
4. Prepare the glaze
In a bowl, mix the honey, soy sauce, and garlic.
You can also prepare the glaze ahead of time if you want a stronger garlic flavour, but it's not necessary.
5. Coat the chicken in the glaze
Once the air fryer cycle has finished, remove the chicken strips and place them straight into the glaze.
Again, this is more effective when done individually, in order to fully coat each one, but you can also pour the glaze over the plate of chicken strips.
Healthy honey-garlic chicken tenders verdict
Every time we've made this recipe – and we're approaching double figures now – we're always surprised at just how flavoursome these tenders are.
In such a short amount of time, the chicken is moist, the crumb is crispy and the glaze is a delicious mix of sweet and savoury.
We've learned a couple of lessons along the way. Namely not trying to rush the breading process, and making sure the strips are each coated in cooking spray to avoid burning the cornflakes.
We've experimented by using crushed Chilli Doritos, as well as Panko breadcrumbs for the coating but cornflakes produce the best, healthiest results in our opinion.
We also like a lot of glaze so have increased the amount used. This increases the calorie count, but is worth it!
Sign up to receive daily breaking news, reviews, opinion, analysis, deals and more from the world of tech.
Victoria Woollaston is a freelance science and technology journalist with more than a decade's experience writing for Wired UK, Alphr, Expert Reviews, TechRadar, Shortlist and the Sunday Times. She has a keen interest in next-generation technology and its potential to revolutionise how we live and work.