Lenovo has launched a brand-new 'You Pay What We Pay' sale that shares employee-only prices with the rest of the world. And, while that means there are some huge savings of up to 81% across the store, we're highlighting one super-cheap device that's a terrific bargain and one of the best laptop deals available right now.
That laptop in question is the Lenovo ThinkPad 11e that's down to $169. Lenovo lists the previous price as a hefty $919, which seems like a bit of an exaggeration considering the actual specs of this device, but the deal price is definitely excellent value for money if you need a very basic laptop for light use.
Today's best laptop deal at Lenovo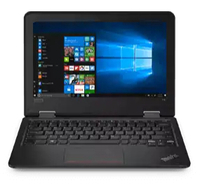 Lenovo ThinkPad 11e: was $919 now $169 at Lenovo
Lenovo is exaggerating a little with the discount here, as we don't believe for a moment that this laptop was ever $919. Still, the price it's available for right now is excellent for a laptop with 8GB of RAM and a 128GB SSD. It's rare to find both of these in a device for less than $200. Together, they give this otherwise basic and compact 11-inch Windows machine a solid performance boost so that it can comfortably keep up with everyday use, schoolwork, admin tasks, and general browsing.
This Lenovo ThinkPad 11e is fine for everyday tasks such as web browsing, sending emails, video calls and watching videos. It's a strong portable option, too, as it's only 11 inches in size and has a battery life of around 12 hours. The fact it's such a small and rugged machine means it's a great buy for students and youngsters who need an affordable and no-frills machine for schoolwork.
Two key inclusions stand out most, though. The first is 8GB of RAM. It's a welcome performance boost that will help with the laptop's responsiveness – something rarely seen on laptops under $200. The second is the 128GB SSD, which gives you enough room for key files and applications, plus it will accelerate the device's boot time and loading speeds.
Sure, it's still a fairly basic spec so it may not sit alongside some of the best laptops you can buy. But that's not an issue if you just need a cheap laptop on a tight budget for basic computing needs. In that context, it's a solid machine for the price.
If you do want to check out some other options, we've gathered a few more laptop deals from the latest Lenovo sale and from across the web below.
More laptop deals at Lenovo