You'll still find some great Cyber Monday Nespresso deals even when the sale event is drawing to a close. The Cyber Monday deals are just the same deals from Black Friday extended over today, but there have been a couple of price drops and new listings, including offers on a range of different Nespresso products.
The Nespresso Pixie Espresso Machine by Breville did match its record-low price last year and is now only $166 at Amazon (opens in new tab) and the Nespresso Lattissima One Coffee Maker by De'Longhi did hit its record-low this year, even though its slightly up this weekend at $279 at Amazon (opens in new tab).
Nespresso machines are some of the most sought-after coffee machines. If you've never used one, you're in for a treat: the best Nespresso machines are making the art of coffee more accessible and less involved – not to mention, less expensive than buying a latte every day. With these deals, it's even cheaper than ever.
Luckily, if you've got your heart set on snapping up a headline-grabbing discount on Cyber Monday, we're keeping an eye on the best deals and sharing them here as they go live from now until the end of the day. So, whether it's your first time investing in one or you're thinking of upgrading and snapping up a better or newer model, now's the time.
Cyber Monday Nespresso sales: Quick links
The best early Cyber Monday Nespresso deals
Should you wait for Cyber Monday Nespresso deals?
We've noticed that the best Nespresso deals tend to land a week or so before Black Friday. And, according to insight from Adobe, prices of appliances dropped the most (~10%) around Thanksgiving. However, this year, we already saw some big discounts in early November and a handful of record-low prices in the days leading up to Black Friday.
A lot of those deals are holding this weekend, with many retailers only renaming them "Cyber Monday deals." And, these prices that you're seeing now shouldn't jump on Cyber Monday, so you're unlikely to pay more than the price you're seeing. However, there is the question of stock: if you hold off until Cyber Monday, you might miss out because a retailer has run out.
If you're considering buying a model that's already heavily discounted, you could lose out if you wait. Some retailers have slashed more than half off the price of a Nespresso machine, and you may not see a better deal on those models this year.
Tips for buying a Cyber Monday Nespresso deal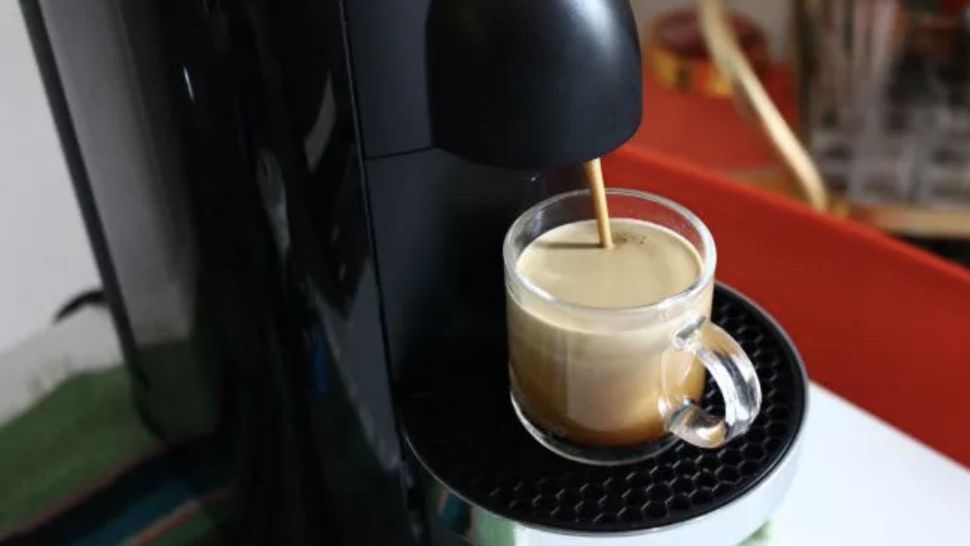 Before you jump on a Cyber Monday Nespresso deal, do your research first – especially if you're new to the Nespresso ecosystem. Even if you end up saving a considerable chunk of change on a new Nespresso machine, it won't be of much value if it doesn't fit your space and/or doesn't have the features you need.
There are two types of Nespresso machines you can choose from:

Nespresso Original machines use tall, thin capsules that are good for 2-3 cups of coffee apiece; most models also include a built-in milk frother.
Nespresso Vertuo machines use short, wide capsules that contain a barcode so the machine can adjust brewing parameters. They're capable of producing 5 brew sizes.
If all you're seeking is a straightforward machine that can brew a tasty espresso (with some frothed milk for a nice touch), a Nespresso Original machine will be your best bet. It may not be as versatile or intuitive as a Vertuo machine, but it's a less expensive option that'll suit anyone who is content with the basics.
Meanwhile, consider a Nespresso Vertuo machine if you like to tinker with your coffee drinks. Of course, going this route will cost more than opting for an Original model. And while you'll miss out on the built-in frother, you can pick up a separate Aeroccino if that's a must for you. (Fortunately, Vertuo-Aeroccino bundles are fairly common.)
Whether you're angling for an Original or Vertuo coffee maker, be sure to bookmark this page so you're informed about the best Cyber Monday Nespresso deals as soon as they happen.
You can also head over to our Cyber Monday Keurig deals (opens in new tab) page if you're curious to know how those machines will be discounted. But if you don't know which pod-based coffee machine to choose, read our breakdown of Nespresso vs Keurig (opens in new tab) to help make an informed decision.
Additional reading for after you've purchased your new Nespresso this Cyber Monday:
Our predictions for Cyber Monday Nespresso deals
When will Cyber Monday Nespresso deals begin in 2022?
Cyber Monday falls on November 28, 2022, but there are already some impressive deals on Nespresso machines with Amazon and Best Buy. If you're seeing your dream machine at half-price, it's always a good idea to buy it now than risk the heartbreak of it selling out.
What Cyber Monday Nespresso deals will we see in 2022?
If we're speculating off the back of what happened in 2021, we'd predict there will be better Nespresso deals at UK retailers. Last year Amazon slashed the Nespresso Vertuo Plus by Magimix Special Edition and the Nespresso Vertuo Plus by Magimix (Red) from £179.99 to just £59. It even took the high-end Nespresso Creatista Plus Coffee Machine by Sage to almost half price, selling for £278.99 instead of £449.95.
Unfortunately, the US discounts weren't as compelling. The biggest discount was a $60 saving on the Instant 2-in-1 Multi-Function Coffee Maker at Amazon, which isn't Nespresso-branded but is compatible with their pods
Last year's best Nespresso deals in the US
One of the best ways to know if the Cyber Monday deal you're seeing is any good, is to take a look back at what happened last year. This context will help you understand whether the discount is high for a Nespresso machine, or if you want to hold out for a lower price.