Advertisement Feature
LG Display's Gaming OLEDs help reduce blue light exposure while maintaining vivid color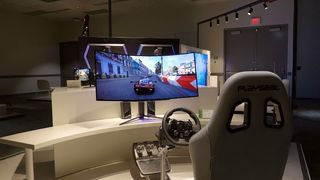 (Image credit: Eyesafe )
Computers are a dominant part of many people's lives these days. We socialize online, play games for entertainment, and many of us even work on the internet from our homes. Constant screen use has led to concern about excessive exposure to high-energy visible (HEV) light, more commonly known as blue light. Research has suggested prolonged exposure to these light waves can have negative effects, including disrupting our natural sleep-wake cycle.
Gaming is a popular leisure activity for many, and a recent slate of new releases could easily have players sacrificing their sleep schedule to fit in the hundreds of hours it will take to fully explore their new favorite digital worlds. Gamers may use blue light glasses or software to reduce blue light during extended gaming sessions. The biggest downside? These solutions turn your screen yellow.
Game developers carefully craft these exquisite, lush new worlds for gamers to explore – and it does a disservice to the experience to distort the colors.
It's possible to have high-integrity gaming displays that do not negatively affect your experience while still protecting you from blue light. LG Display offers exceptional color integrity in its gaming OLED displays, which emit less blue light than comparable LCD screens. With 600 nits of brightness, OLED panels surpass LCDs in actual gaming environments due to self-lit pixels and pixel dimming technology that allow the OLED to express peak luminance when HDR is enabled. Thanks to a self-emissive structure with no need for backlighting, LG Display's Gaming OLEDs are able to produce response times that are 100 times faster than LCD gaming monitors, with no image artifacts causing blurred effects otherwise known as inverse ghosting. A refresh rate of 240Hz further provides a smoother, less blurry experience that can be adapted by the user, per game, to adjust the curvature of the monitor so that it's always a comfortable and immersive viewing experience.
LG Display's OLED panels are Eyesafe Certified for always-on, blue light protection that doesn't sacrifice screen color. These panels are recommended by the Eyesafe Vision Health Advisory as the best gaming monitor for eye comfort. "LG Display's Gaming OLEDs offer a win-win situation for gamers, promoting better eye comfort and maintaining color accuracy and visual quality, ensuring an optimal gaming experience" said William Trattler, MD.
LG Display recently entered into a sponsorship partnership with DRX, a global esports team, to showcase the power of their gaming OLED displays. Two world-class DRX Tekken professionals, Jae-min Bae and Seong-ho Kang—better known as Knee and Chanel, respectively—had the opportunity to go hands on with LG Display's Gaming OLED and experienced the high-performance monitors in a competitive setting. "LG Display's Gaming OLED's astonishing color reproduction puts it miles ahead of other monitors," said Knee. Chanel added, "Even on a large screen, the sharp picture quality lets me take in everything at a glance without experiencing any eye fatigue. I've been recommending LG Display's products to everyone for their incredible viewing experiences."
Learn more about the low blue light emitting LG Display's Gaming OLED by visiting OLED Space.
Get daily insight, inspiration and deals in your inbox
Get the hottest deals available in your inbox plus news, reviews, opinion, analysis and more from the TechRadar team.