I test graphics cards for a living, and these are the Prime Day graphics card deals I'd look for — and one I'd avoid like the plague
The best Prime Day graphics card deals to keep an eye out for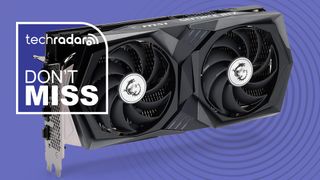 (Image credit: Future / MSI)
With Amazon's second Prime Day 2023 sales event running from October 10 to October 11, there are likely to be a number of really great deals on the best graphics cards on the market so it's a good time to buy if you've been looking to upgrade your gaming or workstation PC but you don't want to necessarily spend a fortune.
With the best 4K graphics cards, best 1440p graphics cards, and best 1080p graphics cards all having a lot to offer depending on your need, finding the right deal is going to be tricky, since prices are going to vary wildly next week, as will the quality of the GPUs on offer.
Not only that, other retailers aren't just going to sit idle while Amazon runs its major sales event. They too will have major sales goin on next week, so you don't have to just look to Amazon next week to snag a bargain before the early Black Friday graphics card deals roll in toward the end of the month.
So if you're looking for the best graphics card deals next week, there are a few things to keep in mind before you go shopping. Since I review graphics cards for a living, I have extensively tested and reviewed all the best cheap graphics cards all the way up to the most premium GPUs on the market, and I'm here to leverage that considerable experience to help you make the right choice for your next GPU, whatever your need or budget may be.
Deals to look for if you're on a budget or gaming at 1080p
If you're on a budget (or if you only need a graphics card for multi-monitor support for your workspace), you're in luck. There are going to be a lot of cheap GPUs on sale next week that will serve you very well if you're looking for 1080p gaming or a productivity boost.
For gamers out there, the last-gen 1080p champs, the RTX 3060 and RTX 3060 Ti from Nvidia and the AMD RX 6500 XT, RX 6600, and RX 6650 XT, are going to see some price cuts. But be mindful that the new AMD Radeon RX 7600 has an MSRP of $269.99 and the Nvidia GeForce RTX 4060's MSRP is $299.99 and the RTX 4060 Ti's is $399.99, so any 1080p card from the last-gen priced higher than this is best avoided.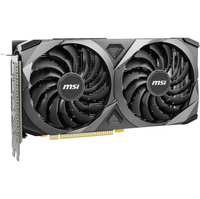 MSI Gaming GeForce RTX 3060 12GB | was $459.99 now $289.99 at Amazon
This MSI Gaming GeForce RTX 3060 is marked down considerably right now, but with Black Friday graphics card deals on current-gen cards on the horizon, this card is likely to get an even steeper cut on Prime Day.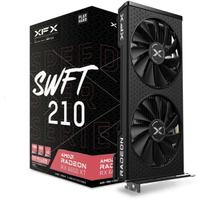 XFX Speedster SWFT210 Radeon RX 6650XT | was $329.99 now $249.99 at Amazon
I did not like the RX 6650 XT when it launched in 2022, but not because of its performance, but rather its launch price. It's come down nearly 50% since then, making it a fantastic budget 1080p card, especially with this 24% discount.
Look for deals on 1440p graphics cards to hit the gaming sweet spot
Don't get me wrong, 4K gaming is great, but it's also ridiculously expensive. Not only is 1440p gaming much more affordable, it often provides a more fluid gaming experience, which translates into a much more enjoyable gaming without really sacrificing too much in terms of visual clarity.
Many of the best cards of the last-gen, like the Nvidia RTX 3070 and RTX 3080 or the AMD RX 6700 XT, are going to get pretty healthy price cuts in the weeks ahead, starting with Prime Day. If you're looking for a great 1440p gaming card at a great price, look for these cards on Tuesday.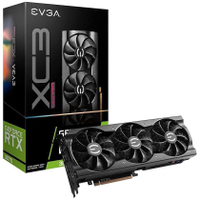 EVGA GeForce RTX 3070 XC3 Ultra Gaming | was $649.99 now $599.99 at Amazon
One of the best 1440p graphics cards around, the RTX 3070 will deliver outstanding gaming performance for years to come.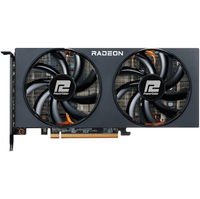 PowerColor Fighter AMD Radeon RX 6700 XT | was $349.99 now $319.99 at Amazon
While the AMD RX 6750 XT is the better 1440p GPU, the RX 6700 XT still holds its own from the last gen, especially at the kinds of discounts we're seeing right now.
Finding 4K graphics card deals will be harder, but not impossible
If you're looking to do some 4K gaming, or you're looking for a GPU that can handle creative content workflows or machine learning tasks, you're probably not going to see many 50% off deals on an RTX 4080, but you can still save some money, especially on last gen's 4K graphics cards like the RTX 3090 and RX 6950 XT.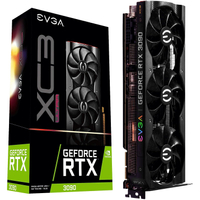 EVGA GeForce RTX 3090 XC3 Ultra Gaming | was
$1,749.99 now $1,377 at Amazon
Easily one of the best graphics cards ever made, the RTX 3090 has come done in price by quite a lot, making it a great target for 4K GPU deals like this 21% discount right now at Amazon.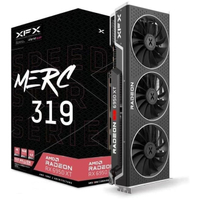 XFX Speedster MERC319 RX 6950XT Black | was $889.99 now $629.99 at Amazon
Possibly the cheapest pure 4K gaming graphics card on the market, the RX 6950 XT will handle just about any 4K gaming you can throw at it, though its ray tracing performance isn't as good as Nvidia's. It's also not going to be good for creative content or machine learning tasks, so this is strictly a 4K gaming card, but an excellent one at that.
Don't buy used or renewed RTX 3000-series graphics cards unless you're willing to accept the risk of premature failure
I kicked off a bit of a firestorm last year when the cryptobubble burst and I warned TechRadar readers against buying used graphics cards from the then-current RTX 3000-series. Cryptominers absolutely lost their mind on me on social media and in my email inbox, since almost all of these used cards were gang-pressed into cryptomining or other blockchain foolishness like NFT minting and cryptominers were looking to recoup costs after mining dried up by passing off worn out GPUs onto gamers who'd been starved of GPU upgrades.
Given their uncertain operating conditions under which these cards turned math problems into carbon emissions, there was no way to tell how much life was left on them before they failed, and that remains as true now as it did then. While the prices of renewed RTX 3070s or RTX 3080s might be tempting, paying $350 for a renewed RTX 3080 that catastrophically fails within a year isn't a good bargain, even if that card operates perfectly well for that year.
If you buy a new graphics card, you should expect to get 4-5 years of serviceable use out of it. Anything less should either be priced into the card (an RTX 3080 for $100? Go for it, but with eye wide open) or should be avoided.
Also, if you don't recognize the names of the manufacturers or there are no names given, the quality on these cards is suspect since they were likely pulled out of OEM systems or are aftermarket modifications, likely for cryptomining purposes, and which pretty much are guaranteed to come without any warranty. A low price on a lemon you can't return is never a good bargain. Skips these as well.
What about current-gen deals?
Finally, current-gen graphics cards are already seeing price cuts, even before Prime Day, so definitely keep an eye out for any current-gen deals you find. Our price comparison tool pulls the latest prices from major retailers to help you find the lowest price on the card you want, whether it be for 1080p, 1440p, or 4K graphics performance.