Black Friday graphics card deals in 2023: the best deals still available
Black Friday graphics card deals are still going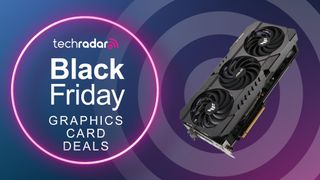 (Image credit: Future)
Black Friday is over - but the deals are still going. Last-minute Black Friday graphics card deals from major brands like Asus, Gigabyte, and PowerColor are offering impressive discounts on top GPUs, and we're here to bring them all to you to make your holiday shopping a breeze, covering existing sales and upcoming Cyber Monday deals.
Black Friday deals are an ideal way for gamers and creatives to upgrade their setups. Whether you're looking for high-end 4K graphics cards or seeking a budget-friendly option for the best 1080p graphics card or the best 1440p graphics card, the range of deals available is vast and varied.
Beyond individual graphics card deals, our Black Friday PC deals roundup offers opportunities for broader system upgrades at a fraction of the cost of piecemeal enhancements. This is an excellent option for those considering a comprehensive system upgrade beyond just the GPU.
For all the latest on Black Friday and Cyber Monday graphics card deals, stay tuned here. We'll keep combing through all the top retailers over the Black Friday weekend and collecting all the best deals we find in one convenient location to simplify your shopping experience this year.
Black Friday graphics card deals - Quick links (US)
Black Friday graphics card deals - Under $400 (US)
Black Friday graphics card deals - Under $700 (US)
Black Friday graphics card deals - Under $1,000 (US)
Black Friday graphics card deals - Premium (US)
BLACK FRIDAY Graphics card DEALS - QUICK LINKS (UK)
Black Friday graphics card deals - Under £400 (UK)
Black Friday graphics card deals - Under £700 (UK)
Black Friday graphics card deals - Under £1,000 (UK)
Black Friday graphics card deals - Premium (UK)