Black Monday
If you love The Wolf of Wall Street, you're bound to love Black Monday, a new Showtime comedy series from creators Seth Rogen and Evan Goldberg (Superbad, Preacher). Set one year before Wall Street's catastrophic Black Monday event in 1987 (the worst fall since The Great Depression), this hilarious series recounts the events that led up to that fateful day. Starring Don Cheadle (Avengers: Infinity War) and Andrew Rannells (Girls), the show is a blisteringly funny takedown of 1980s excess and greed. Exclusive to Stan in Australia, each new episode will be fast-tracked to the service as it airs.
Seasons on Stan: 1
Who is America?
You would think that comedian Sacha Baron Cohen would be too famous at this point to dupe people into giving him ridiculous interview material, but somehow, the Borat / Ali G / Bruno creator has devised a new batch of characters that will cause his subjects to play directly into his hilariously devious hands. Who is America? aims its sights squarely on US politics, with Cohen interviewing the likes of Sarah Palin, Bernie Sanders and Dick Cheney, as well as a number of everyday Americans. His goal is the same as it's always been: to systematically reveal hypocrisy. Whether Cohen's new characters will be as successful as his previous creations is anyone's guess, but it's great to have him back and doing what he does best. As this is a Showtime production, Stan has the exclusive rights to it in Australia — that means you can expect new episodes to be fast-tracked as soon as they air overseas.
Seasons on Stan: 1
Parks and Recreation
An Amy Poehler-led comedy series that made stars out of Chris Pratt, Nick Offerman, Aubrey Plaza and Aziz Ansari, Parks and Recreation follows Leslie Knope (Poehler), an ambitious Parks Department worker who consistently tries to make her small town a better place. Unfortunately for her, she is usually impeded by her disinterested boss, Ron Swanson (Offerman), as well the usual governmental bureaucracy that stands in the way of change. Fans of shows like The Office and 30 Rock will love Parks and Recreation.
Seasons on Stan: 7
Will & Grace
A trailblazing series that fostered equality during its initial run, Will & Grace has returned in 2017 with the reunion that fans of the sitcom have been wanting for years. The show follows a gay lawyer named Will (Eric McCormack) and his straight interior decorator roommate Grace (Debra Messing) as they struggle to find love in New York. Along for the ride are Will's flamboyant friend, Jack (Sean Hayes), and Grace's well-off assistant, Karen (Megan Mullally). The new series beings the foursome directly into today's turbulent political climate with expectedly zany results. On top of being the exclusive Australian home of the new Will & Grace series, Stan also hosts all eight seasons of the original series, so fans will be able to binge their hearts out. Now, if we could only get a Friends reunion...
Seasons on Stan: 9
The Other Guy
A refreshing Australian comedy/drama series, The Other Guy has more in common with the likes of Netflix's US series Master of None than just about any Australian show in recent memory. Starring comedian Matt Okine, The Other Guy tells dramatised versions of real relationship stories from Okine's own life – sometimes funny, other times heartbreaking, With terrific writing that focuses on character over punchlines, you should definitely give the Stan Original series The Other Guy a shot.
Seasons on Stan: 1
I'm Dying Up Here
From Executive Producer Jim Carrey comes I'm Dying Up Here, a new dramedy series that follows a group of sardonic Los Angeles comedians in the '70s, all of which are hoping to get their big break, maybe even landing a couch spot on The Tonight Show Starring Johnny Carson. Funny and quick-witted, yet sad and thoughtful, the show offers a glimpse into the struggle and dedication that goes into pursuing a career in stand-up comedy. As you'd expect from a Showtime series, the show does not shy away from the sex, drugs and hard-living lifestyles of its characters. Get on board this one early, because these kinds of shows have a tendency of not sticking around too long.
Seasons on Stan: 1
Community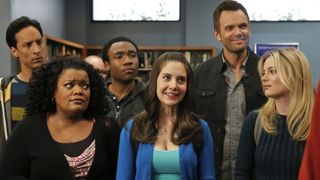 Following the exploits of a particularly low-rent community college, Community is a geeky, pop-culture obsessed delight. Community's homaging of all things movies, television and video games is spot on and incredibly realised, due to top notch direction, writing and performances. Best of all, the entire series is available on Stan, with new episodes appearing on the service as soon as they air in the United States.
Seasons on Stan: 6
Friends
We all fell in love with Monica, Chandler, Ross, Rachel, Joey and Phoebe during the '90s, and now we can revisit every single one of their hilarious antics exclusively on Stan! Completely remastered in HD and presented in widescreen, this is the definitive way to watch all 10 seasons of Friends – quite frankly, the fact that we're able to watch a '90s sitcom in this kind of quality is astounding. We wish all our favourite shows from yesteryear were treated with this kind of loving attention.
Seasons on Stan: 10
Seinfeld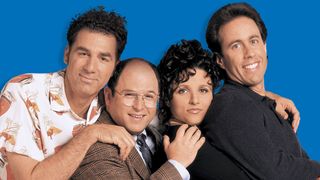 Perhaps the greatest sitcom ever made, Seinfeld has finally made its way onto Stan in its entirety. Not only that, the "show about nothing" has been completely remastered, presented here in both widescreen and high definition – not bad for a sitcom from the early '90s! A revolutionary series that took a few seasons to initially catch on with audiences, Seinfeld follows a group eccentric and self-absorbed friends from New York who relentlessly pick apart the people they meet and the situations they happen to find themselves in – all in the observational style of comedy that made comedian and star Jerry Seinfeld famous in the first place . Featuring enough classic characters to give The Simpsons a run for its money, Seinfeld is required viewing for comedy fans.
Seasons on Stan: 9
Angie Tribeca
From creators Steve and Nancy Carell comes Angie Tribeca, a hilarious spoof comedy series that parodies modern cop procedural shows like CSI, Law and Order and NCIS with a nodding wink to Police Squad, The Naked Gun and Loaded Weapon 1. Rashida Jones is particularly fantastic as the titular detective, though the show is also filled with celebrity cameos, including Bill Murray and James Franco. Some may find the constant stream of goofy (and somewhat predictable) jokes a little overbearing, but if you long for the return of this kind of thing, you'll have an absolute blast with Angie Tribeca.
Seasons on Stan: 3
The IT Crowd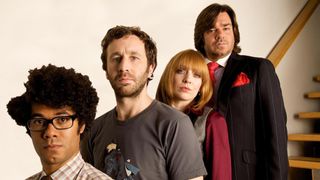 It's safe to assume that if you're reading this website, you're quite tech-savvy, so you'd probably have an intimate knowledge of what it's like to deal with computer illiterate people. The IT Crowd understands this frustration in a way that only those who've actually lived it can – and it's absolutely bloody hilarious. The show follows the misadventures of tech support officers Jen (Katherine Parkinson), Roy (Chris O'Dowd) and Moss (Richard Ayoade), both in the office and out in the real world – spurred on in part by their eccentric boss, Douglas Reynholm (Matt Berry). It's like a geeky, British version of Seinfeld.
Seasons on Stan: 4
Key and Peele
With a hilarious partnership that began on the old sketch comedy series Mad TV, bi-racial comedy duo Keegan-Michael Key and Jordan Peele shot to superstardom with their own Comedy Central series, Key and Peele. Tackling a range of issues including relationships, race and celebrity, Key and Peele will leave no stone unturned in their quest to make you laugh uncontrollably. Featuring brilliant impersonations, observations and characterisations, Key and Peele is essential viewing for fans of sketch comedy.
Seasons on Stan: 5
Party Down
Another show that was taken from us far too soon, Party Down is a comedy about group of out-of-work actors (and one hard science fiction writer) who are forced to take on jobs at a catering service. Each episode takes place at a different party, furthering the characters' relationships in the process. Featuring hilarious turns from Adam Scott, Lizzy Caplan, Martin Starr, Ken Marino and Jane Lynch, Party Down is most certainly the kind of show that deserves to be rediscovered on Stan.
Seasons on Stan: 2
No Activity
Taking a page out of Netflix's successful playbook, Stan opted to produce its own original series this year in No Activity, a hilarious improvisational cop show in which almost nothing at all happens. Patrick Brammall and Darren Gilshenan play two detectives on stakeout who pass the time with oddball observations and banter. That's pretty much the entire gist of the series, though there is an overarching story in there, too. Highly recommended, Stan's first original series is a wonderfully inventive and funny show.
Seasons on Stan: 2
Spaced
Before they hit the big time with Shaun of the Dead and Hot Fuzz, Simon Pegg, Nick Frost and director Edgar Wright made a splash with Spaced, a hilarious comedy series about a man (Pegg) and woman (Jessica Hynes) who pretend to be a professional couple in order to get a good deal on a flat. Not only would they have to keep up the facade, but they'd also have to deal with their crazy new neighbours. Filled with geeky references and the kind of quick-fire humour that made Pegg, Frost and Wright famous, Spaced is a delightful series that many people of a certain age will immediately empathise with.
Seasons on Stan: 2