So you've forked out for one of the best phones and need the best Android smartwatch to pair with it, but which of the many options is right for you? You might be searching for a smartwatch that will offer superior productivity support, will fit the bill as the best fitness tracker, or offer the best of both worlds. Finding the right wearable for you can be easier said than done.
Over the years, we've put a wide variety of top contenders to the test, looking closely at factors such as performance, fit, software support and more. As a result, we're confident we know what it takes to identify the top Android wearables worth their place on your wrist.
We've looked at smartwatches from Samsung, Google, Fitbit and Garmin, with options to suit an array of different needs and budgets. Below, you'll find our picks for the best Android smartwatches in Australia.
The best Android smartwatch for 2023
Why you can trust TechRadar We spend hours testing every product or service we review, so you can be sure you're buying the best. Find out more about how we test.
The Samsung Galaxy Watch 5 is a smart looking watch in every sense of the word. It looks great on your wrist while offering powerful features and its super AMOLED display is both sharp and clear, as well as able to handle very bright outdoor scenes.
Performance wise this latest-gen Galaxy Watch is both fast and responsive, although notably more so when paired with a Samsung smartphone. There's no iPhone support here either, so while it's top of the pops as an Android smartphone it wouldn't feature at all in a list of best Android smartwatches specifically for Apple users.
Besides SmartThings integration (allowing seamless connectivity with smart home and other smart devices), the highlight in the Samsung Galaxy Watch 5 is its ability to monitor your body composition. This elevates the Galaxy Watch 5 overall to a level bordering on it being the ultimate fitness tool, with extensive sleep tracking also on offer to help you get the most from yourself every day.
Read our full Samsung Galaxy Watch 5 review.
Google's first foray into smartwatches has produced beautiful results. Starting with looks, the Google Pixel Watch features a glossy, smooth face that's more eye-catching than most.
The Pixel Watch may be smaller than some rivals but doesn't suffer anything for this, with great integration of popular apps, including the obvious Google-owned mainstays such as Google Maps, Gmail and YouTube. And thanks to its acquisition of Fitbit finalised in 2021, the Pixel Watch also benefits from full integration with the Fitbit ecosystem making it a fitness heavyweight as well.
Wear OS is a breeze to use here, pairing up particularly well with Google's own phones, like the Pixel 7 and Pixel 7 Pro (each of which land in our list of the best phones). The integration of Google Assistant is smart and effective, with built-in media controls also working well.
As with its two greatest competitors in the smartwatch market (the Apple Watch and Samsung Galaxy Watch, respectively) battery life could be better, but there's little else to fault when it comes to how well this watch works.
Read our full Google Pixel Watch review
The Samsung Galaxy Watch 5 Pro is big, bold and brash with an eye particularly on assisting outdoor enthusiasts. Its AMOLED screen is super smooth to use while also being twice as durable as the Samsung Galaxy Watch 4 before it.
All the improved health features are also there, such as with the Pro offering up a route workout GPS function so you can plan your route carefully with turn-by-turn navigation. If you're an avid cyclist or make a habit of beating the pavement, that's a valuable safety feature as much as it is a convenience one.
All things considered the Watch 5 Pro has many of the advantages of a Garmin watch, but with the added power and productivity performance of a Wear OS device, ensuring you get the best of both worlds.
Its 80 hour battery life is also better than many other Wear OS watches even if not quite as good as the Garmin-based competition for those planning to set out on a multi-day hiking trip. Besides this, the only glaring downside for the Watch 5 Pro would have to be its price.
Read our full Samsung Galaxy Watch 5 Pro review.
For anyone who can't stay still, the Garmin Fenix 7 is a perfect smartwatch for tracking everything possible. It gives you all the tools you could need to understand your current fitness level, as well as to set and achieve your goals.
The Fenix 7 offers advanced workout tracking and training tools, along with superb navigation apps, and offers a sturdy build for the purposes of adventuring. That said, its size and ruggedness might be excessive for someone that simply wants a stylish timepiece.
Its display could also look sharper and it may not be the same level of productivity powerhouse that many of its competitors are, but for the avid adventurer or fitness fanatic this is a powerful investment.
Read our full Garmin Fenix 7 review
The Fitbit Versa 3 may not be a strictly Android smartwatch like most others on this list, but its ability to pair more than well enough with Android smartphones and stand out with quality features and performance makes it worthy of consideration – especially at its price point. And that price is now even more attractive given the Versa 3 now sits as a generation behind the latest Fitbit Versa 4.
But the latest Fitbit Versa, despite being newer, is inferior to the Versa 3 for a few key reasons. Namely, the update to the line loses some key features found in the Versa's third generation, such as the ability to support third-party apps and music playback when not connected to Wi-Fi.
With built-in GPS and a quality AMOLED display, the Fitbit Versa 3 dazzles particularly as a fitness tracker, which comes as no surprise with it being a Fitbit. As we mentioned in our review, "the Fitbit Versa 3 is an excellent wearable, though it's more a fitness tracker than a smartwatch, with very limited productivity apps on offer."
Regardless, if you're looking for a quality wearable to pair with your Android smartphone and you're shopping with a slightly tighter budget, there's every chance the Versa 3 might be the perfect fit for you.
Read our full Fitbit Versa 3 review
Formerly the best Android smartwatch as well as one of the best smartwatches overall, the Samsung Galaxy Watch 4 is packed with features. With an improved battery life over its predecessor, and some interesting new software in the form of One UI Watch 3, it's a compelling mixture of features right down to its new body composition tools.
There's limited compatibility if you don't have a Samsung smartphone to pair it with and we miss the rotating bezel (although there is a virtual one), but you can't beat the Samsung Galaxy Watch 4 for all-round style and useful features. Its gorgeous display further helps here too with speedy performance keeping up with your plans.
It might not be the most highly-specced fitness watch out there. However, it's a solid all-rounder for those keen to check on their heart rate, blood pressure, blood oxygen levels and more while looking good.
Read the full Samsung Galaxy Watch 4 review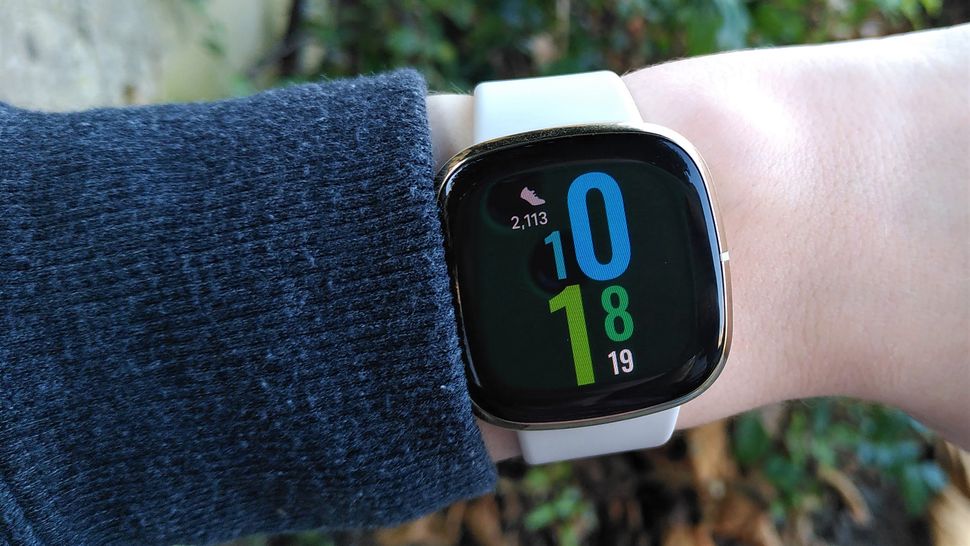 The Fitbit Sense has a design that's quite similar to the Versa, listed higher on this list, and as a Fitbit it's also quite similar to use. However, this Android smartwatch model comes wtih health features that go beyond the physical.
The Fitbit Sense has the... well, sense, to check in on some aspects of mental health too, logging your mood and stress, as well as providing meditation and mindfulness lessons. Its main issue is that you have to pay for Fitbit Premium for lots of its extra features. There aren't exactly many other watches on this list that require you to keep paying after you've bought it.
Performance-wise, we found it to be impressive during testing. Putting the Sense through a pretty intense spin session, we didn't see any unexpected dips in heart rate that indicate an issue with fitness trackers. It also vibrates to indicate when you're moving between heart rate zones, which is very useful for training.
Read the full Fitbit Sense review
How to choose the best Android smartwatch for you
First off, don't buy an Apple Watch, as they don't work with Android.
Beyond that it's a case of picking one with the features you need. Do you care about being able to take an ECG or is basic heart rate monitoring enough? Are you into health and fitness or do you mostly just want notifications? Consider all that, along with what prices and styles suit you.
Do these smartwatches also work with an iPhone?
Most smartwatches that work with Android will also work with an iPhone. However, you might lose out on some functionality, and there are a few that won't work at all, such as the Samsung Galaxy Watch 4 and 5, as well as the Google Pixel Watch. For the best results with an iPhone, stick to an Apple Watch or consider a less costly option from Fitbit.
How we test Android smartwatches
When testing a smartwatch we pair it to our phones and use it for days, so we can tell what it's like for everyday use - this includes working out its true battery life, seeing how it handles notifications, and appreciating any extra features it has.
We also take it for workouts with us, so we can see if it's accurate at measuring distances and time, and to see if the fitness modes bring any cool extras.
To create our ranking we considered our review score, the specs, features, performance, price, and how they stack up to alternatives.