The Garmin Venu 3 is a powerful lifestyle tracker with a stunning screen and lots of sports tracking. Thanks to that AMOLED display – plus speakers and microphone – it is powerfully interactive and gives some superb meditation-based guidance, wheelchair user tracking, and doorbell visual alerts on top of its sleep tracking and guidance. Not cheap, but with plenty of skills to back that price tag up.
Pros
+

Stunning AMOLED display

+

Wheelchair user tracking

+

Speaker and mic built-in

+

Intuitive health guidance

+

Wheelchair specific tracking
Cons
-

Priced high

-

Lacks some premium training features
Why you can trust TechRadar We spend hours testing every product or service we review, so you can be sure you're buying the best. Find out more about how we test.
Garmin Venu 3: One minute review
The Garmin Venu 3 is the third in a trilogy of watches which – unlike most movie trilogies – as the third is actually the best of the bunch. In fact, this is one of the best Garmin watches outright.
Like the rest of the Venu series, this is a pretty balanced blend of smartwatch and health tracker. Primarily, that means the Garmin Venu 3 looks great with a rich and colorful AMOLED screen, that gives some of the best Apple watches a run for their money. Unlike Apple Watches, which can only go a scant 18 or 36 hours without a recharge, this watch can last for up to two weeks.
What you don't get here is some of the more premium running features like the Training Readiness score, or Race Predictor, like you would get on the Garmin Forerunner 265 for example. But you do get advanced sleep tracking and suggestions, an evening report, unique wheelchair user-specific training metrics, and more health insights.
This watch also features a speaker and microphone meaning you can take calls from a connected phone, right there on your wrist. It also means the meditation training is more immersive with audio guidance, music, and more.
So while this is on the expensive side for a Garmin watch without premium training features, this does manage to offer lots of smartwatch-style capabilities – like GPS tracking, offline Spotify, and contactless pay – while also focusing on lifestyle tracking, all day and all night.
Garmin Venu 3: Specifications
Swipe to scroll horizontally
| | |
| --- | --- |
| Component | Garmin Venu 3 |
| Price | $450 / £450 / AU$749 |
| Dimensions | 45 x 45 x 12 (mm) |
| Weight | 46 g |
| Case/bezel | Fibre-reinforced polymer case, stainless steel bezel |
| Display | 454 x 454 1.4-inch AMOLED touch |
| GPS | GPS, GLONASS, GALILEO |
| Battery life | Watch mode 14 days, GPS only 26 hours, GPS + Music 11 hours |
| Connection | Bluetooth, ANT+, WiFi |
| Water resistant? | Yes, 5ATM |
Garmin Venu 3: Price and Availability
£450 in the UK
$450 in the US
AU$749 in Australia
The Garmin Venu 3 is a relatively high price compared to other Garmin watches and contemporaries like the Samsung Galaxy Watch 6, but it costs only slightly more than an Apple Watch and does a bit of everything (and it does it very well) while looking premium to boot. So you're looking at a price of US$450 / £450 / AU$749, slightly higher than most smartwatches, but still quite representative of what you're getting at this stage.
Of course, these are the launch prices, so you can expect these to drop over time. You can often find great deals on Garmins, and we're betting the Garmin Venu 3 is no exception. Check out our Black Friday Garmin deals page for more information.
Garmin Venu 3: Design and screen
1.4-inch AMOLED display
Stainless steel bezel
Comfy silicone strap, 22mm QuickFit compatible
The Garmin Venu 3 is undeniably an attractive smartwatch that can be used as a fitness tracker and as a fashionable day-to-day wearable. The silicone strap is comfy, waterproof, and minimal in its design. That stainless steel bezel also gives it a premium finish, which other curved-screen wearables like Apple Watches and the Google Pixel Watch 2 are missing.
But it's only when that screen lights up you really see the quality. This watch boasts a gorgeous 1.4-inch AMOLED display with a high 454 x 454 pixel resolution. This super-bright and colorful screen makes all your metrics show up clearly and attractively, no matter the lighting conditions.
The Venu 3 works well with a touchscreen that not only makes menu scrolling easy but features lovely graphical transitions that create an intuitive way to explore the menus. It's all encased in Corning Gorilla Glass 3 to make sure it stays scratch-free – which was the case throughout our frankly harsh testing. 50-meter waterproofing does set your mind at ease: you can use it anywhere, including underwater, and it's dustproof to boot.
You also have three buttons to help menu interactions which are utilized well. For example, if you want to discard a workout you hit the red cross on the screen but then have to confirm using one of the buttons.
The Venu 3 comes in two sizes: 41mm (known as the Venu 3S) and the larger 45mm, just known as the Venu 3. Colorways for the Venu 3 include white, black, or black with a leather strap. Go for the Venu 3S and there are even more choices including soft gold, rose pink, sage gray, and others.
Garmin Venu 3: Features
Pre-loaded guided meditation content
Wheelchair user specific tracking
Smarter sleep tracking
The Garmin Venu 3 is packed full of health, lifestyle, and fitness tracking features while offering some genuinely useful smartwatch apps from the Connect IQ store. One standout feature was the fact this AMOLED screen is taken advantage of when linked to the Ring doorbell app, showing a screenshot of who's there when you get an alert on your wrist.
The return of Venu 2's speaker and microphone means you can get audio alerts and even take calls natively on the watch. It's not quite well refined enough to let you talk back using the Ring app, for example, but it's no surprise the mainly third-party apps aren't going to be as good as on other platforms – Garmin has never pushed too hard in that area, largely because it focuses on fitness training, and it's done that well here.
You can expect a plethora of tracking and training options including all-day heart rate tracking, deep sleep tracking with guidance, stress scores, HRV measurements, respiration tracking, and plenty more. All that equates to a clear overall picture of your health. As we've come to expect from a good Garmin watch, you can also track nearly any exercise you can think of too, including swimming and golf. Garmin has a dedicated Garmin Golf app available on your phone, which you can sync to the Venu 3. Garmin consistently makes some of its best golf watches around, and it's nice to see some of those features available here, such as downloadable courses and shot analysis.
The meditation content is worth mentioning as this is specifically tailored to this watch, offering audio and visual guidance without the need to connect headphones. That means guided meditations that track your respiration rate and heart rate so you can see the effects directly.
The wheelchair user-specific tracking is a fantastic option that lets you setup in that mode, right from the outset. This will then be able to track pushes as well as offer a selection of wheelchair-specific sports tracking.
You also have a selection of useful features day-to-day like contactless payments, Bluetooth headphone connectivity, offline Spotify playlists, and a handy flashlight mode that you genuinely do use when pottering about in the dark.
Garmin Venu 3: Performance
Accurate heart rate data
Superb sleep support
Still Garmin setup issues
The Garmin Venu 3, like most Garmins these days, performed very well in practice. That means it had near faultless GPS acquisition, was fast, and offered accurate measurements. It also meant heart rate data was accurate when compared with a chest strap test.
How all that data is used is what makes the Venu 3 special. Sleep tracking, for example, is far more advanced here than in many of the more sports-specific Garmin watches. This watch not only offers you a Morning Report of how you've slept and recovered, but also an Evening Report, helping you consider ways to make that night's sleep the best it can be. All that equates to checking in more with your habits and adjusting accordingly – part of what makes this watch supportive of change. This even has nap detection for the first time, allowing you to pop this on to get a power nap where your recommended sleep duration that night is taken into account.
It was a surprise to find the speaker and mic weren't just a fad but proved genuinely useful. There was enough clarity to follow guided meditations, take phone calls, and even appreciate music. The microphone worked well too; if you think this feature might be appealing, perhaps as a busy parent in the kitchen who still needs to be connected while hearing what's going on in the room, this is a top solution.
So why bother going for a sports-specific watch over this? Well, you'll find the Venu 3 can track a lot of sports – over 30 – but it might not do so in quite as much depth as some sports-specific wearables. Running, for example, tracks speed, pace, HR and even has maps, but you won't get more complex metrics from running dynamics like ground contact time or race predictors, which are available for the best running watches.
This would be a five-star section, but phone connection and setup was a nightmare. Having reviewed Garmins for over a decade, using various Android phones, this has always been an issue. A recent Forerunner 965 review was so faultless in the setup that it seemed Garmin had fixed it, then this Venu 3 connection was plagued with issues involving restarting the phone, the watch, the app, factory resets, and more. It might not be an issue on your phone but it's an unfixed Garmin trend, and cannot go unmarked.
Garmin Venu 3: Scorecard
Swipe to scroll horizontally
| | | |
| --- | --- | --- |
| Category | Comment | Score |
| Price | Higher priced but reasonable | 4/5 |
| Design and screen | Stunning AMOLED | 5/5 |
| Features | Broad range of options | 5/5 |
| Performance | Outstanding, apart from setup | 4/5 |
| Total | A wellness tracker with super screen, speaker and smarts. | 4.5/5 |
Garmin Venu 3: Should I buy?
Buy it if...
You want a super screen
That AMOLED screen makes everything you use this watch for an absolute pleasure to look at, as well as super clear and bright, in all conditions.
You want sleep smarts
This is one of the most comprehensive sleep trackers and advisors that Garmin has to offer, making it one of the best overall.
Don't buy it if...
You're a serious runner
While this will track running, and well, it doesn't offer the deeper metrics of dedicated watches which can help focus training for effective improvements.
You're on a budget
This is an expensive watch and you could save money if you don't mind downgrading that screen and losing a few of the features, like speakers built-in.
Garmin Venu 3: How we tested
We wore the Garmin Venu 3 on one wrist, connected to an Android device, for months. This came on runs, bike rides, swims, walks, yoga classes, weights sessions, paddle boarding and more.
The contactless payment features and wireless offline Spotify were both used as was sleep tracking, heart rate monitoring in cold water baths, notifications from the phone and more.
In short this was lived with 24/7 to truly test how you would use the watch, and all its features.
Garmin Venu 3: Also consider
Swipe to scroll horizontally
| | | | |
| --- | --- | --- | --- |
| Component | Garmin Venu 3 | Garmin Foreruner 265 | Samsung Galaxy Watch 5 |
| Price | $450 / £450 / AU$749 | $449 / £429 / AU$770 | £269 / $279.99 / AU$499 |
| Dimensions | 45 x 45 x 12 (mm) | 46.1 x 46.1 x 12.9 (mm) | 44.4 x 43.3 x 9.8 (mm) |
| Weight | 46 g | 47 g | 33.5g |
| Case/bezel | Fibre-reinforced polymer case, stainless steel bezel | Fibre-reinforced polymer | Armor aluminum frame |
| Display | 454 x 454 1.4-inch AMOLED touch | 416 x 416 px AMOLED, Corning Gorilla Glass | 450 x 450 px super AMOLED, Sapphire crystal |
| GPS | GPS, GLONASS, GALILEO | GPS, Beidou, Glonass, Galileo, SatIQ | GPS, Glonass, Galileo |
| Battery life | Watch mode 14 days, GPS only 26 hours, GPS + Music 11 hours | 13 days (20 hours GPS) | 24 hours |
| Connection | Bluetooth, ANT+, WiFi | Bluetooth 5.2, ANT+, Wi-Fi | Bluetooth 5.2, Wi-Fi |
| Water resistant? | Yes, 5ATM | Yes, 5ATM | Yes, IP68 |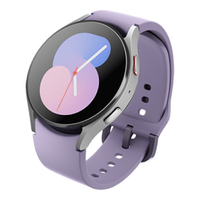 A decent mid-range watch running Samsung's One UI Watch operating system. It's a good device, escalating to great if you've got a Samsung phone as it all pairs so seamlessly.
Read our full Samsung Galaxy Watch 5 review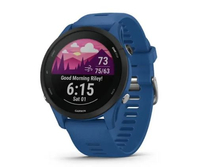 A lower-priced Garmin watch with that fabulous OLED screen, this is a dedicated workout wearable that operates like a 'true' smartwatch with its full-color touchscreen and onboard music storage. More runner focused than the Venu 3.
Read our full Garmin Forerunner 265 review
First reviewed: October 2023
Luke is a freelance writer and editor with over two decades of experience covering tech, science and health. Among many others he writes across Future titles covering health tech, software and apps, VPNs, TV, audio, smart home, antivirus, broadband, smartphones, cars and plenty more. He also likes to climb mountains, swim outside and contort his body into silly positions while breathing as calmly as possible.