From chunky cans to teeny tiny earbuds, we've tracked down the best wireless headphones on the market. With so many now available, it can be an overwhelming task to find the perfect pair, so we've curated this list to help reveal the ins and outs of the top headphones currently available in Australia, so you know what you're getting before parting with your hard-earned cash.
We've tried and tested each pair on this list focusing on a range of criteria, including how they sound to how long their battery lasts. Across design, audio performance and features such as active noise cancellation, ambient listening modes, spatial audio and more, no two products offer the exact same qualities and this list will help you find the differences to help you track down the right pair for you
Brands like Sony, Bose and Sennheiser all make an appearance on this list, offering not only some of the nicest sounding headphones out there but also the best variety of features. Other brands like Apple and Samsung also pop up from time to time, though these buds tend to work best within each specific brand's product ecosystem.
While this is the ultimate list of the best wireless headphones currently available, if you're looking for a more specific set we've also got lists on the best wireless earbuds and the best headphones if you already know what style of audio gear you really want.
Alternatively, if you're looking for a pair to suit a specific situation, you can also check out our best workout headphones or best noise-cancelling headphones guides to find options to match your exact needs.
Over-ear headphones
The best over-ear wireless headphones
Why you can trust TechRadar We spend hours testing every product or service we review, so you can be sure you're buying the best. Find out more about how we test.
Over-ear headphones are going to give you much better sound quality over their smaller counterparts, but that comes at the cost of bulky designs that can be a bit inconvenient, especially if you're after a pair for working out. With the space for bigger drivers, larger batteries and the option to plug in a 3.2mm cable (in most cases), Bluetooth over-ears are the ideal choice for the best sound in a wireless package.
The Sony WH-1000XM5 are the best wireless headphones we've ever tested. With improved noise-cancellation, supreme sound quality, and an even more lightweight wireless design, Sony has surpassed our previous favourite, last year's WH-1000XM4.
Although they aren't a massive departure from their predecessors there's a new design, new drivers, a whole array of microphones for better call quality and super-fast charging. There's also beefier processing for the noise cancellation, which was already among the best in the industry and is now somehow better.
The Sony WH-1000XM5 are a wonderful pair of wireless noise-cancelling headphones. They deliver exactly what they promise and then some thanks to their exceptional noise cancellation and cutting-edge codec support, but their pricep places them firmly in premium territory.
Despite the drivers in this model being smaller than before, the soundstage remains spacious and gives all elements of a mix room to breathe and shine. There's very little sound leakage, too: we sat next to a colleague in the office with the volume at full, and they didn't hear anything.
On top of the adjustments listed above, the Sony WH-1000XM5 support Sony's 360 Reality Audio format that enables spatial audio on stereo headphones plus the LDAC codec that can send a bitrate of up to 990 kbps. Unfortunately these headphones don't support aptX or aptX HD, so your hi-res audio support mileage may vary; if you need aptX HD you'd be better with last year's version instead.
Read more: Sony WH-1000XM5 Wireless Headphones review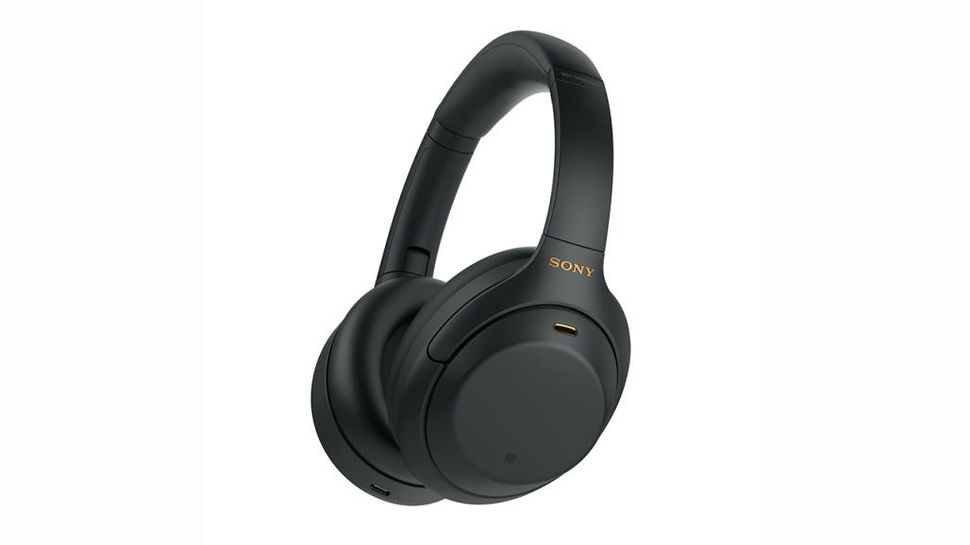 While they now have to share the limelight with the M5 (above), the WH-1000XM4 are still an exceptional product. Despite the newer model being released, Sony is still manufacturing and selling the M4 alongside it. Given the brand's pricing history, we expect this iteration to see frequent and hefty discounts and will probably present better overall value than the XM5 when reduced, firmly keeping them in our list of the best wireless headphones available.
Like their successors, they offer tremendous noise-cancellation, supreme sound quality, a lightweight and comfortable build, and an ease of use that delivers everything you could want from a wireless set of cans.
On top of the basics, they offer multipoint pairing, DSEE Extreme upscaling, conversational awareness and auto-play/pause using a built-in sensor. They also support Sony's 360 Reality Audio format that enables spatial audio on stereo headphones plus the LDAC codec that can send a bitrate of up to 990 kbps, but don't support aptX or aptX HD. By every possible metric, the Sony WH-1000XM4 are still a wonderful pair of wireless noise-cancelling headphones.
Read more: Sony WH-1000XM4 Wireless Headphones review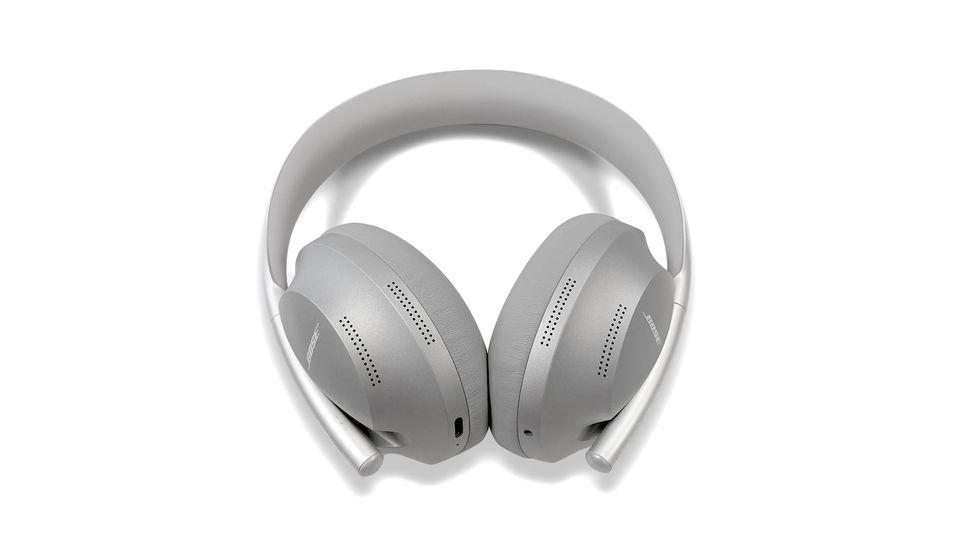 Bose has really outdone itself with the Headphones 700 – and a big part of these cans' appeal, is their sophisticated noise cancellation, which is applied to your voice during phone calls, as well as your surroundings. Impressively, you get the choice of 11 different noise cancellation modes so there's something for every potential scenario here.
As an alternative to the Sony WH-1000XM4, these Bose headphones sound fantastic, with a vibrant, lively character and well-balanced soundstage and offer the same great noise-cancellation you'd expect from Bose. We tested them out on Mark Ronson's latest album, Late Night Feelings. In Truth (feat. Alicia Keys and The Last Artful, Dodgr), they forcefully conveyed the bubbling sub bass as smoky vocals soared above the clattering industrial drum beats.
When we used the headphones during phone calls, we found the call quality to be remarkably clear, even when walking on a busy London street.
They don't have the same dexterity as the WH-1000XM4 and the battery life is also 10 hours less than the Sony headphones despite costing more, but they're perhaps the best wireless headphones for making calls with or for when working in a busy (and loud) office.
Read more: Bose Noise-Cancelling Headphones 700 review
With an exhaustive feature list and strong adaptive noise cancellation, we were thoroughly impressed with the Sennheiser Momentum 4 Wireless headphones. They have a well thought out minimalist design with brilliant sound as well.
There's a lot to love about the Momentum 4 Wireless, however the battery life is what makes these cans stand out above the rest. There's 60 whole hours on offer, even with ANC turned on, and when compared to both the Sony XM4's and Sony XM5's 30 hour battery life, you're getting twice as much juice from the Momentum 4 Wireless.
While not a cheap purchase, these all-rounder headphones deliver with crisp and detailed sound as well. Not only will you get a clean and immersive experience while listening to music, but you'll also experience clear audio on calls too. If you want a pair of headphones that really make a statement, then the Momentum 4 Wireless are worth considering.
Read our full Sennheiser Momentum 4 Wireless review
As one of the most highly anticipated headphones for years, once the Apple AirPods Max dropped we got our hands on them and they left quite the impression.
Android user's won't get the full experience out of these cans, so we can't justify the high price point there, but iPhone users are definitely getting their money's worth from these top performing headphones. The Apple AirPods Mac offer standout active noise cancellation, superb audio quality and a unique design that helps them to stand out from other headphones on the market.
Don't be fooled by the high price point though, the Apple AirPods Max aren't aimed at the audiophile crowd as they're missing a 3.5mm audio port. There's also no Hi-Res Audio codecs support, which is a bit disappointing for such an expensive set of cans.
Still, if you're well into the Apple ecosystem and have the cash to splurge, the Apple AirPods Max are still some of the best headphones currently on offer.
Read our full Apple AirPods Max review
In-ear wireless headphones
The best in-ear wireless headphones
'Neckband' wireless headphones might not be as common as true wireless earbuds, but they still have a lot to offer. With two buds connected by a cable that runs behind your neck, the design is a bonus if you need a pair of buds you won't lose while you're exercising or travelling. Plus, they tend to be a bit cheaper than other earbuds, so you can save some cash if the connecting cable isn't an issue for you.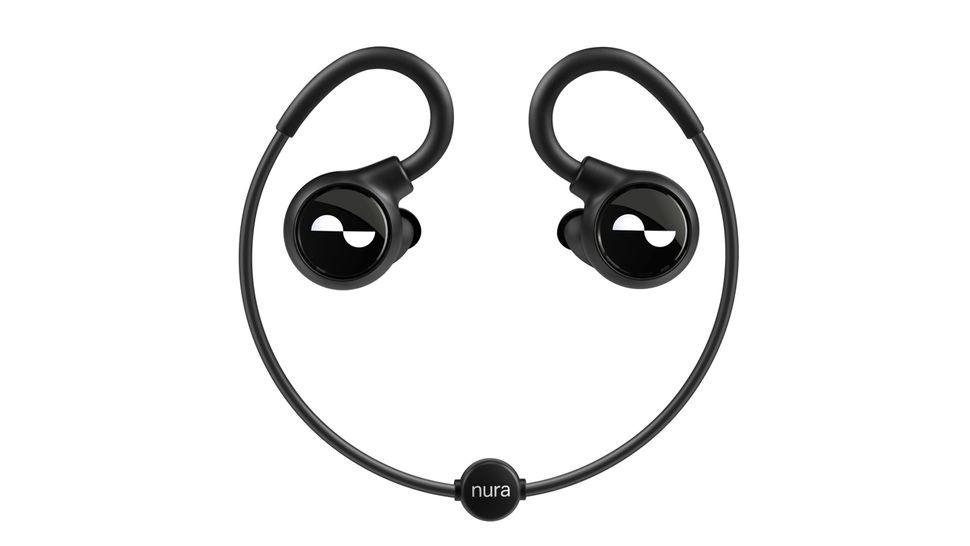 NuraLoop boils down the essence of the company's first product, the Nuraphone, into a much more compact, rugged, and affordable package, and doesn't lose much in the process.
The star of the show is its adaptive audio technology, which automatically determines a listening profile for the user and feeds them well-balanced, lush sound as a result. In our tests, we were impressed by the great sense of clarity and space, even at higher volumes.
On top of this, features like active noise-cancelling, social mode, an IPX3 rating, Immersion mode, a great battery life, and the ability to attach an analog cable for 3.5mm headphone jacks makes this pair of Bluetooth earbuds truly shine.
They may be a little bulky compared to competitors and we found the neckband is a tad stiff - but that just means you're getting a robust fit ideal for extra active users. Their rugged sweat proof design certainly ties into that concept well.
Read more: NuraLoop headphones review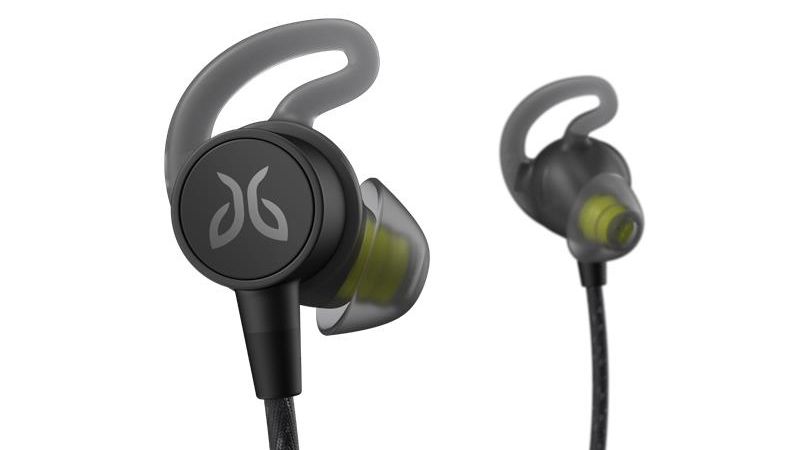 The Jaybird Tarah Pro are robustly designed with endurance runners in mind that don't want to deal with any hassle. They're not quite true wireless earbuds due to their rope cabling but that's what keeps them so snug and secure. An IPX7 rating means you won't have to worry about rain or snow, or even a brief swim. They sound good too and reassuringly natural so there are no compromises made here.
Read more: Jaybird Tarah Pro review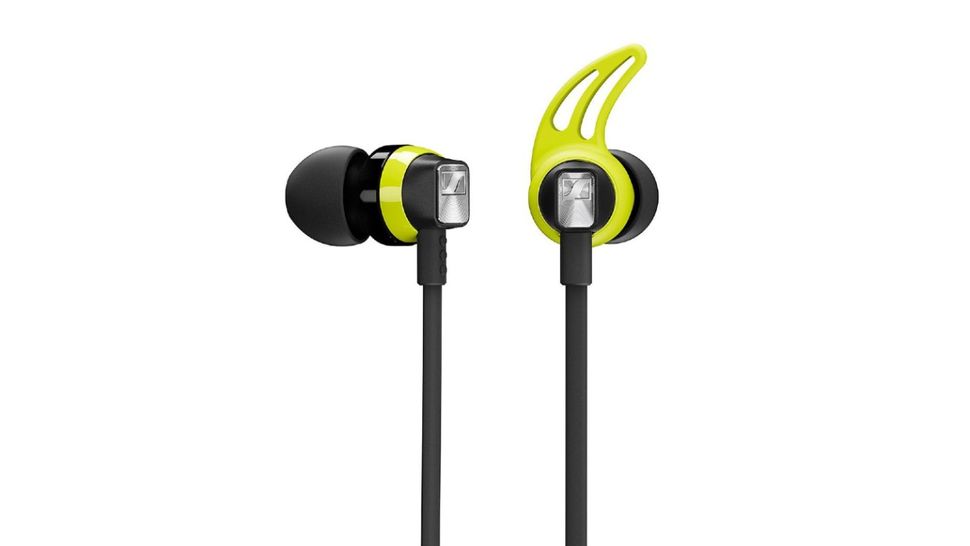 The Sennheiser CX Sport are fairly bass heavy but that works for the gym or when hitting the track. Using a neckband-style design means you won't have to worry about losing an earbud and they feel suitably snug in your ears. Being so bright, they're good for visibility in dim conditions too and their splash proof rating is fine for sweaty days but not so much the shower. A battery life of six hours isn't great, but it's not terrible either.
Read more: Sennheiser CX Sport review
True wireless earbuds
The best true wireless headphones
Avoid cords with true wireless earbuds. You'll get the ultimate freedom with these buds, and there's so many available now that we have a more in-depth round up of the best true wireless earbuds as well. You'll find five of our top picks here, all with a variety of features and specs to help make your listening experience even more convenient.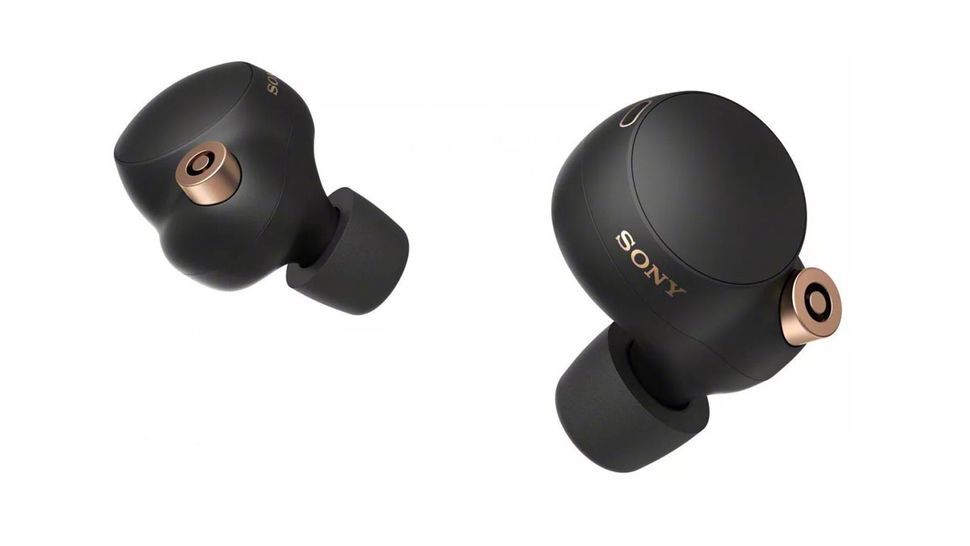 With the WF-1000XM4, Sony has combined performance, ergonomics, and build quality more effectively than ever before.
Compared to their predecessors, the Sony WF-1000XM3, the newer wireless earbuds offer enough quality-of-life features to make them worth upgrading to, even if they are more expensive. Whether it's listening to music or taking calls, these are some very useful earbuds, thanks to great balanced sound and a convenient to use app to refine what you need from them.
In our tests, we were impressed by the XM4's rhythmic certainty, natural presentation, and detailed sound.
While other true wireless earbuds surpass the Sony WF-1000XM4 in particular areas – noise cancellation, for example – no other model comes close to offering such excellent quality across the board. That's why the Sony WF-1000XM4 are hands-down the best true wireless earbuds you can buy today, even when you consider their fairly unremarkable battery life and lack of aptX support.
It's worth noting that you can find insane deals on the WF-1000XM3 at the moment in Australia, so much so that the predecessors might sometimes be a better choice for those looking to get that quality Sony sound and ANC prowess on a tighter budget.
Read more: Sony WF-1000XM4 review
Our review called these headphones sensational and by nearly all accounts they're truly deserving of their spot on this list. Though, there is one thing that keeps these five-star headphones from climbing higher on this list – their price.
These buds will set you back a small fortune – at full price they cost AU$650, and while they definitely offer a luxurious experience, other earbuds such as the Sony WF-1000XM4s offer a very similar feature set and performance at a fraction of the price.
Still, if you decide to invest in a pair, you'll definitely be in for a treat. The Bang and Olufsen Beoplay Ex earbuds offer a fully personalised audio experience, with the accompanying app allowing you to adjust your own sound profile to your specific tastes. Before even messing with personal settings, you'll already be treated to a highly detailed soundstage, but the Beoplay Ex's customisation options are where this premium pair from B&O really stands out from the rest.
You'll also be getting a decent call quality out of these buds, as well as adjustable ANC levels so you can enjoy your music in peace. It won't quite rival the levels found in Bose's QuietComfort 2 buds, but it's still good enough to keep the noise out while in transit.
Battery life is a little limited though, only offering around 20 hours in total between the earbuds and case. So that's something to keep in mind before dropping your cash on these buds as well.
Read our full Bang & Olufsen Beoplay Ex review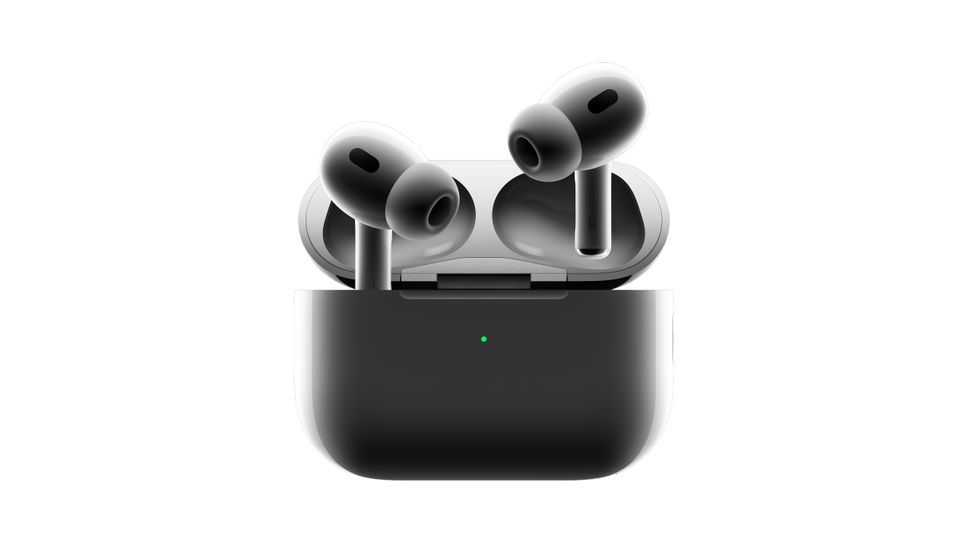 While the previous AirPods Pro earbuds were impressive, the AirPods Pro 2 have made upgrades in key areas to offer the best true wireless earbuds Apple has to date. Between boosted ANC and an impressive audio performance, the caveat with these buds are that they're optimised for Apple users.
The rich audio in these buds are a significant step up thanks to improved drivers and amplifiers. We were left thoroughly impressed, especially with the ANC on offer, when we tested these buds.
There's also a stack of features included, with adaptive transparency mode to allow for more natural conversations. While the buds themselves only offer a 6 hour battery life, there's another 30 hours housed in the charging case, so you're unlikely to be left without when you're out and about. The charging case also has an IPX4 water resistance rating just like the buds themselves.
Read our full review: Apple AirPods Pro 2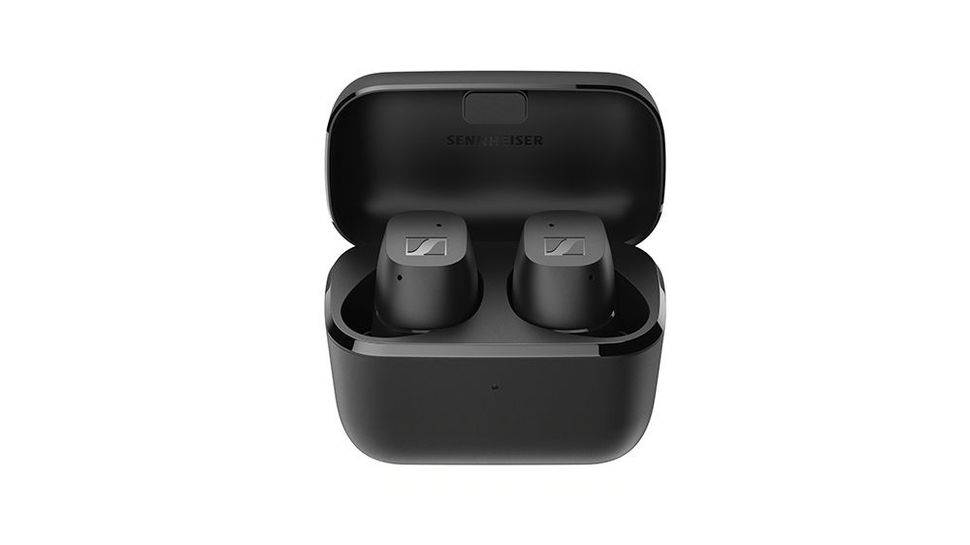 The Sennheiser CX True Wireless are the latest wireless earbuds from the German audio giant. Picking up where the CX 400BT before them left off, they're cheaper than their predecessors, despite including a host of upgraded features that comprises a longer battery life and better connectivity.
Audio quality is exactly what you'd expect from Sennheiser, with a wide soundstage, clear mids, detailed trebles, and powerful bass frequencies. Nevertheless, we were still surprised by how good these earbuds sound for the price.
The controls and accompanying app are very easy to use, and Bluetooth 5.2 connectivity ensures a stable connection with your device. Hi-res audio support is included, too, for those who want to eke out every last bit of detail from their music.
Our only real bugbear is the CX True Wireless' design, which we found far too bulky for our ears. We're hesitant to judge Sennheiser too harshly for this, since most users will probably be able to use them without issue.
Read more: Sennheiser CX True Wireless review
The design of the Bose QuietComfort Earbuds 2 is a significant upgrade over their predecessor and allows for a huge improvement on what was already one of the top performing noise-cancelling earbuds available. The noise cancellation is extremely impressive, and if that's what we were ranking on, these buds would easily take out the top spot.
The sound is also very balanced in these buds, offering audio with high detail and texture that can be tweaked in the accompanying app. While impressive, there are still a few features that are missing from these fairly pricey buds. You're only going to get 6 hours out of the buds, with a dismal 3 hours on offer from the case, and there's no support for high-def wireless codecs.
Still, we gave these buds a full five stars when we reviewed them, and for people who are after the best noise-cancelling buds on the market that also offer beautiful sound, these are the bud's you're looking for.
Read the full Bose QuietComfort Earbuds 2 review
Wireless headphones: FAQs
How to choose the best wireless headphones for you
We've tested dozens if not hundreds of wireless headphones, looking at various elements of what makes up the best wireless headphones.
First of all, we considered different styles. We appreciated the importance of some people preferring over-ear compared to in-ear, as well as looked at different ways of connecting the devices, whether that's via a truly wireless connection or with a neckband.
From there, it was important to consider price. While, generally, the more you pay, the better the sound quality, not everyone can (or wants to) spend hundreds on the latest earphones with the best audio experience. Instead, we evaluated what was best here, while ensuring all the entries offered clear and crisp sound at all times.
It's worth considering if you want any additional features too. Many people may just want great sound and a comfy fit, but others may prefer to see voice assistant integration or noise cancellation. There's not much point in spending extra on a set of features you'll never use, or seeking out voice assistant support for a service you don't use.
Audiophiles may also wish to pay attention to wireless headphones that support Hi-Res Audio codecs like LDAC and aptX HD Bluetooth too for superior connectivity.
Ultimately, it's important to find a good balance of features so that you spend the right amount for you, while also getting the style and audio performance you appreciate most.
Wireless vs true wireless: what's the difference?
Wireless headphones are traditional over-ear or on-ear headphones without the wire – the two earcups are connected by a headband.
Wireless earbuds have existed for a while now, basically since Bluetooth was invented. Though battery-powered and not physically connected to your phone, they have a cord connecting both buds – and sometimes a band around the neck too. Check out the best wireless earbuds for more.
True wireless earbuds have no cord whatsoever. While wireless allows us to wear headphones a few feet away from our music players, True Wireless cuts the cord between the earbuds, giving us true freedom. If you're looking to go full wireless, we also have a round-up of the best true wireless headphones.
Are wired headphones better than wireless?
While you're generally going to get better sound quality out of wired headphones, there have been so many advances in audio tech in the recent years that you're likely not going to notice the difference.
We still recommend for audiophiles to opt for wired headphones, but as for everyone else, it's really down to personal preference. Wireless headphones can be a bit more convenient, as there's no tangled cords involved, and if you get a good quality pair, you not going to miss out when it comes to sound quality,
What are the best headphones I can buy right now?
There's really no one answer to this. While we've ranked headphones in this list, it ultimately comes down to your preferences, style and budget.
We've given the Sony WH-1000XM5's the top spot for over-ear headphones because they perform beautifully and have a stack of features including a decent battery life and noise cancellation. They're definitely a well rounded set of headphones, but you might find another on this list that better suits your needs.
Consider the design of your headphones – do you want something in-ear, over-ear or even on-ear? How will you use them and what falls into your budget? These are all important things to consider, and will help you find the best headphones for your personal needs.
Which brand is best for wireless headphones?
There's no one perfect brand for wireless headphones as you can see above. It all depends on what you need most from your wireless headphones. If you're looking for solid all-rounders, Sony are a great bet if you can afford them, while Bose often have the edge with noise-cancellation quality. That's before you consider if you need the best wireless headphones for running, listening, or something different.
That's why it's important to do your research and think about what is most important to you.
How we tested the best wireless headphones
We've tested every pair of the best wireless headphones on this list and to include them here, we were looking for each device to tick a number of key boxes.
The first, of course, is Bluetooth connectivity. But as well as offering wireless sound, we also tested for stable and reliable connections – there's nothing worse than losing a track just as it reaches the good bit.
Next up, we wanted to ensure the headphones were designed with wearability and style in mind. We tested how comfortable they were for long periods of time and assessed their looks, too, from minimal to suitably stylish.
Audio performance was a key consideration. Gone are the days of wireless headphones lacking in sound quality, so we made sure every pair of Bluetooth headphones on this list offered clear, powerful sound.
We also considered additional features, too, like AI assistant integration and noise cancellation. Not all of the headphones in this list have extras like these, but it certainly makes some devices more appealing than others – especially if you have a big budget.
Speaking of budget, we also considered whether the wireless headphones in this list were good value for money. This didn't mean we only wanted to include budget headphones, but wanted to ensure all of the devices that we added in this guide did match up to their price tag – even if it was a big one.
Wireless headphones deals