Now that we've helped you with the visual side of the audiovisual equation with the let's turn our attention to the best audio deals.
While these headphones would usually cost you as much as an Xbox One or a PS4, there are a number of killer deals today that won't break the bank when you're shopping for your favorite audiophile. (On my list, that person is me.)
But with so many amazing deals for Cyber Monday 2016, sorting through them can be a huge pain. That's why we've put together this round-up of the best ones on the market, available to purchase online from the comfort of your couch.
Ready to get started? Let's do it.
The best Cyber Monday headphone deals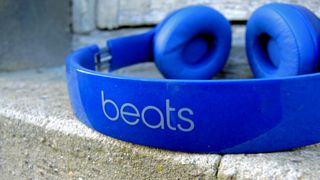 Beats Studio Wireless Over-Ear Headphones: The big bell-ringer of Cyber Monday audio deals is the Beats Studio Wireless Over-Ear Headphones – usually $379 – on sale for
Beats Studio 2 Wireless Active Headphones: Don't mind setting for an on-ear pair of headphones instead of over-ears? Beats is dropping $100 off the price tag of its Studio 2 Wireless cans, now just
Klipsch Reference On-Ear Headphones: Klipsch is one of the top names in audio, so when their Reference On-Ear Headphones go on sale, it's definitely worth taking a look – they're down $150 and are now just
Plantronics BackBeat Pro headphones: Another favorite of ours, you can save $50 on Plantronics' noise-canceling cans today – they're now
Plantronics BackBeat Fit headphones: Make your gym buddy jealous with the Plantronics BackBeat Fit headphones – on sale for
Bowers and Wilkins P3 headphones: If Klipsch's cans aren't appealing enough, check out Bowers and Wilkins' P3s, on sale for
Bose QuietComfort 20 earbuds: We really liked these earbuds, and now they're down from $249.99 to to
The best in-ear Cyber Monday headphone deals
Beats Powerbeats 2: Another pair of headphones for the gym, you can save $62 on a pair of Beats when you pick up the Powerbeats 2 for
Beats Tour 2.0 In-Ear headphones: Even Beats' entry-level earbuds are getting a $60 price cut and are now only
Jaybird J5 Freedom headphones: Jaybird's excellent J5 earbuds are on sale for $50 off the regular price and are just
Jabra Halo Smart Bluetooth Headset: If you're looking for a good pair of wireless earbuds to bring to the gym, check out the Jabra Halo Smart Headset, on sale for
Skullcandy Smokin' Buds 2 In-Ear Headphones: If you're looking for something even cheaper than what Jabra has on offer check out Skullcandy's neckband, just
Klipsch Reference R6 Earbuds: Want something that sounds great and doesn't break the bank? Klipsch's Reference R6 Earbuds definitely do the trick and they're just
The best over-ear Cyber Monday headphone deals
Sony MDR-1000X Noise-Canceling headphones: Sony's brand-new flagship set of cans are getting a hefty $50 discount today and are only
Sennheiser Momentum 2.0 Wireless: Another entry in the awesome noise-canceling category are Sennheiser's $500 Momentum 2.0 headphones, on sale for
Bose SoundLink Around-Ear headphones: If you're looking for a pair of cans to wear around the house, consider the SoundLink Around-Ear headphones, just
Sony Extra Bass Wireless Over-the-Ear Headphones: Love to crank up the low-end? Check out Sony's $200 bass-heavy over-ear headphones, on sale for
Skullcandy Hesh 2 Wireless Over-the-Ear Headphones: Leave it to Skullcandy to drop the price bar even lower; its Skullcandy Hesh 2 Wireless cans are
The best Cyber Monday speaker deals
Sonos Play:1 Speaker: Always dreamed of having a multi-room audio experience? Turn your dreams into reality with a few Sonos Play:1 speakers, down $50 from their usual $199 price and now only
Razer Leviathan Soundbar: Need a small soundbar for your gaming PC? Check out Razer's awesomely compact 4.1 soundbar for just
UE Boom 2: If someone on your list is asking Santa for a Bluetooth speaker this year, check out the excellent-sounding UE Boom 2, on sale for
JBL Xtreme Speaker: This powerful Bluetooth speakers used to cost $299, but now it's
Harman Kardon Onyx 3 Portable Bluetooth Speaker: The award for the largest speaker on the list goes to the Onyx 3. You can get its room-filling sound for
UE Megaboom Wireless Bluetooth Speaker: If you want portability and massive sound, pick up the UE Megaboom for $100 off its regular price. It's just
Want to continue shopping around? Here's every major Cyber Monday retailer, all in one convenient location: