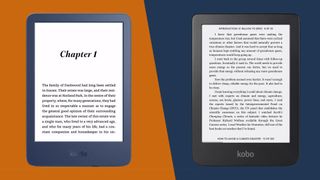 (Image credit: Amazon / Kobo / TechRadar)
Weight: 158g
Dimensions: 157.8 x 108.6 x 8.0mm
Screen size: 6.0-inch
Pixels per inch: 300
Storage: 16GB
Battery life: up to six weeks
Connectivity: Wi-Fi and Bluetooth
File formats: 6 supported natively & Audible audiobooks
The Amazon Kindle (2022) is the cheapest Kindle and one of the cheapest ereaders from any brand, yet it still has great battery life, plenty of storage, and a superbly stocked ebook store.
It's quite basic though, with no water resistance, a plain – though pleasantly small and light – design, and Amazon's typically restrictive file format support, keeping you reliant on Amazon's services.
For
Very affordable
Well-stocked store
Excellent battery life
Against
Bland design
No waterproofing
Worse file format support
Weight: 171g
Dimensions: 159.02 x 112.05 x 8.66mm
Screen size: 6.0-inch
Pixels per inch: 300
Storage: 16GB
Battery life: weeks
Connectivity: Wi-Fi and Bluetooth
File formats: 15 supported natively & Kobo audiobooks
The Kobo Clara 2E is a more expensive alternative to the Kindle (2022), but it's still reasonably affordable, and has some extras the Kindle lacks, such as waterproofing.
It also supports far more file formats, appears to have a better screen, and sports a slightly more interesting design. Just bear in mind that the Kobo Store isn't quite as well stocked as Amazon's ebook store.
For
Waterproof
Great screen
Better design
Against
More expensive
Fewer books on its store
Battery life is inconsistent
If you're in the market for an ereader, you might simply be wondering which variety of Kindle to buy, given that Amazon's imperious ereader line really does rule the roost in pure sales terms.
There are some very good alternatives out there, however, if you're not a big fan of Amazon's approach to business. The most notable member of the chasing pack is Kobo, with the Kobo Clara 2E serving as a strong alternative to Amazon's mainstream Kindle (2022) ereader.
So how do the Amazon Kindle (2022) and the Kobo Clara 2E match up? We've reviewed and hugely enjoyed both, so let's examine the small print and attempt to read between the lines.
Amazon Kindle (2022) vs Kobo Clara 2E: price and availability
Prices for the Amazon Kindle (2022) start from $99.99 / £84.99 for the ad-supported model. There is no such option in Australia. Alternatively, you can pay a little more for a Kindle (2022) with no ads, at a cost of $119.99 / £94.99 / AU$179.
There are no ad-related options with the Kobo Clara 2E. It costs a straight-up $139.99 / £129.99 / AU$229.95.
As you can see, Kobo's latest ereader is quite a bit more expensive than its Amazon equivalent, marking an early win for Amazon. However, there are a couple of cool extras for the Kobo on the design front.
Amazon Kindle (2022) vs Kobo Clara 2E: design
These two compact ereaders look fundamentally similar. They're both squat, rectangular slabs of black plastic designed to be held single-handed in a portrait orientation.
The Kobo Clara 2E is the slightly bigger of the two in every way, measuring 159.02 x 112.05 x 8.66mm to the Kindle (2022)'s 157.8 x 108.6 x 8.0mm. It's also a little heavier than Amazon's mainstream champ at 171g versus 158g.
While the Kindle (2022) wins for sheer portability and wieldability (just about), the Kobo Clara 2E wins on the sheer quality of its construction. It gets IPX8 certification, which means that it's waterproof for up to 60 minutes in two meters of water. There's only one of these ereaders you should be reading by the pool this summer – or even in it – and it's not the Kindle.
The Kobo is also just plain more interesting to look at, not to mention more pleasant to hold, courtesy of a finely textured navy blue back. We prefer the Kobo's rear-mounted and recessed power button too. It's much less easy to jog accidentally than the Kindle's protruding bottom edge-mounted button.
Another point in Kobo's favor is that the Clara 2E is more sustainably made. It uses 85% recycled plastic, while the Kindle only uses 75% recycled plastics. Both are laudable, but the Kobo takes the green plaudits.
Amazon Kindle (2022) vs Kobo Clara 2E: display
It's a close-run thing in the display stakes, with both ereaders packing 6-inch E Ink screens.
These are front-lit, glare-free touchscreens with 300 pixels per inch (ppi), and the option of a dark mode if you prefer white text on a black background (you savage).
However, from what we can discern, the Kobo Clara 2E uses a newer and slightly more advanced form of E Ink display. It's the same Carta 1200 unit, in fact, that you'll find in pricier ereaders like the Kindle Paperwhite.
While it's difficult to say precisely which display the Kindle (2022) uses (Amazon isn't forthcoming about such things), it appears to our eyes to be an inferior panel.
Holding the two devices side-by-side, there's a clear difference in the appearance of text on the two. The Kindle's screen is cooler and more tablet-like, while the Kobo's seems more natural and 'papery', with inkier blacks.
For our money, it's more pleasant to read text on the Kobo, which is what it's all about.
Amazon Kindle (2022) vs Kobo Clara 2E: specs
It's been a tightly run competition, with very little between these two ereaders. They even have the same 16GB of internal storage as standard.
Both also have USB-C ports for charging and data transfer, though you'll likely be using Wi-Fi most of the time.
In terms of stamina, Amazon is more specific about how long the Kindle (2022) will last between charges. It claims up to six weeks, while Kobo merely states 'weeks' for the Clara 2E.
That vagueness is a bit of a warning sign, and sure enough we found the Kobo Clara 2E's stamina to be a little erratic during our test period – at least in the early stages. It eventually settled down after a bedding in period, and we reckon it's good for four weeks of daily one-hour usage.
That's exactly the result that we got for the Kindle (2022), though in Amazon's favor we didn't experience any teething troubles while the Kindle was finding its feet.
Ultimately, the most consequential difference between these two devices is their different ebook ecosystems. With the Kindle you're locked into Amazon's way of doing things, which involves the most extensively stocked digital book store in the game, including its Audible audiobook service, and Amazon's proprietary AZW ebook file format.
The Kobo Store isn't as well stocked, but the Kobo Clara 2E has access to a much wider range of file formats, including the widely used EPUB. It also offers you the cool ability to access your local library's collection of digital books (via OverDrive), as well as the ability to easily side-load books and documents to your device.
You can get other file formats working on the Kindle, but it's a bit of an ordeal to do so.
Both ereaders grant access to optional all-you-can eat subscription services in Kindle Unlimited and Kobo Plus respectively.
Amazon Kindle (2022) vs Kobo Clara 2E: verdict
These are two of the best ereaders for most people, as reflected in the fact that we scored both four out of five in their respective reviews. They're quite similar to look at and use, with a familiar basic reading experience.
The Amazon Kindle (2022) wins points for being quite a bit cheaper than its rival. Amazon's ecosystem, meanwhile, might be locked down, but it's blissfully intuitive and comprehensive.
As for the Kobo, it benefits from a slightly better design and screen, with proper waterproofing and greater green credentials. While its ebook ecosystem isn't as rich as Amazon's, it offers more options when it comes to alternative file formats and sideloading support.
Essentially, with minor budget and screen differences taken out of the equation, it really comes down to some fine details over where you plan to source your ebooks from. Ask yourself where your existing ebook library is situated, how widely you're willing to roam to track down fresh reading material, and how deep into Amazon's all-consuming ecosystem you currently are – or are prepared to go.
Take those answers and buy with confidence. These are two of the best ereaders, and neither one should let you down.
Sign up to receive daily breaking news, reviews, opinion, analysis, deals and more from the world of tech.