The EV9 is Kia's most high-tech car to date – and I've driven it
Luxurious, seven-seat EV9 charts new territory for the brand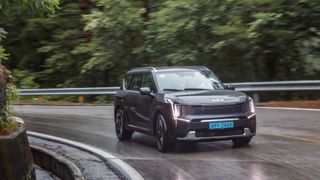 (Image credit: Kia)
If you want proof that Kia has distanced itself from the cheap and cheerful image it once portrayed, you only have to take a cursory glance at its upcoming EV9 model.
The sharp, imposing all-electric SUV has beaten the likes of Land Rover and svelte Swedish seven-seat specialists Volvo at their own game, with the release of a luxurious giant that gleefully turns its back on the internal combustion engine.
Of course, this push upmarket hasn't happened overnight for Kia; it's taken several years for the company to hire some of the best designers in the world, overhaul its branding and refocus on cutting-edge tech.
But the South Korean brand gambled on electrification early, rolling the dice with its longstanding Soul EV and e-Niro, but arguably hitting the jackpot with its recent EV6 – a vehicle that commands a retail price of $48,700 for the most basic model in the States, and £44,495 in the UK.
That sort of money for a Kia was just unheard of a mere five years ago, but now the EV9 is pushing the envelope even further, demanding $54,900 / £64,995 for entry into the club. But how?
Quite simply, this is the most technologically advanced car Kia has ever built – going big on both physical stature, but also the tech that is crammed within its 5m-long frame.
Underpinning the EV9 is a 99.8kWh battery pack that powers either a single motor in rear-wheel drive models (boasting a 200bhp / 150kW output) or twin motors in an all-wheel-drive variant. These range-toppers push power up to 378bhp / 283kW and a monstrous 700Nm of torque.
Official figures state that those RWD versions can achieve 349 miles on a single charge, while the more potent – and thirstier – AWD models will hit 313 miles. But 800V ultra-fast charging technology means every version of the EV9 can be recharged from 10 to 80% in as little as 24 minutes, when plugged into a 350kW high-powered outlet. But good luck finding one of those.
A living room on wheels
I got my first hands-on with Kia's EV9 in its home country of South Korea, where a top-of-the-line six-seat model was mine for the day. In this configuration, the interior is akin to travelling business class on an aircraft, with four massive individual seats spread over two rows in the rear.
The middle seats can be spun through 180 degrees, so the rear occupants can chat to each other, while all seats pretty much lay flat if anyone fancies a snooze. Plus, there are cupholders and USB-C points aplenty for charging devices on the go.
Furthermore, Kia has thrown in vehicle-to-load (V2L) functionality, so the EV9's huge battery packs can power everything from typical handheld gadgets, to much larger things, like electric grills and outdoor projectors for those heading off into the wilderness.
Kia says that it is also going to expand its bi-directional charging capabilities, with Vehicle-to-Home (V2H), Vehicle-to-Building (V2B) and Vehicle-to-Grid (V2G) set to be introduced as optional upgrades in the future.
Tech on display
Up front, both driver and front seat passenger are treated to Kia's Panoramic Wide Display, which combines a 12.3-inch cluster display, 5-inch segment display, and 12.3-inch infotainment system display.
The screen on the left is a traditional driver's dash, but fully customisable with a vast array of vehicle information available at the touch of a steering wheel-mounted button.
The screen on the right takes care of infotainment and other comfort features that a front passenger might want to interact with. In the middle, the smaller screen is dedicated to heating and ventilation, meaning it's always there if you need it. There is also a crisp head-up display that reiterates nav instructions or forewarns of impending speed limits and whatnot.
Of course, lots of functionality is mapped to the numerous touchscreens, but Kia has implemented some key physical buttons for things such as volume and temperature inside the cabin. What's more, there are some nice haptic buttons that are built into the dash material below the infotainment screen and that give off a nice 'passive tech' feel to it.
If you don't fancy prodding things with your fingers, you can always harness the power of voice, as Kia has improved upon its speech-recognition software so you can now use more natural language.
It's not quite the Kia AI assistant that the brand recently stated will come in 2024, but it's simple enough to flick to the radio or cool the cabin down with a few verbal commands.
As you would imagine, the driving experience is suitably plush. The silence from the electric powertrain perfectly complementing the smooth ride that protects from any harshness experienced from the road beneath.
It's a big, heavy car, so don't expect sporty performance – but this range-topping dual-motor model certainly shifts. Hammer the right foot and it picks up pace impressively, with a little artificial engine noise, which sounds like a cross between a '90s F1 car and a space ship, adding to the sensation of acceleration.
The model I drove was also fitted with smart massaging seats, which form part of the driver-assistance system and which kick in when the vehicle detects drowsiness or slouching. More than once, I was treated to an impromptu lower-back massage where the EV9 felt my posture was indicating tiredness, although that was probably just the jet lag.
Constantly connected
Kia's EV9 is Hyundai Motor Group's first vehicle to dabble in on-demand features via OTA updates. It's a bone of contention among some buyers, who feel that all options should be on the table at time of purchase, but the system allows existing customers to add certain features down the line.
Here, it is limited to Highway Driving Pilot (HDP), which is only available in certain markets that allow conditional Level 3 autonomous driving, which is where the vehicle can make informed decisions and act upon them on the road.
During testing, this was put into practice by using the active cruise control, which takes information from the built-in sat nav system to automatically slow down when it knows a speed camera or speed trap is approaching. It will then automatically speed up afterwards, even if that speed is in excess of the enforced local limit.
Other 'downloadable' options from the Kia Connect Store include Remote Smart Parking Assist 2, which enables drivers to park and exit their vehicles remotely using a paired smartphone. Plus, a Lighting Pattern option makes the funky LEDs at the front of the car perform a series of little dances when the vehicle is parked.
It's all a bit novelty for now, but the idea is that Kia constantly adds to this collection of additional functionality, allowing the customer to upgrade over time.
The other benefit of the EV9 being constantly connected is the addition of live information, such as traffic reports and even the location, costs and availability of nearby EV charging stations.
One piece of tech that impressed me after doing a little digging was the built-in Car Wash mode, which can be activated from the infotainment system and which prepares the vehicle for automatic car washes.
Activate it, and the side mirrors fold in, the automatic windshield wipers are turned off, all the windows are closed and the mechanical door handles, which smoothly slide out when you approach the EV9 with a key, slide back into position.
The push for premium
Electric vehicles have proven the great leveller for burgeoning automotive manufacturers and Kia's EV9 is another big gamble for the brand, pushing the asking price up to levels that will see it rival the likes of Volvo, Audi, BMW, Mercedes-Benz and even Range Rover when it eventually launches an all-electric version.
However, this venture to effectively start over with its electric offerings seems to be paying off, as this is one of the most impressively comfortable, highly practical and tech-laden electric SUVs on sale. So much so, that Kia in North America asked dealers to retail the vehicle at the manufacturer suggested retail price, such was the pre-order demand from interested parties.
With the EV6 and EV9 now sitting at the top of its line-up, it's going to be a question of how far Kia can push further into premium territory. It's certainly not going to be a smooth ride for the established names in luxury motoring.
You might also like
Get daily insight, inspiration and deals in your inbox
Get the hottest deals available in your inbox plus news, reviews, opinion, analysis and more from the TechRadar team.