Future Lexus EVs will tell you about stuff outside the car when you point at it
Voice assistants are so last year – Lexus believes pointing at things is the way forward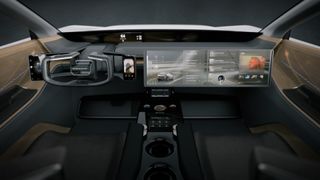 (Image credit: Lexus)
Ever imagined a Minority Report-style world in which you can interact with technology simply by pointing at things? Well, Lexus wants to make that a reality… in your car.
The Japanese marque showcased a number of fantastically futuristic concept cars at this year's Japan Mobility Show in Tokyo, with each offering a glimpse at the sort of in-car tech we can expect from the brand in the coming years.
One of the most interesting is the Reality in Motion2 system, which is enabled by Toyota Group's upcoming advanced Arene operating system, which it claims will take in-car personalization to the next level.
For example, it has the ability to replicate the driving characteristics, sounds and vibrations associated with different types of car, so the driver can tailor the experience to suit their personal preference. What's more, the aforementioned Reality in Motion2 system allows drivers to simply point at objects, businesses or landmarks outside of the vehicles and access further information. Like Googling something with your finger.
According to Lexus, onboard sensors work in conjunction with digital data from the car's surroundings. "For example, when drivers point to objects or places of interest during their journey, the car's display promptly delivers information along with voice guidance, enhancing the interactive connection between people and their cars," Lexus stated at the Japan Mobility Show.
What's the point?
All of this might sound like a flight of fantasy, but Lexus is pressing ahead with developing the tech, and some journalists were lucky enough to get a sneak preview of it in action in Tokyo last month.
According to Autoblog, one of the outlets invited to receive a demonstration of the tech, the Lexus engineers "demonstrated these features on a test course set up in a parking lot at a Toyota test center outside Nagoya."
How did it fare? Well, according to Autoblog it "generally did what Lexus says it will. Whether you're in the driver or passenger seat, you can point out the window, say the wake word or phrase, and it will identify the point of interest."
This has the potential to heavily reduce driver distraction when behind the wheel, as it relieves the temptation to pick up the smartphone when you don't know the name of a business or landmark in the vicinity.
Instead, the Reality in Motion2 system could make it as simple as pointing at a cool-looking coffee shop and asking the Lexus infotainment system what time it closes, rather than diving into Google Maps, locating the business and then pulling up its particulars. We'll watch with interest to see how this one develops.
you might also like
Sign up for Black Friday email alerts!
Get the hottest deals available in your inbox plus news, reviews, opinion, analysis and more from the TechRadar team.