Good news: iOS 17 update stops BMW wireless chargers from frying the iPhone 15
News
Contributions from
published
Recent iOS update stops wireless chargers messing with Apple Pay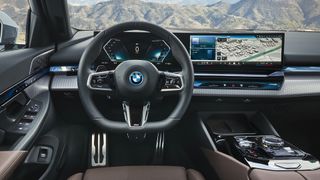 (Image credit: BMW)
A new Apple iOS update has addressed the issue of some BMW and Toyota wireless charging trays rendering Apple Pay and other NFC features useless in the latest iPhone 15 models.
We originally reported on the issue back in October, when some BMW users were complaining that their iPhone 15 NFC chips appeared to stop working. This happened after they charged their devices in a wireless charging tray found on some BMW models. A similar issue hit Toyota's latest Supra, which uses the same tech.
Users reported receiving a "Could Not Set Up Apple Pay" error message in the Wallet app, with some having to resort to replacement phones to fix the issue.
But fortunately, Apple has now addressed the issues. The patch notes for iOS 17.1.1 state "this update provides bug fixes for your iPhone", with the main one being that "in rare circumstances, Apple Pay and other NFC features may become unavailable on iPhone 15 models after wireless charging in certain cars".
Weirdly, the patch also fixed a lock-screen weather icon that sometimes wouldn't display snow correctly, and instead showed a file icon.
If you're an iPhone 15 and BMW owner, Apple suggests that you apply the iOS 17.1.1 update as soon as possible, whereafter typical wireless charging service should resume without issue.
Taking charge
While bugs like this BMW and Toyota issue aren't unusual for early versions of big iOS updates and new iPhones, this year has seen more problems than usual – with reports from Bloomberg suggesting that Apple has taken the rare step of pausing development on iOS 18 to "root out glitches in the code" in its early versions.
The iPhone 15 had some immediate launch issues, including a bug that made the phone freeze when you tried to directly transfer data from an old phone. Apple rushed out a couple of updates (iOS 17.0.1 and iOS 17.0.2) to fix this and other minor issues.
Recently, we also saw iOS 17.1 arrive to fix a three-year-old issue around the iPhone's Private Wi-Fi Address feature, which it turned out hadn't been working properly since its launch in 2020.
According to Bloomberg's report, Apple's software engineering team has found too many "escapes" (or bugs) in the early versions of iOS 18 and iPadOS 18 to push them onto the next stage. Let's hope this pause means there'll be fewer issues for Apple devices this time next year.
You might also like
Sign up for Black Friday email alerts!
Get the hottest deals available in your inbox plus news, reviews, opinion, analysis and more from the TechRadar team.