Update: We've had the phone for two days, here's what we think so far, expect the full review in the coming week.
The Sony Xperia XZ3's OLED screen with Bravia technology is without a doubt, the best smartphone screen we've ever seen from Sony. In fact, this could be the best screen we've ever seen from any manufacturer to date - it's that good.
Two days in, and it isn't just the screen that's impressing us. The premium design and the fact it's running the latest version of Android all come together beautifully. With plenty of power and a respectable battery capacity, it also looks good from a specs point of view.
Having said that, the camera is the same module as that found on the Xperia XZ2 and XZ1 before it, neither of which were best in class. All said and done though, is the XZ3 a phone we would recommend?
You're reading our early impressions after 48hrs with the XZ3, check back in the coming week for our full review.
Watch our Sony Xperia XZ3 hands-on video below:
Sony Xperia XZ3 price and release date
If you want to buy the Sony Xperia XZ3, you'll be able to from October 5 in the UK. We don't currently have a release date for the US or Australia, but as the Sony Xperia XZ2 came to those markets we'd expect this will as well, and quite speedily.
We'll be sure to update this article with more release details as soon as we have them.
You can pre-order the phone now in the UK and if you do, you'll get free access to the beta of Call of Duty Black Ops 4. You'll even get a free copy of the game when it's released too. Whether that deal will be available around the world is unclear, but it's certainly set for those in the UK.
In the UK, the Sony Xperia XZ3 price is set at £699. We'd expect similar pricing in the US to the Xperia XZ2 that was $799 (around AU$1,000). Sony may decide to change the price slightly, so it could be slightly more or less than that.
Display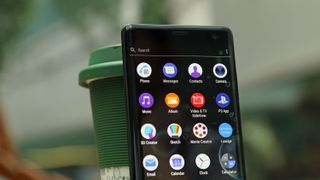 The screen on the Xperia XZ3 is the core upgrade, and you can expect to see Sony start pushing this tech as being among the best on the market.
First off, the 18:9 aspect ratio and no notch design seen on the Xperia XZ2 is back here, but that's all the company has brought forward from the last generation phone when it comes to the screen.
There's a 6-inch screen squeezed in here, and Sony is embracing a new tech for the first time on its phone range.
Specifically, the Xperia XZ3 includes OLED tech for the first time – usually Sony uses IPS LCD panels – and it comes from the company's BRAVIA tech division too. It's a similar tech to what the company uses for its Sony A1 TV range.
This screen tech makes video and images look bright, vivid and striking as soon as you lock eyes with the phone. It made a genuine impact, and its QHD+ resolution is more than enough to make video look great.
After two days of use, it's clear that the default display settings showcase a wonderful balance of deep, slightly muted colour, plenty of detail with an incredibly broad tonal range.
There's less punch, pop and contrast than found in phones like the Samsung Galaxy Note 9. That isn't necessarily a bad thing though, with the results producing more of an HDR look. This applies to everything from pictures right through to the user interface.
So while Sony may be late to the OLED game, but boy are we glad they've arrived.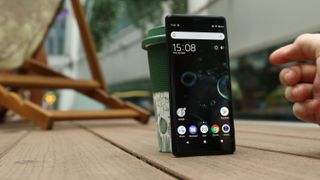 The display tech will upscale content to varying degrees depending on the quality you're watching. If you're watching a Full HD video on YouTube, the phone should be able to upscale it almost to QHD resolution.
Unlike most other flagship phones in 2018, the Xperia XZ3 doesn't feature a notch even though it has an 18:9 aspect ratio. Instead the company has opted to keep thicker bezels along the top and bottom of the display to house the speakers and front-facing camera tech.
For those who don't like notches, you may be excited by this prospect, but even if you don't mind a notch you likely won't be disappointed here as the bezels along the top and bottom are still fairly thin considering each houses a speaker and more.
The edges of the display are curved in a similar way to what we've seen on the Samsung Galaxy range of products from the Galaxy S6 Edge onwards. You can also tap on the sides of the display for some extra features.
Image 1 of 2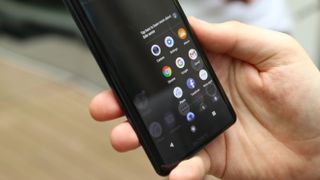 Image 2 of 2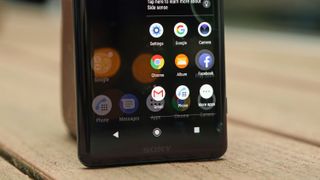 This ability is called Side Sense and it gives you a quick way to open up apps on your phone. Double tap on the side of the display and it will open up a quick launch menu with all of your favorite apps listed in one place.
Want to go back a step within an app? Just slide your finger down the side of the screen for a bit and it will step back. It will even allow you to take photos by tapping the display edge within the camera app.
After two days of using the phone, Side Sense has definitely been more miss than hit. Activating multiple times unintentionally, failing to fire up at other times and loading after a significant delay if activated for the first time in a while – it definitely isn't as polished as the rest of the UI.
It is useful when it works though, giving you quick access to predefined apps within easy reach. The smart, AI shortcut mode, which populates apps based on your usage also seems to learn quickly.
With any luck, stability and speed of the feature will be refined in updates, then it could be something we'd recommend keeping turned on. Until then, you may want to deactivate it if the continual misfires get on your nerves.
Design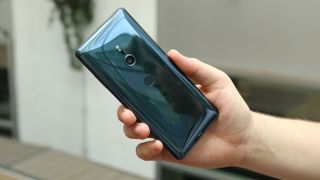 If you've seen the Xpeira XZ2, you'll know a lot of the design language here. There's a 3mm aluminum frame around the outside of the phone, with glass that protrudes from that making it much thicker. It's actually quite thick as a whole at 9.9mm, but we didn't particularly notice that when holding it in the hand.
There's curved glass on the rear of the phone too, which probably helps it feel thinner. Both the front and back are protected by Gorilla Glass 5, and it comes in a selection of four different colors: black, white silver, forest green and Bordeaux red.
Black and white look good, but we particularly liked the red and green variants as they look different to a lot of other devices on the market. The darker shades help it look premium, but we found the back of the phone to be a bit of a fingerprint magnet even though we only used the phone for an hour or so.
After two days of usage, the XZ3 still feels and looks sleek, from both front and the back. It slides comfortably into a pocket and feels incredibly rich in the hand. We have the Bordeaux red version and it is standout – and despite the fact it attracts fingerprints readily, it isn't as bad as many devices we've seen with similar glass finishes.
The bottom edge of the Xperia XZ3 features a USB-C port, but there's no 3.5mm headphone jack on this phone so you'll have to use Bluetooth headsets or an adaptor in order to be able to listen to audio privately on the move.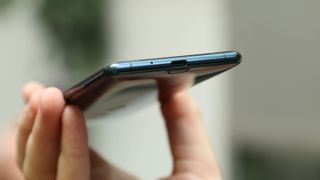 The impressive stereo speakers Sony specializes in are back here though, ideal if you're at home - or anywhere else you can play sound out of your phone without annoying people. The phone also retains the feature where it vibrates to the sound it makes.
The Sony Xperia XZ3 is also IP68 water resistant, so you'll be able to wash this phone or drop it in the bath without worrying about frying all the internal tech.
On the rear of the phone there's a single camera lens – more about that further down the page – and the fingerprint sensor. We've found the fingerprint sensor to be in an awkward to reach place, much like the previous range of Sony devices.
Unsurprisingly, this camera/fingerprint scanner placement is incredibly irksome as a result in real world use. A days in and we're mistaking one for the other on a regular basis, resulting in a constantly smudged camera lens.
OS and specs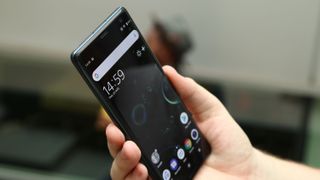 The Sony Xperia XZ3 comes sporting the Android 9 Pie operating system straight out of the box, so this will be one of the fastest ways you can get the latest Android OS.
Sony's UI sits over the top, but it's a basic one and it's the closest we've ever seen its interface come to the stock Android you get on the Google Pixel range.
It still comes with all the Sony apps you'd expect though, plus Netflix is pre-loaded too so you can watch HDR content right away.
Inside the Xperia XZ3 there's the Qualcomm Snapdragon 845 chipset paired with 4GB of RAM. Those are the same specs as the Xperia XZ2, but that phone runs well and we also found the combination to be speedy on this latest handset in our limited testing.
Stability across the whole UI is zippy two days into use, with Side Sense being the only exception. It can stutter and stop at times, adding an unfortunately janky feel to an otherwise slick version of Android 9.
There's only one storage variant, specifically 64GB of onboard storage, but you have microSD support for up to 512GB cards, so if you're not happy with that amount you can always add on some more.
Battery and camera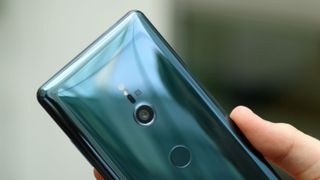 For battery there's a 3,330mAh cell inside. We're not sure how well that will perform as it sounds a little small to be powering this big OLED screen for a whole day. We'll be sure to put that battery through its paces for our full review.
You'll likely mostly be using the USB-C slot to charge up your phone, but you'll also be able to use wireless charging.
The rear camera on the Xperia XZ3 is remarkably similar to the one on the back of the Xperia XZ2. Sony says it didn't include the dual-sensor tech of the Xperia XZ2 Premium as it's too thick to fit in this phone, so instead you'll get a single 19MP sensor doing all the heavy lifting.
It's an f/2.0 aperture camera sensor and comes with all the top-end features you'd expect such as super slow motion - a particular highlight of Sony phones - and the ability to film in 4K HDR, something no other non-Sony phone offers.
Watch a 960fps Full HD slow motion video shot on the Sony Xperia XZ3 below:
The front-camera is where the more interesting upgrades have come in, with a 13MP f/1.9 front camera that should be able to shoot you in all your glory for your selfies.
It comes with a bokeh mode as well as a selection of face enhancement features, such as modes that slim down your face, make your eyes larger and even make your skin brighter.
An excellent feature of the camera is the predictive capture. Pull the XZ3 out of a pocket and position it in landscape as you would when you naturally come to take a photo and it will fire up the camera. This saves you fumbling to open up the camera app, streamlining the picture taking process nicely.
As for picture quality, early impressions suggest it's the same story as the XZ2 – good, but not class leading - hardly surprising given the fact the XZ3 packs the exact same hardware as its predecessor.
Image 1 of 5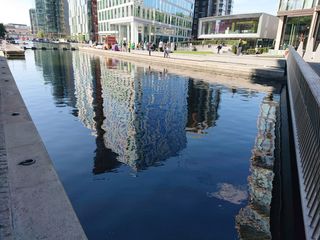 Daylight camera sample
Image 2 of 5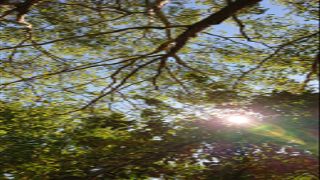 High contrast camera sample
Image 3 of 5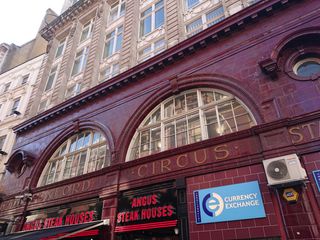 Daylight camera sample
Image 4 of 5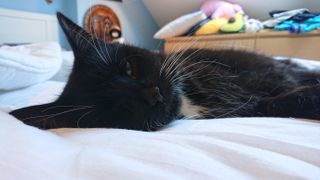 Close-up indoor camera sample
Image 5 of 5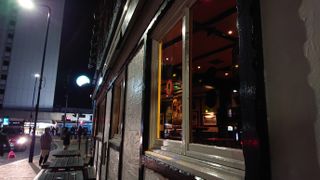 Night camera sample
Early verdict
Sony's new display tech is a major step forward for the brand's phones.
Being able to rival the top-end devices from Samsung and Google with a brand new OLED screen is impressive. Two days into use and every time we take it out of our pocket, the screen impresses us all over again.
The rest of the phone has plenty of potential, but it's too early to call it just yet. Check back in the coming week for our full review.