The Nvidia GeForce RTX 2060 might be more expensive than the graphics card it's replacing, but it's also a helluva lot more powerful, too. This mid-range GPU will make your PC gaming dreams come true and get you in the door with ray tracing maxed out at 1080p.
Pros
+

Ready for 4K @ 30fps gaming

+

Silky ray traced 1080p gaming

+

Runs much cooler than previous
Cons
-

Slightly pricier than predecessor

-

RTX heavily impacts performance at QHD and 4K
Why you can trust TechRadar We spend hours testing every product or service we review, so you can be sure you're buying the best. Find out more about how we test.
Nvidia GeForce RTX 2060: One minute review
The Nvidia GeForce RTX 2060 remains one of the best budget-y GPUs you can get, even though it has been overshadowed by the RTX 3060 and the RTX 3060 Ti, and the new Nvidia RTX 4060 and Nvidia RTX 4060 Ti are likely just a few months away.
Still, it is hardly the meager, plasticky middle child of Nvidia's GPU lineup, this GPU brings quite a few things to the table. Not only has it mastered Full HD and QHD gaming, but it also lets you bask in the glory of Nvidia's ray-traced future while keeping things affordable, making it the best graphics card for most gamers out there not called the Nvidia GeForce RTX 3060 Ti.
With every new generation, the best Nvidia GeForce graphics cards always get a massive power bump over their predecessors. This time, it's the Nvidia GeForce RTX 2060, doing what the Nvidia GeForce GTX 1070 did before it with some major improvements that blow the best AMD graphics cards it's competing with out of the water.
And, although the Nvidia GeForce RTX 2060 does come at a slight price bump over its predecessor, if you're looking for a way to get in on Nvidia's ray tracing capable GPUs, the RTX 2060 is an appealing option.
This new mid-range graphics card rules over 1080p gaming, fully delivers on 1440p experiences and can even play games at 4K (if you don't mind the more pedestrian frame rate of 30 fps).
Plus, this graphics card can give users a taste of ray-traced gaming, though, not to the uncompromising level of the company's higher-end cards.
Users on a tighter budget may be better served by the myriad versions of the Radeon RX 590, if they're okay with just gaming at a Full HD resolution. Otherwise, the Nvidia RTX 2060 currently stands unchallenged as one of the best midrange graphics cards you can buy.
Nvidia GeForce RTX 2060: price and availability
How much is it? MSRP listed at $339 (about £270, AU$490)
When is it out? January 2019
Where can you get it? You can buy it from retailers in the US, UK, and Australia
As we expected, the new Nvidia RTX 2060 comes at a higher $339 (about £270, AU$490) price than the card we looked at in our Nvidia GeForce GTX 1060 review, which is the one the RTX 2060 is replacing and which has an MSRP starting at $179 (about £140, AU$180). That's a $200 price bump, although some might argue that this isn't nearly as severe a price bump as we've seen on the company's higher-end GPUs.
Despite the higher price, the Nvidia RTX 2060 certainly punches well above its weight and feels more like a replacement for the Nvidia GTX 1070 Ti, which cost $449 (£419, AU$759) around the time of this review. It still falters behind its bigger brother, the $499 (about £380, AU$690) Nvidia RTX 2070, but puts AMD's $399 (£379, AU$679) Radeon RX Vega 56 and $279 (£249, AU$425) XFX Radeon RX 590 Fatboy in their place.
It's worth mentioning, however, that AMD does offer a compelling alternative with the AMD Radeon RX 5700, expected to offer comparable performance at 1440p on Max or Ultra settings, though bizarrely at $30 more and without any ray tracing capability. Additionally, as we saw in our Nvidia GeForce RTX 2060 Super review, Nvidia has more than enough firepower to take on the AMD Navi lineup.
Nvidia GeForce RTX 2060: Design
Image 1 of 5
Ray tracing cores
6GB of 14 Gbps GDDR6 memory
No NVLink connector or SLI Support
Nvidia GeForce RTX 2060 key specs
GPU: Nvidia TU106
Stream multiprocessors: 30 (64 CUDA per SM)
CUDA Cores: 1,920
Tensor cores: 240
Ray tracing cores: 30
Power Draw (TGP): 160W
Boost clock: 1,680MHz
VRAM: 6GB GDDR6
Memory Speed: 14Gbps
Interface: PCIe 3.0 x16
Power connector: 1 x 8-pin
The Nvidia GeForce RTX 2060 is quite a step up from its predecessor. Equipped with 6GB of the latest 14Gbps GDDR6 video memory and 50% more CUDA cores, you're looking at a much more capable graphics card.
As we saw in our Nvidia GeForce GTX 1060 review, the RTX 2060's predecessor was designed for 1080p gaming and could scrape by playing some games at 1440p, but the RTX 2060 has mastered high-frame rate Full HD gaming, delivering excellent 1440p results, and offers somewhat playable 4K gaming hovering around 30 frames per second (fps).
This is thanks in large part to the RTX 2060 being based on a modified version of the Turing TU106 GPU used in the Nvidia GeForce RTX 2070. While this technically means you're getting a cutdown version of a higher-end graphics card, most of its power still carries over. This is the very reason why this new 'mid-range' card is so capable.
The only thing we're not wild about is the fact that Nvidia has decided not to include an NVLink connector or any form of SLI support on the RTX 2060. This means users will have to buy a much more expensive RTX 2070 or RTX 2080 – rather than plugging in another RTX 2060 – if they want to inject some more graphical oomph into their gaming PC later on.
Nvidia GeForce RTX 2060: performance
Image 1 of 8
Outstanding 1080p performance
DLSS is a huge boost to gaming frames per second
Not great for 4K gaming on highest settings
In our synthetic benchmark tests, the Nvidia GeForce RTX 2060 tops not only its predecessor, but even higher-tier GPUs of the Nvidia Pascal generation, like the Nvidia GTX 1070 Ti. The only graphics cards to top the Nvidia RTX 2060 of the Turing-era cards are the considerably more expensive Nvidia GeForce RTX 2070, AMD Radeon RX Vega 56 and Nvidia GeForce RTX 2080.
Test system specs
CPU: 3.7Ghz Intel Core i7-8700K (hexa-core, 12MB cache, up to 4.7GHz)
RAM: 32GB Vengeance LED DDR4 (3,200MHz)
Motherboard: Asus ROG Strix Z390-E Gaming
Power Supply: Corsiar RM850x
Storage: 512GB Samsung 960 Pro M.2 SSD (NVMe PCIe 3.0 x4)
Cooling: Thermaltake Floe Riing 360 TT Premium Edition
Case: Corsair Crystal Series 570X RGB
Operating system: Windows 10
That is, until AMD releases the new AMD Radeon RX 5700 and RX 5700 XT graphics, and Nvidia unleashes its Super RTX series, you won't find another mid-range graphics card more powerful than this.
All this performance also translates to seamless gaming experiences. The Nvidia RTX 2060 is more than powerful enough to keep frame rates well north of 60fps in Full HD gaming, which is music to the ears of high-refresh-rate monitor owners. Meanwhile, it even delivers decent 4K gaming that hovers close to 30 fps in our benchmarks.
Image 1 of 4
Despite having the smallest complement of RT and Tensor Cores in the Nvidia RTX lineup thus far, the Nvidia RTX 2060 can still pull off all of the Turing architecture's new tricks including DLSS and ray tracing. In fact, this GPU can play Battlefield V at a consistent 70-75 fps with the game running at 1080p with Ultra quality settings and ray tracing.
Unfortunately, tuning up the fidelity to 2,560 x 1,440 drops the frame rate to 45fps – 40fps if left on Ultra quality settings and ray tracing. However, 4K with all the same settings is still surprisingly somewhat playable with the frame rate hovering around 25fps.
Based on our testing, we also find new dual fan cooler works well at keeping the Nvidia RTX 2060 running much more efficiently than the previous Pascal-series cards.
Should you buy an Nvidia GeForce RTX 2060?
Buy it if...
You want ray-traced graphics at a reasonable price
Getting ray tracing in your games is a huge jump from previous-gen GTX cards, and the RTX 2060 will let you do that at a reasonable price.
You want to take advantage of DLSS technology
DLSS is one of the most exciting technologies to hit the graphics card scene in years, and it substantially boosts framerates with the RTX 2060.
You can find or are priced out of Nvidia Ampere
While the RTX 2060 is last-gen tech with the release of Nvidia Ampere, the latest RTX 3000-series cards are still difficult to find.
Don't buy it if...
You're looking for a true budget graphics card
While the RTX 2060 is more affordable, it's not cheap either.
You want 1440p and 4K gaming
While the RTX 2060 does an admirable job with at 1440p, it's not a true 1440p gaming card, and you can forget about getting 60 fps at 4K on the latest AAA games.

Also Consider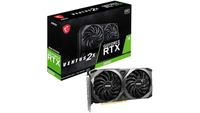 Nvidia GeForce RTX 3050
If you're willing to make the jump to the next-gen Ampere graphics cards, the RTX 3050 is the most affordable in that series, and is a strong competitor to the RTX 2060.
Read the full Nvidia GeForce RTX 3050 review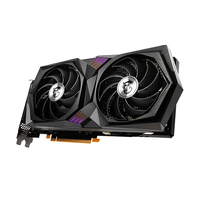 Nvidia GeForce RTX 3060
If you're willing to shell out a bit more cash, the RTX 3060 is a major improvement over the RTX 2060 without a huge price increase. Finding it might be a problem though, as it is with all the Ampere cards.
Read the full Nvidia GeForce RTX 3060 review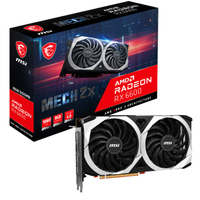 AMD Radeon RX 6600
Priced similarly to the RTX 3060, the RX 6600 is worth considering, especially if you're having difficulty getting your hands on Nvidia Turing or Ampere graphics cards. AMD cards are starting to match Nvidia pricing, unfortunately, but they do seem to be more available as well.
Read the full AMD Radeon RX 6600 review
First reviewed January 2019
Kevin Lee was a former computing reporter at TechRadar. Kevin is now the SEO Updates Editor at IGN based in New York. He handles all of the best of tech buying guides while also dipping his hand in the entertainment and games evergreen content. Kevin has over eight years of experience in the tech and games publications with previous bylines at Polygon, PC World, and more. Outside of work, Kevin is major movie buff of cult and bad films. He also regularly plays flight & space sim and racing games. IRL he's a fan of archery, axe throwing, and board games.