Best mattress: quick menu
1. The quick list
2. Best for side sleepers
3. Best premium mattress
4. Best mattress for back sleepers
5. Best mattress for couples
6. Best mattress for back pain
7. Best cooling mattress
8. Best pressure-relieving mattress
9. Best mattress for allergies
10. Best mattress for all-over support
11. Mattress info

How we test mattresses
Our Best Mattress guide is editorially independent – we choose which models to review and which ones appear in our ranking. We test each mattress thoroughly for three weeks; see our mattress methodology for more info.
If you're after the best mattress at the lowest price, we can help you find it fast. We understand that shopping for a new bed can feel confusing when you don't really know what you're looking for, so we've condensed our mattress knowledge, accumulated through researching and rating mattresses on a daily basis, into this handy guide to the top options available now.
We'll help you figure out which type of mattress is best for you, and you can then use that info to quickly find your perfect bed from our expertly-curated selection. Our quick list can give you the basics and link you straight to the store page, or if you need more info simply click through to our more detailed write-ups that'll give you all the facts, both good and bad.
Mattress sales happen virtually all the time, and you'd be unlucky to have to pay full price for your new bed, although prices can fluctuate on a regular basis. We're tracking prices constantly, and we'll give you our honest opinion on how good the current deal is.
As well as helping you pay the right price for your new mattress, we'll also let you know about how long you'll get to decide whether it's a good fit for you. Buying online (which is how most mattress shopping is done today) doesn't give you the opportunity to test your new bed out in advance, and anyway it's hard to get a good idea of how well a mattress will suit you from bouncing up and down on it for a couple of minutes in an out-of-town store; realistically it takes 30 days or more to properly get a feel for it.
That's why nearly all online brands give you an extensive risk-free trial of up to a year in some cases, so you can buy with confidence even if you don't get to try your mattress out beforehand; we'll let you know exactly how long you'll get with every mattress listed here.
Got all that? Then let's get on to the best mattress picks for 2023.
The quick list
If you're keen to buy a bed right now and don't want to comb through loads of information, here's an at-a-glance overview of our pick of the top mattresses available now, going by the most important features. Use it to narrow down your options or simply click through to buy, and if you want to know more you can jump down the page for a closer look at each model.
Load the next three products...
Kind to your joints
Best pressure relief
Made with NASA-developed Tempur material, this space-age mattress delivers cradling support and amazing pressure relief for sore joints.
Allergy-friendly
Best for allergies
The Otty Pure Hybrid Bamboo and Charcoal mattress is the ideal choice if you suffer from allergies. It's antibacterial and made with all-natural materials.
Deep support
Best for all-over support
We rate this mattress for anyone with a vigorous exercise schedule who needs support and pressure relief. It sleeps cool and features great motion isolation.
The best mattresses in 2023 - chosen by experts
Why you can trust TechRadar We spend hours testing every product or service we review, so you can be sure you're buying the best. Find out more about how we test.
Below you'll find our selection the best mattresses available now; we've tested most of them extensively and researched the rest thoroughly, so you can be sure that our recommendations can be trusted.
Best for side sleepers
The Emma Original mattress is a bit like getting the moon on a stick. By that we mean it's cheap, comfy in every sleeping position (particularly if you're after the best mattress for side sleepers, and ready to snooze on in minutes; it also comes top in our best memory foam mattress roundup. The Original isn't much to look at – it's a slab of body-hugging memory foam with a white cover and grey base – but during testing we found it to be a reliable all-rounder. Stomach, back, side and combi sleepers are all catered for here, though during our month-long testing period we found it especially comfy for side sleeping.
Halo Memory Foam is one of the reasons why the Emma Original Mattress supports all sleepers. The foam adapts to your unique body shape and curves; keeps your spine aligned and dishes out consistent pressure relief when you're lying down. There's another layer of foam at play too: durable Emma HRX (High Resiliency Extra) Supreme Foam, designed to distribute your body weight evenly across the mattress and prevent sagging. How long does a memory foam mattress last? On average six to 10 years, after which you'll see signs of sagging and wear and tear.
Foam mattresses sleep warmer than hybrids because they don't have any springs or coils for air to move around. Emma Sleep attempts to side step this issue by infusing the Original with a mattress technology called Point Elastic Airgocell. It regulates temperature by absorbing then evaporating sweat, so the rise in temperature shouldn't cause you to overheat. The temperature-regulating, moisture-wicking cover doubles down on this.
Does it work? Yes... to an extent. The hot sleepers on our team found it slept a little warm but certainly not hot. Our other testers found it comfy, cosy and temperature-neutral (neither cool or warm). So let's say this: if you naturally run hot and you're constantly kicking off the covers because you overheat during sleep, check out the Simba Hybrid Pro (below). For everyone else, at such a low price the Emma Original Mattress is hard to beat. It's biggest rival is the Nectar further down the page, because it's equally comfy, equally well-priced for the mattress tech involved (though it's a touch more expensive), and it comes with free bedding for extra value for money.
We've noticed recently that Emma Sleep is picking up a lot of negative reviews on Trustpilot from customers experiencing long delays on their orders. We reached out to Emma for more information, and we've been told that these issues were due to a technical error with the warehouse's system, a small number of deliveries were affected and that the issue has now been resolved.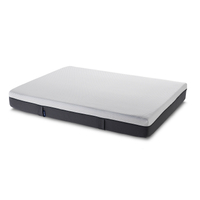 Emma Original Plus mattress: was £317 now from £253.600 at Emma
Great value - Emma has two versions of the Original on sale at the moment – the standard version and the Original Plus, which has a slightly better cover and costs slightly more. We've never seen them both discounted, so because of their similarity we'd advise you to go for the one that's included in the Emma mattress sale. Right now that's the Plus version, which is available in a double for £407.20. That's standard Emma pricing, but still good value.
Best premium mattress
The Brook + Wilde Elite Mattress has something for everyone because it's available in three different levels of firmness: soft (3 out of 10), medium (5 out of 10) and firm (7 out of 10). So regardless of your sleeping position, or how heavy or light your body is, The Elite Mattress will cater to your body and sleep needs. Our tester slept on the firmest version, and felt that it helped them maintain proper alignment no matter how they slept – alleviating any nagging aches and pains they had along the way.
Like the other hybrids in our best mattress guide, Brook + Wilde's The Elite is breathable (springs encourage better airflow than all-foam mattresses), and that's enhanced by a thermo-regulating top layer. It's made of high density foam with an open cell structure, which left even our hottest sleeper cool and dry when they slept on it. By the way, the four-way stretch cover is also designed to be breathable, and you can unzip it and machine wash it regularly for freshness and to keep your new mattress in shape.
The real magic inside the 8-layer The Elite mattress is Brook + Wilde's Wave Technology, which draws upon specialist foam to cushion and provide pressure relief in the upper part of the mattress. This ensures your spine is aligned during sleep and that pressure points are relieved. There's a total of 3,000 springs in this hybrid mattress too – 2,000 mini springs to add a little bounce and to move with you as you turn in bed, plus an extra 1,000 taller springs to provide even more bounce and push back.
The Elite's blend of foam and springs culminates in superior edge support. Whether you like to utilise as much bed space as possible by stretching out or need to sit on the edge of your bed in order to comfortably get in or out of sleeping position, the Elite will provide you with plenty of stability so there's no fear of falling over. We also found motion isolation to be very good, which bodes well for co-sleepers who don't want to be disrupted by their partner's movements.
Brook + Wilde has won a raft of awards and accolades for all of its mattresses, including The Elite. The only downside is that, unlike other bed-in-a-box companies, the wait time here is within four weeks. So if you need a new mattress urgently and you want a hybrid, look at the Simba Hybrid Pro in third place instead. But if you can wait, The Elite offers high comfort and support for a not extravagant price. You'll have 100 nights to try it out too. It also comes with a 10-year guarantee for peace of mind plus free white glove delivery and set-up so all you'll need to worry about is dressing it in your favourite bedding.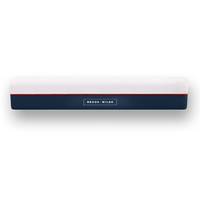 Brook + Wilde Elite mattress: was £1,099 now from £439.60 at Brook + Wilde
Luxury for less – Brook + Wilde is currently taking 60% off when you spend more than £699, but it's also increased its prices. Apply coupon code SAVE60 at checkout to bring home a double Elite mattress for £559.60, which is good value but £40 more than a couple of weeks ago. You'll have 100 nights to trial it at home, too, along with free delivery and set-up. Note that you'll have to wait up to six weeks for this handcrafted bed to arrive.
Best mattress for back sleepers
Sleep specialist Simba is known for making some of the UK's best hybrid mattresses, and the Hybrid Pro sits in the middle of its range. While it houses a smaller number of coils than the pricier Simba Hybrid Luxe, the Hybrid Pro still packs in 5,000 Aerocoil springs, which is impressive considering a double size costs £1,239 without a Simba mattress discount. We'd expect it to cost more, but that's the major draw with online mattresses – they are cheaper than comparable in-store only models because mattress in a box makers don't have the cost of bricks and mortar shops to contend with.
Such a high amount of coils also adds up to higher levels of back support and comfort, so if you're looking for a medium-firm mattress to help you sleep more comfortably with neck and back pain, the Simba Hybrid is the best mattress for you. The many thousands of coils also mean that the Simba is one of the most breathable mattresses in our guide. That's because air flows more freely around coils, and the Simba also uses a layer of open cell Simba-Pure foam infused with cooling graphite; when we tested it we were seriously impressed by its temperature-regulating qualities. It's worth noting that Simba has just updated the Hybrid Pro (as well as the Luxe and the standard hybrid) with a choice between a sprung and foam base.
The Simba Hybrid Pro has racked up plenty of awards for its mattress technologies and has the high user reviews to go with it. In our review we found it to be a great choice for anyone experiencing neck and back pain, and we feel that it's an excellent choice for back sleepers in particular. Our biggest disappointment was that its hypoallergenic knitted cover isn't removable or washable, so we'd strongly suggest buying one of the best mattress protectors you can afford to keep it in the best condition.
The Hybrid Pro mattress is 3cm deeper than both the Nectar and the Emma (28cm vs 25cm), but it's more expensive – even when on sale. We'd also point out that sleepers with lightweight bodies may find it too firm at first, especially side sleepers with a lighter body weight. The Simba and the Emma are tied in terms of mattress trials – they both offer 200 nights – so the Nectar trumps them both. But like the Nectar, the Simba has impressive eco-credentials and is also certified carbon neutral, with 100% recyclable materials.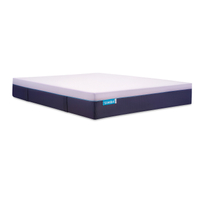 Simba Hybrid Pro: was £1,164 now from £698.40 at Simba
New version - Simba's current sale is its standard offering: 40% off most of its mattress range. It's also been upgrading its Hybrid range with sprung bases over the past few weeks, and there was a confusing time when both the sprung and foam versions were on sale, but only one of them was discounted. Right now only the sprung version is available, and a double will cost you £965.40, which is a decent enough price, and you'll get a free mattress protector included too.
Best mattress for couples
The Nectar Memory Foam Mattress is well-made, super-comfy and affordable, and comes on a 365-night trial, giving you an entire year to triple-check that it really is the best mattress for you. There's a market leading Forever Warranty on it too, which few other UK mattress brands can match. Add to that how the Nectar is certified as a climate neutral product, with emissions offset by a range of global schemes, and you've got an eco-friendly mattress at a good price. There is some off-gassing here (learn more about what is mattress off-gassing) that took a few days to clear completely when we reviewed this mattress, but not much.
There are five layers keeping you comfy and supported when you sleep on the Nectar, one of which is pressure relieving memory foam. When you lie down, that memory foam layer gets to work reducing pressure beneath your hips, knees (side sleepers) and shoulders, while ensuring your spine is comfortably aligned; we should note, however, that we found lighter sleepers may find the Nectar mattress just a little too firm. The memory foam is CertiPUR certified too, so you won't be breathing in any nasties here. Nectar partner's its deep layer of body contouring memory foam with a seven-zone supportive base to boost spinal alignment and minimise motion transfer.
That's why we love recommending the Nectar Memory Foam Mattress to couples – the high levels of motion isolation mean you shouldn't feel each other wriggling so much. This is important because if you aren't woken up so often by your partner's restlessness, you stand more of a chance of sleeping through the night and feeling more refreshed come morning.
A lot of all-foam mattresses sleep warm, but not the Nectar. That's due in part to the Dynamic Support layer, made of open-cell breathable foam to increase air flow, regulate your body temperature, and dissipate heat. The Quilted Cooling Cover doubles down on this by drawing away heat from your body so that it doesn't build up and leave you a sweaty mess.
We will say that side sleepers may prefer the Emma Original Mattress, as that one feels a touch softer and more cushioned around the shoulders, hips and knees during side sleeping. Other than that, all sleeping positions are supported by the Nectar, and while we found the edge support to be a little flimsy, there's not much to criticise here. With a 365-night risk-free trial, free delivery and returns and a Forever Warranty, you have nothing to lose and years of cosy sleep to gain.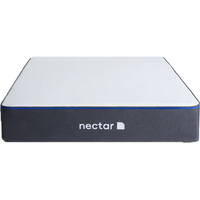 Nectar Memory Foam: was £949 now from £379.60 at Nectar
There's currently 60% off all sizes of the Nectar memory foam mattress, taking the cost of a double down to £479.60, and you'll get a 365-night sleep trial and forever warranty with that, too. Be aware that Nectar shifts its RRPs fairly frequently, but the actual prices you'll pay in the Nectar mattress sales tend to remain the same. This deal is pretty standard Nectar pricing and worth taking advantage of.
Best mattress for back pain
There's only one DreamCloud mattress available in the UK, but that's fine because the Luxury Hybrid is the best for back pain support and all-over body comfort. It's one of the deepest (tallest) models in our best mattress guide, outgunned only by the Tempur Original Luxe, yet the Tempur is far more expensive. So considering the level of plushness we're talking about here, the DreamCloud Luxury Hybrid is well-priced.
Like all good hybrid mattresses the DreamCloud uses a combination of body-hugging memory foam with supportive springs. In this case, ActivEdge pocket springs. Their job is to make sure you are properly supported when you lie down so that you don't wake up with neck or back pain caused by your mattress. Those springs also make the mattress more breathable, as air moves more easily through and around the springs.
The DreamCloud Luxury Hybrid UK is designed to support side, back and stomach sleepers, so if you're often restless in bed and flip and flop between different positions, this mattress will respond quickly to your movements and keep you feeling comfy. And hopefully, if you upgrade to a better mattress such as this one or any other in our guide, you won't feel quite so restless during sleep because you'll be more comfortable. We will say that if you have a lighter body weight than average and you love soft mattresses, then you may find this one too firm, so take a look at the Emma Original instead.
DreamCloud, like Nectar, offers a market-leading 365-night risk-free mattress trial, so you get a whole year to put the Luxury Hybrid through its paces at home. It also comes with a Forever Warranty, plus free shipping and returns if you decide this isn't the best choice for you after all. Delivery usually takes around four days, so if you need a luxury yet affordable mattress for better back support now, the DreamCloud is a great choice.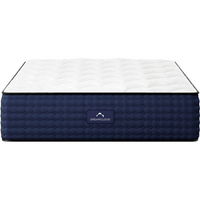 DreamCloud Mattress: was £1,349 now from £608 at DreamCloud
The DreamCloud has 55% off at the moment, although bottom line prices are actually up a bit from a few weeks ago. This means that double will cost you £743 right now, but unlike the previous DreamCloud deal you'll get a duvet and bedding set included, so you're still getting good value. You also get a full year's trial and forever warranty.
Best cooling mattress
If you want a cooling mattress on a budget, as well as a firmer sleeping surface, the Eve Premium Hybrid is definitely worth considering. This is one of the best mattresses in the UK for higher levels of neck and back support, and it's one of the firmest mattresses in this guide. It has high user reviews among those seeking a firm bed, as well as among people who usually wake up in the night, kicking off the covers because they feel too warm to sleep. The Eve Premium Hybrid feels cooler because it houses 1,500 pocket springs that keep air circulating while you lie on the mattress.
If you suffer from night sweats or hot flushes due to medication, pregnancy, menopause or another health condition, you'll be in good hands with the Eve Premium Hybrid because the top panel can be washed, so you'll be able to quickly deal with any sweat , staining or odours. Those pocket springs contribute towards pressure relief too, particularly around your back and hips. The mattress is also designed to keep your spine in alignment during sleep so you don't wake up sore.
While some other hybrids lose points on motion isolation, we found the Eve Premium Hybrid to be very good at isolating motion during testing. It doesn't stop it completely, but it's hugely reduced – this is vital if you share a bed with a restless sleeper or if you are prone to tossing and turning in bed (and it isn't because you're physically uncomfortable). We'd recommend the Eve Premium Hybrid to people with heavier bodies too, as it provides a higher level of support to stop you from sinking too far into the mattress. If you have a lighter body and you're a side sleeper, the Eve might be too firm for you to sleep comfortably so consider the Emma Original or the Brook + Wilde The Elite Soft instead.
The Eve Premium Hybrid comes on a 100-night trial, which is common to most of the models featured in our best mattress guide, and it has a 10-year guarantee too. We regularly see it on sale, with discounts averaging 30 to 35%, so you can usually buy it for a couple of hundred pounds less than its RRP. That makes it more competitively priced, though it is still one of the more expensive hybrids here. For a cheaper option that's still breathable and has a firmer feel, look at the Simba Hybrid Pro.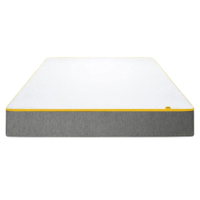 Eve Premium Hybrid mattress: from £1,099 now from £599 at Eve Sleep
Low price - Eve now knocks 50% off its Premium Hybrid mattress, bringing the price of a double to £599; prices seem to have increased, which means that it's £50 up from the last time it was on sale, but this is still a fairly good deal. Eve's sales are much less regular and tend to only focus on one or a handful of models at a time, so it's worth pouncing on any offer on the model you've had your eye on, especially considering that we've seen mattresses (including this one) go out of stock on a regular basis. Eve offers free delivery and a full year's trial period.
Best pressure-relieving mattress
Tempur's Original mattress is an excellent choice if you need a reliable bed that's not only comfortable, supportive and balanced, but easy to care for too. That's because the Tempur Original is a no-turn model (you should rotate it regularly though to spread out the wear and tear) and comes with a machine washable cover. More importantly, this is the best mattress in our guide for giving you that feeling of being gently cradled. You'll sink into the Tempur for a gently enveloping feel; a perfect meeting point of spinal support and I-don't-want-to-get-up comfort. It's quite a unique feel and it might not be for everyone, but those who love it tend to really love it. Be aware that it can be difficult to move around on, so if you want something more responsive, you'd be better considering a hybrid with springs.
There's plenty of flexibility on offer with the Tempur Original, as it's available in three ranges: the Tempur Original Supreme (21cm deep), the Tempur Original Elite (25cm deep), and the Tempur Original Luxe (30cm deep). Each of those is available to buy in 10 different sizes, from single to super king, plus there are special sizes too, including longer singles and different widths. Honestly, this sheer amount of variety outperforms every other mattress in our guide and you won't find a greater range of sizes and firmness levels from any other brand featured here.
If you need a sturdier foundation, the deeper Luxe mattresses offer more support in the base. The Supreme range nails that just-right feel with 2cm of Tempur Comfort Material perched above 8cm of Tempur Support Material.
Tempur prides itself on the Tempur material it uses, explaining that, "NASA developed a material to relieve the pressure endured by astronauts during lift off." Back down on Earth, sleepers can take advantage of similar benefits, including all-night body cradling and support regardless of the position you sleep in. When you lie down on the Tempur Original mattress, you will feel it start to mould to your curves, delivering Tempur's famous pressure relieving magic from head to toe.
Finally, for those of you dealing with night sweats and hot flushes that leave you and your sheets drenched, the Tempur Original mattress also has a removable cover that can be machine washed at 60°C to keep things fresh and odour and stain free.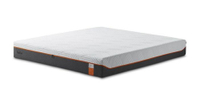 Tempur Original: was £1,499 now from £1,309 at Tempur
Tempur mattresses are seldom on sale, but there's an opportunity to save on most of the Tempur range right now, with up to £500 off plus free pillows and a mattress protector included. This means you can get a Tempur Original in a double from £1,749, reduced from £1,999; if you're set on a Tempur mattress, this is the sort of deal you won't want to miss.
Best mattress for allergies
The Otty Pure Hybrid Bamboo and Charcoal is the best mattress for anyone who suffers from allergies and who wants a medium-firm mattress made with natural materials. There are some very attractive features with the Otty, namely the lower price (especially when on sale), and the addition of cooling bamboo and charcoal. All of the foam is CertiPUR and Europur approved too, which means the toxicity of the foam has been repeatedly tested and has passed the highest standard set.
There are multiple foam layers inside the Otty Pure hybrid, putting it in line with the likes of the Nectar and Emma mattresses. The bamboo memory foam layer is infused with charcoal to regulate in-bed temperature, while a layer of high density Reflex Foam dollops on the comfort and extra support for your back. This is enhanced by the addition of up to 2,000 16cm tall pocket springs, giving the Otty Pure its medium-firm rating.
On the top you'll find a foam-filled, charcoal-infused cover designed to wick away moisture. The cover is also antibacterial and breathable, working in tandem with Airflow technology on each side to aid temperature regulation. These side slabs also mean the Otty has great edge-to-edge support, so you can sit on the edge of the mattress to pop your shoes on without sliding off.
When analysing the thousands of Otty user reviews on Trustpilot, the main gripes we came across were about customer service and a narrow selection of delivery days, and it's slightly annoying that you have to pay extra if you want the delivery people to bring it past your front door too. You'll get 100 nights to put the Otty Pure Hybrid Bamboo and Charcoal to the test, and the brand offers free basic delivery and free returns.
Interested in an Otty mattress but want something cheaper? Check out the Otty Original Hybrid Mattress instead.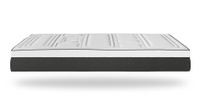 Otty Pure Hybrid Bamboo mattress: was £849.99 now from £467.49 at Otty
Otty is taking up to 50% off its mattresses in its Spring sale, with 45% off the Otty Pure Hybrid Bamboo. A double will cost you £632.49, which is more than it was a few weeks back, but with prices in general going up this is still a decent deal on a quality hybrid. There aren't any extras thrown in, but you can get a discount on sleep accessories, including a pillow, duvet cover and mattress protector, with your mattress if you need them.
Best mattress for all-over support
Sleep is a vital part of recovery, so if you have an intense exercise schedule and want a supportive mattress with high levels of pressure relief, the 25cm deep REM-Fit 500 Ortho Hybrid is the best mattress for you. It's also well-suited to people who need deeper back and neck support, as it uses zoned memory foam to deliver different levels of pressure for different parts of your body, especially your hips and back.
This a hybrid mattress made from open-cell memory foam (designed to be more breathable than standard foam) and 2,000 firm encapsulated premium pocket springs. When we reviewed the REM-Fit we actually found that it felt more like a memory foam mattress than a hybrid; it's also very firm indeed, which means that we wouldn't recommend it to side sleepers. However it delivers fantastic edge support as well as top-notch motion isolation. At the base sits a deep layer of high-density foam for durability and support of a total body weight of 40 stone.
Overheating in bed won't be an issue on this mattress either, as Rem-Fit has designed it to deliver constant temperature regulation, dissipating heat so that it doesn't build-up beneath you. The Re-Ax cover is also fully breathable, plus you can remove it for machine washing. (Read our how to clean a mattress feature for tips).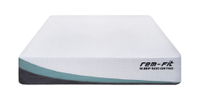 Rem-Fit 500 Ortho mattress: was £799 now from £479.40 at Rem-Fit
Rem-Fit's prices change pretty much weekly, which means it's always worth checking here before you buy. Right now it's taking 40% off mattresses, including the REM-Fit 500 Ortho. A double now sells for £599.40, and it comes with a pair of free memory foam pillows (but only one if you buy a single size) but no cool mattress protector, which you got a couple of weeks back. There's free next-day delivery and a 100 night sleep trial to make sure you love this mattress.
How to choose the best mattress for you
Picking a great mattress comes down to a few key factors. The first is knowing which position you normally feel comfy enough to drift off in. The most common sleeping positions are side sleeping, stomach sleeping, back sleeping and combi sleeping, where you switch between all of those positions during the night.
Choosing your best mattress also revolves around whether you have any specific health or posture needs, such as neck or back pain. If that's the case, speak to your healthcare practitioner to see what they suggest in terms of the level of firmness you need – firm doesn't always equal best for back pain relief.
A medium-firm feel suits most sleepers and body weights, plus stomach and back snoozers. Those with a lighter weight body, along with side sleepers, may prefer a softer mattress with more cushioning. Memory foam mattresses are good here.
Other health considerations include whether you're a hot sleeper. If you are, the buzzwords to look for are 'breathable' and 'cooling'. But not all breathable mattresses are made equal and we have certainly experienced our fair share of so-called cooling mattresses that still left us kicking off the covers at night.
If you sleep very hot or have a health condition or take medication that causes night sweats, we'd recommend a proper cooling mattress. Be prepared to pay more for these, but if overheating is ruining your sleep, the cost is relative to improving your shut-eye.
Finally, consider your bed buddy's needs if you co-sleep. We always recommend that couples pick a mattress with good motion isolation, as well as reinforced edge support so that you can both spread out and use every inch of the mattress while still feeling supported.
When one of you sleeps cooler than the other, or enjoys a wildly different firmness level, you may be looking at split-model mattresses or two singles squished together. Whatever you decide, always pick a mattress that comes on a risk-free trial period so that you can send it back if you aren't happy.
When is the best time to buy a mattress?
One of the best times to buy a new mattress is at the end of November when the Black Friday mattress deals flood in, followed by the Cyber Monday mattress deals. The mattress market is ultra-competitive, and you're pretty much guaranteed a sale on at all the big bed brands and retailers. In most cases it'll be the lowest price of the year, or at least the same as the best price of the year.
We did notice during the last Black Friday shopping event that some mattress manufacturers launched sales early (the first and second week of November), and there were some pre-Black Friday flash sales too (Nectar Sleep, for example, offered 25% off sitewide).
What is the best mattress brand?
Our mattress buying guide features only this year's top mattress brands - there are many that didn't make the cut. We rate Emma Sleep as the best mattress manufacturer overall, as it makes a superbly comfortable memory foam boxed mattress that suits all types of sleepers. Plus, its excellent value for money, especially with a 50% discount (as you'll find most months).
Beyond Emma Sleep, we've reviewed and loved sleeping on the Nectar Memory Foam Mattress by Nectar Sleep. This is another trusted mattress brand with a huge pedigree in the world of online mattresses. It's far bigger in the States than it is in the UK, but our experience of Nectar Sleep's customer service and delivery processes have been fantastic.
In terms of eco-friendliness, Simba Sleep is leading the way right now with a strong commitment to using fully recyclable materials and to limiting its contribution to landfill and pollution.
However the best mattress brand for you might be completely different, depending on what you want from a mattress and what you value from a company. We suggest always shopping with a brand that offers a free trial period of over 90 nights, and that commits to free delivery and returns, plus a fair price for the materials used and the build quality.
Read more: