LG's wheelable smart TV is lots of fun, but wow is it expensive
Usefulness comes at a price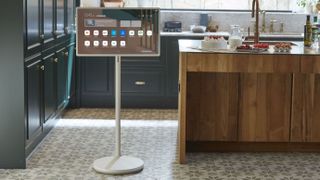 (Image credit: LG )
LG has announced that the StanbyME, one of its lifestyle TVs, is coming to the UK on November 29th. Priced at £1,199, the wheelable, mobile TV is already available in other territories including the US, where it retails for $999.99.
The LG StanbyME is a 27-inch LCD TV with Full HD resolution that features HDR support (HDR10 and HLG), stereo audio from 10W speakers, and the Alpha 7 Gen 4 processor that LG features in some of its 4K LCD TVs. It also features a touchscreen to enable users to pause video, open apps and change settings easily. While it may not have specs to rival the best TVs, it's definitely got some useful features.
The most striking feature of the StanbyME though is its design, as it sits on a wheelable, mobile stand enabling it to be moved around. The TV itself can be rotated up to 180 degrees, swivelled 130 degrees, tilted 50 degrees and adjusted up to 20cm in height, meaning it can be adjusted to suit most viewing angles. Inside the base of the stand is the StanbyME's battery, which has up to three hours of battery life.
The StanbyME comes pre-loaded with LG's smart TV platform, webOS. It will have support for major apps such as Netflix, Disney Plus and Prime Video. The StanbyME also supports AirPlay 2 and Mobile Screen Mirroring, meaning you can mirror and connect your phone to the TV for video calls or to stream other media.
The LG StanbyME seems like a real multi-purpose TV with plenty of functionality and use, but is it a revolutionary TV or a bit of a novelty?
A bit of fun with a big price tag
The StanbyME definitely has its uses, one of which would be in the professional world. With working from home and video conferencing becoming more widely used in businesses, the StanbyME's screen mirroring is a particularly useful function, with the ability to use your phone as your webcam and mirror the meeting itself on the TV's display.
It could also be great for people with vision or mobility issues, since you can position it close to you on the sofa – or just for people with awkward bedrooms where you don't have anywhere to place a TV, since you can wheel it out to your bed for a lazy/ill day, and then put it away in a corner or closet afterwards.
It's also undeniable that the StanbyME is fun and quirky. There's a novelty to being able to wheel around your TV everywhere you go; you'll never have to pause the TV show or movie you're watching again. Any sports fan will know it can be agony having to leave a game mid-way through for a bathroom break, but with the StanbyME you can watch every agonizing second. (We are only half joking about this.)
But, as fun and useful as the StanbyME sounds, there is no escaping the price. At £1,199/$999, you can easily buy a 65-inch LED (even mini-LED) TV, or in some cases one of the best OLED TVs, such as the 2023 LG B3. The StanbyME will serve a purpose for some people, but for many this is far too expensive for a 27-inch non-4K TV attached to a stand. With a three-hour battery life as well, the StanbyME will make it through a lot of movies, but Killers of the Flower Moon's three hours and 26 minutes would exceed the StanbyME's battery life.
All in all, some people will love the novelty value of this TV or find use for it in a professional capacity, but for the average TV viewer, the StanbyME is an intriguing TV that's probably best left as a fun concept.
You might also like
Sign up for Black Friday email alerts!
Get the hottest deals available in your inbox plus news, reviews, opinion, analysis and more from the TechRadar team.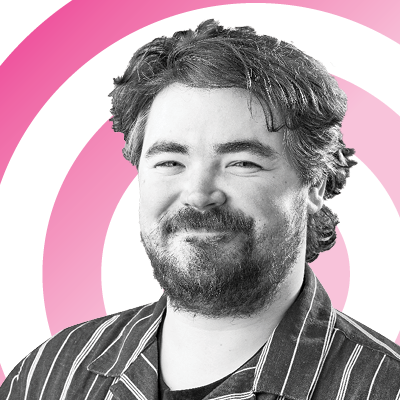 TV Hardware Staff Writer, Home Entertainment
James is the TV Hardware Staff Writer at TechRadar. Before joining the team, he worked at a major UK based AV retailer selling TV and audio equipment, where he was either telling customers the difference between OLED and QLED or being wowed by watching a PS5 run on the LG 65G2. When not writing about the latest TV tech, James can be found gaming, reading, watching rugby or coming up with another idea for a novel.