Your Sky Glass TV just got a lot more interactive with Sky Live
A plug and play camera packed with features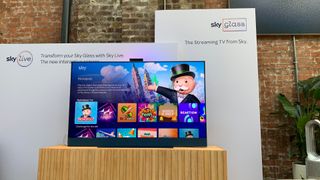 (Image credit: Future)
Sky has unveiled a new smart camera with a bunch of additional services and features for its Sky Glass TV entertainment package, including the ability to make video calls, play interactive games, share your TV screen with loved ones and even exercise.
Sky Live is a 130g camera that you can magnetically connect to the top of your Sky Glass TV via HDMI and USB-C ports, which unlocks loads of new services by giving you the ability to interact with your display screen.
Sky's global chief product officer Fraser Stirling says that Sky Live has been in the making since they first launched Sky Glass in 2021. Below, we'll detail how it works, what the four new features are and how much it is.
What is Sky Live and how does it work?
Sky Live aims to make your TV smarter, more social and interactive all at once. Key to making this possible is a camera device with a 12MP RGB HDR-capable wide-angle lens, which has a 110° horizontal field of view and 93° vertical field of view.
The camera itself supports 4K resolution, has an in-built microphone and a wide aperture for dark conditions, as well as clever features like auto framing and body tracking. And to make sure you know when the camera is being used, it also has a white light indicator and a button on the device to disconnect it.
But what's most exciting about the camera isn't the camera itself but what it allows you to do with your TV, including working out, making calls, sharing your screen and playing games. It will also come with a new interface that will have a Continue Watching playlist that amalgamates all your streaming services, similar to what Apple TV 4K has.
Take a video call on your TV
With such a high spec camera being developed, you can probably guess that video calls would be one of the core features that Sky Live would bring. The company has partnered with Zoom, like so many other brands recently – just this week it was announced that Sony TVs will soon support Zoom video calls.
And while you'll be able to take calls through your TV, the person who's calling you doesn't have to do this through another Sky Live device. They'll be able to call you on other devices, like phones, tablets and laptops through the Zoom app.
You'll be able to start a call directly from the contact panel and if you have to leave the house, then there's also the ability to switch the call to a different device so you can continue speaking while on the move.
There will also be a Video Booth, with 40 AI filters to choose from, including those from familiar animation movies. Plus, you can also record or take a picture in 16:9 or 1:1 (a square crop) using the Zoom app, which you'll be able to share with family and friends through a QR code.
Share your screen with other households
Like in a Zoom call where you can share a work presentation with others, you'll also be able to share your screen with family and friends while watching a video, movie, TV show or sports game together through a new feature called Watch Together.
The shared screen syncs with other Sky Glass TV owners, allowing anyone who is watching to pause, skip, rewind and play no matter who started the video. It also has smart audio features that can dynamically focus on who's speaking.
This new feature will work across all of Sky's content, including Sky Q, meaning you'll be able to watch any type of video by creating a room or joining a room. You'll also be able to use Watch Together in either Sky Showcase or through what you're watching by sharing a nine-digit code.
There is a limit to how many people can use Watch Together though. This is capped at 12 households and can only show four video feeds, but there are different view options that allow you to adjust the visibility of the video feeds on your screen.
Play games on your TV
Sky Live is also launching a new gaming service, with 27 games and experiences across 14 apps. Similar to how a lot of Nintendo Wii games worked, these games use motion tracking and gesture control to allow you to become the remote or controller.
Games such as Fruit Ninja and Whac-A-Mole are well suited to this type of interaction and will be available at launch. But there will also be games like Monopoly available, with multiplayer capabilities – you'll be able to play with up to eight people at a time.
All the games are integrated across Sky's ecosystem and the developer's apps themselves, allowing you to play across different devices. Developers are rolling out new games too – Nex, for instance, is launching four games and has 10 more in development.
Workout with your TV
One of the most exciting services that will be exclusive to Sky Live is a new fitness app called Mvmnt. What's unique about it is that it uses the camera's body tracking technology to analyse and give you real-time feedback on your workout, just like a coach.
And with more than 30 points on your body being tracked, the feedback corrections on your form are very detailed. It uses this information to create a fitness profile for you so that you can master your technique, vary your workouts, track your progress and set new goals.
In fact, like services such as Peloton, there will be 10 trainers that will offer different workouts. The app is launching with more than 130 exercises to begin with, including HIIT, yoga, strength training and more.
How much is Sky Live?
Sky Live comes packed with quite a lineup of perks for everyone in the household and together with Sky Glass TV is looking to combine the experience of one of the best TVs with one of the best streaming services and best webcams. So, when can you buy it?
As of today, customers in the UK will be able to order Sky Live and Sky Glass in a bundle for £17 per month under a promotional offer with a credit agreement of 48 months. The Sky Ultimate TV bundle will normally cost £26 a month under an 18 month contract.
On its own, Sky Live is priced at £6 a month for a 48 month credit agreement length or £12 a month for 12 months. There's also the option to buy it outright for £290, but when considering that Sky Live is designed for Sky Glass, you'll by default want both.
As a result, if you're already paying £14 a month as part of your 48 month credit agreement length for Sky Glass, then Sky Live does bump up your bill by quite a bit. But if you're likely to get a lot of use out of the additional features, then it is worth considering.
Sign up for Black Friday email alerts!
Get the hottest deals available in your inbox plus news, reviews, opinion, analysis and more from the TechRadar team.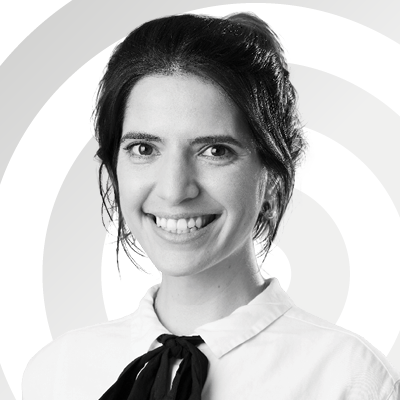 Senior Editor UK, Home Entertainment
Amelia became the Senior Editor for Home Entertainment at TechRadar in the UK in April 2023. With a background of more than eight years in tech and finance publishing, she's now leading our coverage to bring you a fresh perspective on everything to do with TV and audio. When she's not tinkering with the latest gadgets and gizmos in the ever-evolving world of home entertainment, you'll find her watching movies, taking pictures and travelling.