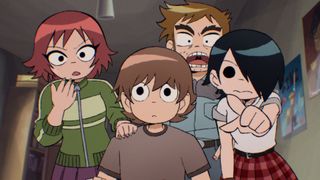 (Image credit: Netflix)
Scott Pilgrim Takes Off is out now in full on Netflix – and, as is the case whenever a TV show ends, we imagine you've got finale-based questions you need answers to.
Netflix's anime adaptation of Bryan Lee O'Malley's cult classic comic books is, in our view, absolutely brilliant. If its release has passed you by, our spoiler-light thoughts on Scott Pilgrim Takes Off explains why it's certainly worth watching, even if you haven't read the graphic novels.
However, if you've already binged all eight episodes, we suspect you've got questions – and, luckily for you, we've got answers. Ahead of Netflix's take on Scott Pilgrim Vs. The World, we sat down with O'Malley and co-showrunner BenDavid Grabinski to get the lowdown on its finale, mid-credits scene, whether there'll be a second season, and more.
Full spoilers follow for Scott Pilgrim Takes Off's final episode. If you haven't watched it yet, turn back now. Alternatively, read our spoiler-free interview feature, which reveals how Twin Peaks and Donald Glover's Atlanta inspired Scott Pilgrim Takes Off.
Scott Pilgrim Takes Off ending explained: who is the anime's main villain?
That'll be Even Older Scott, i.e. a 47-year-old version from Scott who travels back in time to stop present day Scott from dating Ramona.
In episode 7, Slightly Older Scott – basically, Scott in his mid-30s – was revealed as the person who kidnapped present day Scott in the series' opening entry. He wanted to try and stop his younger self from – yep, you guessed it – dating Ramona because the duo separate (and, according to Slightly Older Scott, get divorced) after they hit a sticky patch in their relationship.
Unfortunately for Slightly Older Scott, his younger self doesn't take any notice. Present day Scott tracks down Slightly Older Ramona (with Slightly Older Wallace's help) to go back home, which she agrees to.
Meanwhile, in the future, Slightly Older Scott gets kicked out of Slightly Older Wallace's apartment. Feeling betrayed by his ex and his friends, he spends the next decade training, as well as studying his past self's strengths and weaknesses, to become a seemingly unstoppable force with one goal in mind: find present day Scott and, this time, actually stop him from getting with Ramona.
Despite his size and raw power, Scott Pilgrim fans might liken Even Older Scott to a similarly corrupt version of the titular character in the comics: Nega Scott. In the source material, Nega Scott represents the dark side of Scott's persona and the romantic mistakes he's previously made. Scott fights his evil alter ego until one of his exes, Kim Pine, suggests Scott forgive himself for his past discretions, allowing him to merge with Nega Scott and make peace with his inner trauma.
Nega Scott doesn't appear in Scott Pilgrim Takes Off but, given their antagonistic roles, it's hard not to draw comparisons between Nega Scott and Even Older Scott, so did the former inspire the latter? Not really, O'Malley revealed.
"As an antagonist, Even Older Scott came in fits and starts as we were creating the show," he explained. "It wasn't until we wrote episode eight that we realized this is how the story had to play out. And then Abel Gongora, our director, suggested episode eight could end with a big fight with Even Older Scott, so we went back to the drawing board a bit and I remembered I'd made a little sketch of what he would look like, with the big white hair and stuff, so we collaborated to get him into the series."
"Even Old Scott was always in our outlines for the show," Grabinski added. "But it was Abel who brought up the idea of him being the final evil boss. He was the first to verbalize that in one of our brainstorming meetings."
Scott Pilgrim Takes Off ending explained: who is Super Ramona?
Essentially, an amalgamation of present day Ramona and Even Older Ramona. The latter rolls up – literally, she's on jet engine-powered roller blades – as present day Scott and Ramona are getting pounded by Even Older Scott to put a stop to the whole charade.
Even Older Ramona berates Even Older Scott for giving up on them (it turns out the duo were just on a break, which Even Older Scott misinterpreted), which leads present day Ramona to question whether she should even date present day Scott. After all, if the pair wind up become embittered and resentful over their failed marriage in the future, what good would it do being with Scott now?
Surprisingly, it's an outburst from Even Older Scott to knocks some sense into present day Ramona. Chastising both Ramonas for "running away from the thing that you love", present day Ramona realizes that's what she's been doing for her entire romantic life, leaving a trail of broken hearts in her wake. Saying she's done running, she hugs Even Older Ramona – to the latter's surprise – and says "You. I choose you", essentially making peace with her older self and the insensitive decisions she's made throughout her life.
It's this act of self love that causes the pair to merge and form Super Ramona, an all-powerful benevolent being. Think of her as Scott Pilgrim's equivalent of Super Sonic (the Chaos Emerald-imbued version of Sega's video game mascot) and you'll get the gist. She sends Even Older Scott home so he can turn over a new leaf, breaks the anti-kissing spell he'd placed on present day Scott and Ramona, and sends the duo back to their timeline.
Scott Pilgrim Takes Off ending explained: are Lisa Miller and Lynette Guycott in the Scott Pilgrim anime?
One of the biggest questions fans had before Scott Pilgrim Takes Off's release was whether two fan-favorite characters would appear in the animated series. That duo was Lisa Miller, who would've been one of Scott's girlfriends if he'd acted on his interest in her in high school, and Lynette Guycott, The Clash at Demonhead's drummer.
Lisa didn't appear in Scott Pilgrim's live-action movie – she is name dropped at one point, though – so long time fans had hoped this oversight would be belatedly fixed in Scott Pilgrim Takes Off. Unfortunately, the former doesn't appear at all, which is sure to frustrate some fans who view Lisa as an integral cog in the Scott Pilgrim comic series' story.
As for Lynette, she only makes a blink-and-you'll-miss-it appearance during a Clash at Demonhead concert in the anime's fifth episode. In the comics, Lynette has a fling with Todd Ingram, The Clash at Demonhead's bass player and Envy's boyfriend, which results in Envy and Todd breaking up. However, it's Wallace Wells who causes the pair to go their separate ways in Scott Pilgrim Takes Off, a creative change that reduces Lynette to nothing more than a cameo role in one of 2023's best anime.
Scott Pilgrim Takes Off ending explained: is there a mid-credits scene?
There is, although it's unclear if it's actually setting up any story threads that might form the main plot of a potential second season (more on this later) for, in our opinion, one of the best Netflix shows released in 2023.
In the very brief clip, we see Gideon and Julie sitting in Gideon's red-lit lair, with their backs to the camera, as they survey a seemingly infinite number of screens. "Time for the real game to begin," Gideon says with more than a hint of menace in his voice, before his partner Julie adds: "The goose is loose, honk honk f*****s". Add in the accompanying strings and chilling vocal chorus, and the mid-credits stinger suggests a new nefarious plan is in the offing. So, is Takes Off's mid-credits stinger hinting anything in particular?
"We've had fun chats about some characters who would be fun for spin-offs," Grabinski teased. "But we put all of our ideas into the show and just focused on making the best season we could with an ending we're really proud of. If there was no TV after November 18, I think we made a complete story that we love and we hope other people do as well."
Scott Pilgrim Takes Off ending explained: will there be a season 2?
Based on Grabinski's comments above, it's unlikely. After all, the anime's mid-credits scene aside, Scott Pilgrim Takes Off wraps up every character's story. Realistically, there's nowhere else to take them in a sequel season. That's not to say O'Malley and Grabinski have completely ruled out a second season or, as the latter suggested above, spin-off projects.
Interestingly, Scott Pilgrim fans have theorized that the 'Takes Off' portion of the show's title indicates this is just the start of a multi-season story on Netflix, aka the world's best streaming service. On the Scott Pilgrim Reddit page, one particular thread contains compelling evidence that suggests this could be the case. So, are fans right to believe that Scott Pilgrim Takes Off is only the first installment in a grander Toronto-based tale? No, not exactly.
"I wouldn't say that's our intention with the title," Grabinski said when I asked for his thoughts on said fan theory. "But any interpretation of our title is valid and anyone can think what they want.
"For me, the title was just that Scott takes off, which is an exciting and literal explanation of our plot twist. There may come a point where Bryan and I sit down and come up with some ideas for another season but, for now, our focus is 100% on this season."
You might also like
Get daily insight, inspiration and deals in your inbox
Get the hottest deals available in your inbox plus news, reviews, opinion, analysis and more from the TechRadar team.
Senior Entertainment Reporter
As TechRadar's senior entertainment reporter, Tom covers all of the latest movies, TV shows, and streaming service news that you need to know about. You'll regularly find him writing about the Marvel Cinematic Universe, Star Wars, Netflix, Prime Video, Disney Plus, and many other topics of interest.
An NCTJ-accredited journalist, Tom also writes reviews, analytical articles, opinion pieces, and interview-led features on the biggest franchises, actors, directors and other industry leaders. You may see his quotes pop up in the odd official Marvel Studios video, too, such as this Moon Knight TV spot.
Away from work, Tom can be found checking out the latest video games, immersing himself in his favorite sporting pastime of football, reading the many unread books on his shelf, staying fit at the gym, and petting every dog he comes across.

Got a scoop, interesting story, or an intriguing angle on the latest news in entertainment? Feel free to drop him a line.