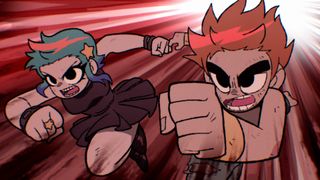 (Image credit: Netflix)
How do you go about adapting a beloved comic book series for a third time? It's an anxiety-inducing conundrum Scott Pilgrim creator Bryan Lee O'Malley mulled over when Netflix floated the idea of turning his cult comics into an animated TV show.
For O'Malley, the initial answer was simple: let's not. After all, his video game and anime-inspired graphic novels were already given new leases of life on the big and small screens in 2010. Indeed, Edgar Wright's cult Scott Pilgrim Vs. The World movie adaptation, plus the Ubisoft-developed Scott Pilgrim Vs. The World: The Game, had extensively mined the source material. In short, there was little else O'Malley could creatively get out of his most popular works.
And yet, on a late October afternoon, I sit across from O'Malley (albeit over Zoom) to discuss Scott Pilgrim Takes Off, Netflix's progressive retelling of his fan-favorite comics. So, what changed his mind?
"Each adaptation has been unique and kind of perfect in its own way," O'Malley tells TechRadar. "When Netflix asked me to revisit it, I didn't know what to do. So, one night off the record, I sat down with my good friend BenDavid Grabinski, and he came up with some really wild card ideas that sparked new storylines and character arcs in me."
Scott Pilgrim's precious big reimagining
Scott Pilgrim Takes Off starts out just like the Shōnen-comics do: Scott, a confident 23-year-old bass player-cum-slacker, meets the girl of his dreams, Ramona Flowers, at a party in Toronto. The pair go on a date later that week and end up spending the night together. Scott's life couldn't get any better – or so he thinks. As Scott's band Sex Bob-Omb prepares to compete in a battle of the bands, he learns that, in order to officially date Ramona, there's one teensy hurdle to overcome: battle and defeat her seven evil exes.
It's this vital plot mechanic that the graphic novels' overarching narrative hinges on, but Scott Pilgrim Takes Off is no ordinary adaptation. In fact, O'Malley and Grabinski's reimagining of the Scott Pilgrim story is so secret that Netflix resisted the urge to tease anything new in Take Off's story synopsis. Its co-showrunners, plus the cast, crew, and critics, aren't even allowed to talk about its biggest, wildest, and innovative storytelling swings until the series is released.
Thankfully, there are other significant aspects of its development worth discussing. For one, the movies and TV shows that inspired this creative change in direction. O'Malley has credited some of the best anime and manga, like Ranma 1/2 and FLCL, as well as video games, including the unlikely PlayStation 1 era role-playing game (RPG) Koudelka, as having key roles in the new Scott Pilgrim creation. More notable game franchises, such as Sonic the Hedgehog, Mario, Mortal Kombat, and The Legend of Zelda, were also incredibly influential.
That group's fingerprints are plastered all over Scott Pilgrim Takes Off to varying degrees, but they're not the only ones to impact its evolution. As O'Malley and Grabinski point out, US comedy-drama shows like Hulu and Disney Plus' Atlanta, plus iconic mystery serial series Twin Peaks and its sequel Twin Peaks: The Return played their part in transforming Scott Pilgrim's story from a video game-inspired brawler into a comedy-infused amateur detective show.
"We absorbed a lot of anime," O'Malley explains. "But the main thing BenDavid and I were tonally thinking about was a comedic take on the prestige TV genre. We want things to get pretty wild but still be a cohesive whole."
"It was important to us that our storytelling felt like it was leaning into the strengths of anime, which we're passionate about" Grabinski adds. "But, in terms of the aesthetic, we really relied on [animation studio] Science Saru and trusted they would deliver, which they did."
Science (Saru) as an art form
Speaking of Science Saru, the Japanese animation studio feels like the perfect partner to bring Scott Pilgrim Takes Off to life. Having worked on numerous US animated series, including Adventure Time season 6 episode 'Food Chain' and two episodes of Star Wars: Visions, Science Saru is becoming a more recognized studio in the West.
Leading the animation-based work on all eight episodes of Scott Pilgrim Takes Off is sure to catapult Science Saru onto the world stage. With the firm's commitment to inject O'Malley's original works with a more prominent anime style while retaining the comic series' hand-drawn aesthetic and paneling – which is comparable to Sony's animated Spider-Man movies – Scott Pilgrim Takes Off has a distinct flavor that sets it apart from similar Netflix genre fare.
"That [art and animation style] is something we'd hoped they'd do," Grabinski admits. "The stylistic approach they wanted was in line with what Bryan and I love. If they'd gone in a different direction, we would've respected and appreciated the work they did but this, for me, is the hope of what it would've been like. They gave the show the exact look it needed and I'm really happy with how it turned out."
Facing the music
The art and animation styles weren't the only key ingredients to get right to honor the source material. The Scott Pilgrim franchise is as popular for its music as for anything else. Of course, despite O'Malley's ingenuity, bringing the series' original soundtrack to life is harder to do on the page than on the screen. Until the film adaptation brought those tunes to life, diehard Scott Pilgrim fans had to use their imagination when reading any musically-led panels.
Wright's movie adaptation – and, later, the Scott Pilgrim video game – changed that. From Sex Bob-Omb's "We Are Sex Bob-Omb" to The Clash at Demonhead's 'Black Sheep', the comic series' original songs have become cult classics. Indeed, the latter has a combined 19.1 million views on both Wright's personal and Universal Pictures' official YouTube channels – no small feat for a track that wasn't widely released.
It was imperative, then, that Scott Pilgrim Takes Off's original and licensed scores were crafted with the same love and care as its feature film counterpart. To that end, O'Malley and Grabinski sought the help of award-winning composer Joseph Trapenese (No One Will Save You, Shadow and Bone) and US electro-rock group Anamanaguchi, who created the 16-bit soundtrack for the Scott Pilgrim side-scrolling beat 'em up video game, to create the animated show's nostalgia-fuelled and blood-pumping musical numbers.
"Anamanaguchi are so versatile," O'Malley says. "They're known for chiptune, but they can do anything. We teamed them up with Joe, who's worked with bands before in translating their work into movie scores, like Daft Punk on Tron: Legacy and [Linkin Park's] Mike Shinoda on The Raid. It was a really fruitful collaboration, which allowed me to work with Anamanaguchi on developing some of the songs we hear, and BenDavid was very instrumental – no pun intended – in shaping the score with all of them."
"We'd end up splitting duties where I would put time into the score while Bryan was working on songs," Grabinski interjects. "Bryan has been in a bunch of bands, so he sang all the parts before the actors came in [to record them]. I was more comfortable working on the score than helping with that! But I think I was more helpful in terms of Bryan sending me songs and I'd agree or disagree with his choices for certain scenarios."
Getting the band back together
It's not all out with the old and in with the new. In March, Netflix confirmed its Scott Pilgrim TV show would reunite the 2010 film's cast, with each actor returning to voice the characters they played in the live-action flick.
However, in the 13 years since the movie adaptation punched its way into theaters, its stars have enjoyed varying degrees of success. Chris Evans and Brie Larson found unprecedented fame in Marvel's multi-billion dollar cinematic juggernaut. Meanwhile, Mary Elizabeth Winstead recently appeared in Star Wars: Ahsoka, Jason Schwartzman has tackled roles in numerous Wes Anderson flicks, and lead actor Michael Cera has – his scene-stealing turn as Allan in 2023 megahit Barbie aside – largely shunned the A-list limelight.
With the cast walking wildly different paths since Scott Pilgrim Vs. The World debuted in cinemas, did their success have any bearing on how integral their characters became to Takes Off's plot? Not in the slightest.
"Our whole thought process centered around what was best for the story," Grabinski reveals. "We tried to find more ways to put some actors in, but it felt like we were forcing it, and we think we have the exact right amount of people for the story we're telling. In the end, I think we have a good balance, but we wish we could've had 400 lines or jokes for everyone. It was a joy to work with them and we felt very lucky because they all cared deeply about this project."
Until it airs, nobody knows if Scott Pilgrim Takes Off will join series like Arcane and Cyberpunk: Edgerunners as one of the best Netflix shows – in the animated space – ever. Without spoiling anything, there's plenty for newcomers and established fans to enjoy. Indeed, as a huge Scott Pilgrim nerd, it's the gorgeous and delightful anime series I didn't know I wanted.
Still, I expect there'll be some long-time Pilgrim-ites who might have a thing or two to say about the creatively big deviations it makes along the way. O'Malley and Grabinski, however, aren't concerned about any potential backlash. The pair are simply looking forward to putting their latest venture in front of a worldwide audience, with the aim of introducing first-timers to the beloved source material and giving diehard fans something wildly different to savor. And, who knows? Based on Scott Pilgrim Takes Off's ending, there may be more story to tell down the line.
"Our whole goal was to make the best show we could," Grabinski says. "It's super fun, exciting, and emotional to tell the story that felt like a complimentary piece to everything Bryan has done. The comics will always be there but, if we were going to spend three years of our lives making this, after Bryan had spent decades working on the same thing, the least we could do is try to make something new and surprising, and I think we did that."
Scott Pilgrim Takes Off releases in full on Netflix on Friday, November 17.
Get daily insight, inspiration and deals in your inbox
Get the hottest deals available in your inbox plus news, reviews, opinion, analysis and more from the TechRadar team.
Senior Entertainment Reporter
As TechRadar's senior entertainment reporter, Tom covers all of the latest movies, TV shows, and streaming service news that you need to know about. You'll regularly find him writing about the Marvel Cinematic Universe, Star Wars, Netflix, Prime Video, Disney Plus, and many other topics of interest.
An NCTJ-accredited journalist, Tom also writes reviews, analytical articles, opinion pieces, and interview-led features on the biggest franchises, actors, directors and other industry leaders. You may see his quotes pop up in the odd official Marvel Studios video, too, such as this Moon Knight TV spot.
Away from work, Tom can be found checking out the latest video games, immersing himself in his favorite sporting pastime of football, reading the many unread books on his shelf, staying fit at the gym, and petting every dog he comes across.

Got a scoop, interesting story, or an intriguing angle on the latest news in entertainment? Feel free to drop him a line.