One-minute review
With its wide range of products in the security monitoring and consumer electronics space, Australian company Swann is today well known in more than 40 countries worldwide. Swann sells a customizable range of wireless devices and wired CCTV surveillance systems that feature video resolutions from 1080p Full HD to 4K Ultra HD. The Swann CoreCam is just one model of off-the-shelf wireless smart camera that you can buy from the brand's online selection.
Stylish and fuss-free in design, the Swann CoreCam wireless smart security camera comes with a rechargeable 6,000mAh lithium battery. Screws and plugs are included in the box, which make it easy – even for a DIY novice – to affix the camera to a wall. Once I had charged the camera battery via the micro-USB cable included (note that a plug isn't supplied), the trickiest part of setting up was deciding where to place the CoreCam.
The smart camera is weatherproof and can be positioned inside or outside. I chose to place it on an external wall of my home, overlooking my driveway. While I received instant alerts when it detected a person or package at my front door, I did experience some delay of the live feed whenever I tried to access it via the Swann app – possibly a result of poor Wi-Fi coverage. As such, if you'd like to place the CoreCam outside, you'll need to make sure your home Wi-Fi signal is strong enough.
Overall, however, the camera did well to send instant alerts whenever someone passed, and recorded clips that I could easily view on a timeline in the app.
Keep scrolling to find out how the Swann CoreCam performed outside my home and head to our best home security cameras guide for more comparisons.
Swann CoreCam review price & availability
List price: $129.99/£99.99/$AU 179
Available in US, UK and Australia
Swann sells a wide range of security cameras, which are customizable depending on your requirements. The single CoreCam wireless security camera works well on its own, or as part of a larger smart home security setup with multiple cameras and alarms. These can all be linked to work in harmony and controlled easily via the Swann app.
The Swann CoreCam is sold direct from the brand's website or via resellers such as Best Buy, Walmart and JB Hi-Fi.
It arrives with a local 32GB microSD card pre-installed, which allows it to store video clips. To get the best from the camera, you'll need to sign up to a storage subscription service to benefit from the warranty, the best detection smart alerts, and cloud storage. Subscription services cost from $2.99 / £2.99 / $AU5.55 per month; plus you get a free three-month trial when you buy the camera. This stores video footage for up to 60 days in the cloud and offers extras such as Package, Pet & Vehicle detection in addition to the Person heat and motion detection.
Swann CoreCam review specifications
These specs are the same for US and UK Swann CoreCam models.
Swipe to scroll horizontally
The specs of our Swann CoreCam review unit

| | Swann CoreCam |
| --- | --- |
| Price | $129.99/£99.99/$AU 179 |
| Subscription plan required? | Yes |
| Wi-Fi set up? | Yes |
| Viewing range | 100° field of vision |
| Live HD video and motion alerts | Yes |
| Optional recording plan | From $2.99 per minute / £2.99 per minute / $AU 5.55 per minute |
Swann CoreCam review design
100-degree wide angle view
Weatherproof casing
Built-in speaker and siren
The design of the Swann CoreCam is simple, yet the camera feels solid and well built. Finished in white, it possibly isn't the most discreet security camera you can buy; but if you're looking for a small and compact shape that won't interfere too much with your exterior decor, it feels like a safe bet.
The CoreCam arrives with a rechargeable 6,000mAh lithium battery inside, which took six hours to fully charge. Built into the camera head is the local 32GB microSD card and True Detect PIR heat and motion sensor. There's a speaker and siren, and lens with 100-degree wide-angle view, all built into the weatherproof design.
The Swann CoreCam also offers a pretty decent night vision distance of up to 50ft / 15m, and I was able to see clearly once night had fallen. However, the camera doesn't move around with whatever it has captured, which I think would provide more scope for better monitoring.
Getting the camera out of the box and onto the wall took less than an hour. It was simply a matter of ensuring the wall I was fixing it to was suitable for a screw and mount, and then use the mounting kit included in the box to attach the mount to the wall. The camera can then be easily screwed on and off for recharging. While there's a USB charging cable included in the box, there's no plug, so I had to use my own.
Swann CoreCam review performance
Live feed and recording of video and audio
Wi-Fi connection (2.4GHz)
Two-way talk and night vision
The CoreCam camera comes with all the usual features you'd expect from an intuitive smart home security camera, including heat and motion sensing, night vision and two-way talk.
Having charged the camera, I screwed the camera head onto the mount. I downloaded the Swann app and paired the camera with my smartphone over Wi-Fi. This was a surprisingly quick and smooth process. I then simply needed to move the camera head around on its mount to adjust the live video footage that was being fed to the app.
In terms of view, the camera could then send a 1080 HD quality feed to the app on my phone, with a wide-angle view of 100 degrees. This isn't as wide as I'd like, but it did capture an ample area by the main entrance leading to my house – with the stairs and part of the drive in frame. Purists may find the feed a little grainy, but I was generally impressed. The color night vision was satisfactory, too. You can actually adjust the live view quality in the app from low to medium to high, depending on your preference.
Featuring True Detect technology, the camera has the ability to detect people, packages, pets and vehicles (depending on the subscription package you sign up for). You get the first three months for free, included in the price of the camera. So once I was linked to the app, I could set up on the 90-day free Unlimited Plan. This meant that the camera could generate motion clips whenever it detected someone passing by, or thought there was a package left in its view, and send me push notifications on my smartphone to alert me. I found the alerts came through thick and fast in the first week; it was usually the postman, visitors or footage of myself walking out to put the rubbish bins out. Luckily, no intruders in sight.
While the alerts came through instantly whenever there was something detected, I did notice that there was a slight delay when I went to view the live feed. This was possibly due to my Wi-Fi or 4G connection playing up. Sometimes I was able to connect faster than at other times.
While there's no 24-hour recording capability, I do like the way the camera can distinguish between a person or a package, generating a motion clip and sending an alert to my smartphone.
However, after a while, the frequency of the alerts became rather annoying. I realized that I could adjust the sensitivity of the camera to lower the frequency of the alerts when I was at home, reducing false alerts and prolonging battery life as a result. You do this through the Modes section, which has settings for when you're Home, Away and at Night.
While these modes are useful for adjusting the sensitivity on a single camera, I think this part of the app really comes into its own as part of an extended home security setup with multiple Swann cameras and an alarm all linked up.
Swann CoreCam review app
Live view with siren, two-way talk and camera
Modes to adjust sensitivity
Playback tab for motion recordings
The smart app brings lots of useful features, although possibly more than you'll need for just one camera. As well as the ability to adjust the sensitivity of the camera and reduce/increase the number of alerts you receive, there's also a chart that presents stats on the level of motion detected, the number of people and pets the camera captured over the course of a day, and over a week. Although interesting, it was perhaps a little unnecessary for my needs.
I found all the recorded activity clear to see under the Playback tab in the app. It's presented in a daily timeline that's stored in the cloud from seven up to 60 days (depending on the subscription package you sign up to).
Click on the Live View mode in the app, and you can also make use of all the extras. These include the ability to take photos of the live view, record footage if needed, turn on the siren if you see cause for alarm, or just speak to the person in the picture. I tried the two-way talk feature when the postman came past and it worked well.
Swann CoreCam review battery life
Takes 6 hours to charge
USB to micro-USB charging cable
Up to 90 days of battery life depending on how you use it
The CoreCam's battery can last up to 90 days, but of course this will depend on how much you use the camera to record extra clips, take photos and how you configure the sensitivity modes. With the Away mode on, which signals high alert, I found the battery lasted around 12 days before it needed recharging. If you were to use Home mode, which reduces the amount of times you are disturbed with unnecessary alerts, the battery is likely to last longer.
To recharge the camera I simply unscrewed it from the mount and took it indoors; via USB cable, the unit took six hours to top up to full. Note that while the cable is supplied, the plug isn't, so you'll need to source one for yourself.
Should you buy the Swann CoreCam home security camera?
Swipe to scroll horizontally
Swann CoreCam home security camera

| Attributes | Notes | Rating |
| --- | --- | --- |
| Price | On the premium end in terms of price, with a monthly subscription needed | 4/5 |
| Design | Easy to install and compact in shape and size | 4/5 |
| Performance | Comes with multiple features on the app including two-way talk, a siren and motion and heat detection | 4/5 |
| App | Lots of useful features and a few superfluous ones too | 4/5 |
| Battery life | All depends on how you adjust the sensitivity | 3/5 |
Buy it if...
You want a wireless security camera that's easy to install
This Swann CoreCam comes with everything you need in the box to attach it to an interior or exterior wall. As someone who can follow basic DIY instructions, I found it easy to install.
You want a smart app that delivers lots of information
The Swann smart app is full of useful information – use it to view the live feed, record footage, take pictures, and even to speak to someone at your front door and more.
You want a smart security camera that has 1080p HD quality footage
I thought that the footage captured by this camera was suitable for home monitoring. You can also adjust the quality of your video feed, to save on battery life.
Don't buy it if...
You want to capture a very large area
I found the 100-degree wide angle view ample for keeping an eye on movement at my front door and part of my drive, but you may want to consider a wider option if you have a larger area that requires monitoring.
You don't want to sign up for a subscription package
If you want to back up your video footage for longer than 7 days, you'll need sign up to a subscription package. Prices start at $2.99 a month.
Swann CoreCam review: also consider
Swipe to scroll horizontally
| Header Cell - Column 0 | Swann CoreCam | Ring Spotlight Cam Plus | Arlo Ultra 2 |
| --- | --- | --- | --- |
| Price | $129.99/£99.99/AU$179 | $199.99/£149.99 | Around $599.99 / £629.99 (2 camera kit) |
| Live View | Yes | Yes | Yes |
| Motion alerts | Yes | Yes | Yes |
| Dimensions | 8 x 5.5 x 6.8cm | 7.6 x 8.1 x 12.6cm | 8.9 x 7.8 x 5.2cm |
| WiFi Connectivity | Supports 2.4GHz | Supports 2.4GHz | Supports 2.4GHz and 5GHz |
| Subscription plans | From $2.99 / £2.99 per month | From $3.99 / £3.49 per month | From $2.99 / £2.49 per month |
If you want an outdoor security camera but want to shop around before you buy, here are a couple more options to consider...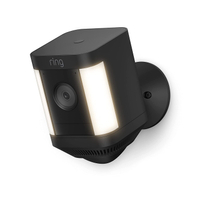 Ring Spotlight Cam Plus
The Spotlight Cam Plus battery powered security camera for outdoor use is ideal for protecting key areas and blind spots. It gives you 1080p HD video clips and comes with two LED spotlights built into the design to light up the area when needed. Check out our round up of home security cameras.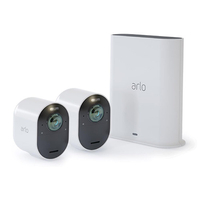 Arlo Ultra 2
This security camera has a 12x zoom that makes it easy to pinpoint details such as car license plates and clothing logos in a video. It has a built-in spotlight and supports both 2.4GHz and 5GHz Wi-Fi bands.
Read our full Arlo Ultra 2 review
How I tested the Swann CoreCam home security camera
I used the Swan CoreCam in my home for one month
I monitored my home both day and night to see how well it performed
I trialled the Swann CoreCam at home over the course of a month. I attached it to the wall on the exterior of my property and paired it with the Swann app on my smartphone to monitor any comings and goings.
I took note of how quickly and successfully it sent alerts to my smartphone when it detected human motion or a parcel, both day and night. I tried logging into the app when I was away from home (over 4G) and when I was at home (over Wi-Fi), too.
Read more about how we test
First reviewed February 2023