Interface and reliability
The Samsung Galaxy Tab A 10.5 runs on Android 8.1 – that wasn't the newest Android operating system available when it came out, and at the time of writing you can't upgrade it to Android 9 either. Yet that's not the most annoying part of the interface.
The Galaxy Tab A 10.5 is just frustratingly slow to use. Whether you're navigating the user interface (UI), opening and using apps, or jumping between functions, you're likely to spend lots of time waiting for the tablet to respond. On top of that we noticed that apps and games crashed or froze occasionally – it goes without saying that this isn't ideal.
Anyone that's used an Android tablets knows the operating system isn't designed for the larger devices as iOS is, and it can often feel a little complicated trying to do even the basic tasks like change settings or browse the web. This is one of the reasons Android tablets haven't caught on as much.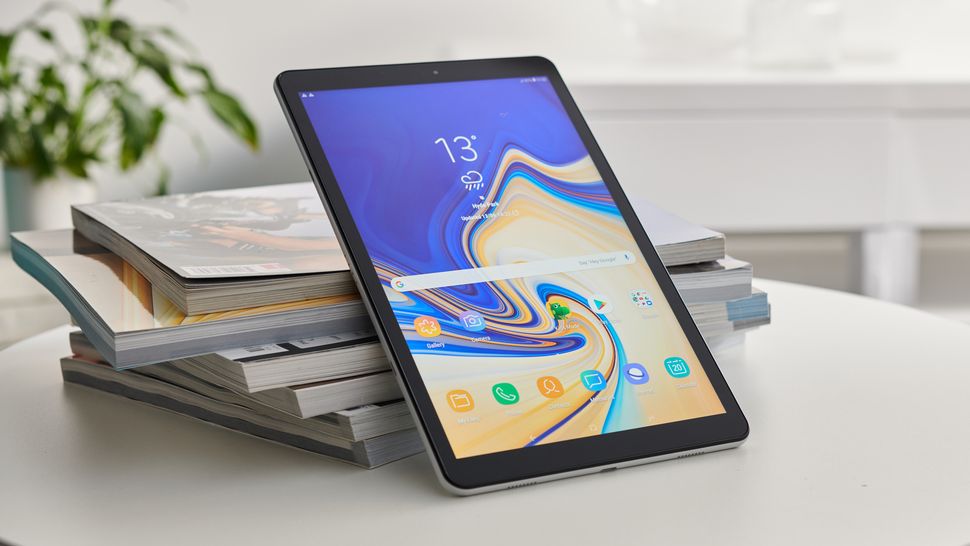 Another issue was the reliability of the face unlock feature, as the tablet very rarely managed to recognize our face and unlock in the time it took us to enter our password, making the whole feature redundant. Whether this is because of a poor camera or weak processing power, it's still a frustrating shortcoming in a modern device.
Running on top of Android 8.1 is Samsung's One UI. As with most manufacturer UIs this is divisive, as some people like its pastel look, but others might not appreciate it, so it's worth checking out our screenshots to see if it appeals to you or makes you recoil.
The only real difference One UI makes to Android 8.1 is aesthetic, so it won't totally ruin your experience, but if you're going to be looking at something every day for a couple of years or more it helps if you like how it looks.
Movies, music and gaming
The Samsung Galaxy Tab A 10.5 is a decent tablet for watching movies on, as it's something the weak processing power can't ruin. If you can look past the middling display specs, the tablet is good for watching media on, as its screen is just the right size for viewing from fairly close up.
Thanks to the slightly odd 16:10 aspect ratio you will get slim black bars at the top and bottom of the picture if you're watching a TV show, and deeper ones when watching a film, but you won't notice these as much as on, say, an iPad Pro with its 4:3 aspect ratio, which displays sizeable bars above and below content.
Gaming is another matter, however, as the tablet's weak processor found any of the 3D games we threw at it quite the challenge.
When we tried PUBG Mobile the game defaulted to the lowest graphics settings, which downgrade the graphical complexity and features in order to reduce the strain on the processor, and the game still stuttered and froze occasionally.
Simple 2D games worked fine though, so if the limits of your gaming tastes are Angry Birds and Candy Crush on a big screen, the Tab A 10.5 will be more than enough to suit your needs.
Performance and benchmarks
Look at the Samsung Galaxy Tab A 10.5 (2018)'s price, and you know you won't be getting anything special specs- or performance-wise in that cheap plastic shell.
When we put the tablet through a benchmark test it returned a multi-core score of 3,507 – admittedly that's only a tiny bit lower than the Samsung Galaxy Tab S3, which is meant to be one of Samsung's more 'high-end' tablets, but it's significantly lower than the 4,445 of the iPad 9.7 (2018), which is Apple's closest competitor.
The Galaxy Tab A 10.5's score would be low for a phone, and it feels particularly sub-par for a tablet, on which you'd expect to perform more advanced functions – it explains the slow and sluggish feel of using the slate, and also why it can't handle complex games.