Neat Bumblebee II: One-minute review
The Neat Bumblebee II is proof that there are many options our there for those looking to get into streaming. It's not a budget model but is quite affordable at around $100 / £100. Unfortunately, there's also enough competition out there, making this solid but flawed USB mic hard to recommend. If I were to recommend it though, it would be strictly for streamers.
It's not a bad mic. It's very easy to use and doesn't come with a steep learning curve that more fully-featured mics have. And, it can sound good as long as you keep the mic volume on low. But, with its one polar pattern and tendency to distort when the mic volume is up, podcasters and musicians should look elsewhere.
While I don't think the Neat Bumblebee II is going to give the best USB mics a run for their money, it is worth a look for novice streamers, especially when there's a sale.
Neat Bumblebee II: Price and availability
How much does it cost? $99.99 / £89.99 / about AU$141.04
When is it available? Available now
Where can you get it? Available in the US and the UK
Neat Bumblebee II: SPECS
Polar pattern: Cardioid
Sample rate: 24-bit/96kHz
Connection Type: USB
Weight: 0.88lbs
The Neat Bumblebee II, which goes for a reasonable $99.99 / £89.99 / about AU$141.04, is reasonably affordable. While there are more budget options like the JLab Go Talk, which at $49 / £49 (about AU$70) is just half the price, the real alternatives are similarly-priced USB mics such as the JBL Quantum Stream and the AKG Ara.
Unfortunately, they're pretty stiff competitors. The JBL mic covers a lot of the same ground performance-wise but adds a polar pattern and has an LED that dims or brightens when you adjust the controls. Meanwhile, the AKG Ara is the better sounding mic of the bunch, even if it's a bit more traditional in its presentation and controls. On top of that, the Bumblebee II isn't available in Australia.
That said, it's still competent enough that if it's your only option. If there's a deal to be had, it's worth it for novice streamers.
Neat Bumblebee II: Design
One control dial to rule them all
Hard to tell setting levels
Yolk-mounted stand is mountable
Though I don't find the Neat Bumblebee II to be particularly striking, looks-wise, it's still somewhat sleek in a utilitarian kind of way. This all-black USB mic has a half grill, half aluminum enclosure with just two controls and a logo forming a column down the middle. It's held in place by a yolk-mounted stand with a U-shaped plastic base. All together, it's not going to turn any heads. But, for the price, it comes across as well-built and well thought out.
In particular, I appreciate how Neat managed to pack all the necessary controls into just a physical control dial and a mic mute button. That dial can do quite a lot. By pressing on it, you can switch between headphone volume, mic volume, and chat mix, and then turning the dial lets you adjust to the level that you want. When plugged in, an LED ring surrounding this dial lights up and changes color depending on the setting you're on.
The only thing that I wish Neat would improve on here is that there's no way to know your level just by looking at the mic. The JBL Quantum Stream does something very similar control-wise, but it also has an LED indicator ring that dims or brightens as you adjust the settings. On the Bumblebee II, you'll have to rely on your software to give you that information.
To maintain its minimal look, the ports are hidden on the bottom of the mic body. While that does keep things a little cleaner, there's not a lot of clearance if you're using headphones with a large or stiff input jack. This was also a problem when I reviewed the JBL Quantum Stream. The Neat Bumblebee II does make its ports a little more accessible since the mounting thread is not next to the ports, unlike on the JBL.
In fact, if you want to mount the Neat Bumblebee II, you'll only remove the base to do so. The yolk-mounted stand is permanently attached to the mic body so you won't be able to use a shock mount. However, it does come with a mount adapter so you'll be able to use most boom arms or mic stands with it.
Neat Bumblebee II: Performance
Only has one polar pattern
Sounds good as long as you keep the mic volume low
Susceptible to bumps and vibrations
Since the Neat Bumblebee II is a plug-n-play affair, getting started is straightforward. There's no app for fine-tuning as you might find with some other mics. However, since there's only one polar pattern, it's not really necessary. The only difficult part of using this mic is knowing your levels, particularly that chat mix.
In terms of audio quality, the Bumblebee II is a somewhat mixed bag. Yes, it can reach a bit and sample rate of 24 bit/96 kHz, but I find this mic only appropriate for certain situations. The mic has a lot of gain on tap, so I have to turn it down to about 30% to avoid voice distortion. That's especially true as I get closer to it as it's very susceptible to proximity effect. Because of that, I wouldn't recommend using it for recording instruments outside of just sketching some ideas for later use. Since it only has the one polar pattern, it's not ideal for podcasting, either.
The good news is that I didn't find it too noisy. While cheaper mics may come with similar features, they can have a high noise floor whereas the Neat Bumblebee II isn't too bad. There's no background noise rejection or any processing to minimize background sounds, but the mic itself operates quietly enough that using it is not an issue unless you're in a noisy environment.
The Neat Bumblebee II unfortunately does too good of a job picking up vibrations and bumps, whether it's on the desk or the stand. The capsule is supposedly internally shock-mounted while the mic body is yolk-mounted; yet neither does much to minimize those sounds. If you move around a lot while streaming, I would suggest investing in a boom arm to use with it.
Should I buy the Neat Bumblebee II?
Buy it if...
You want an easy mic for streaming
The Neat Bumblebee II is easy to set up and use. Since there's only one polar pattern, you don't need to fiddle with settings to get it to sound ideal for streaming.
You need an easy-to-mount USB mic
It's hard to recommend this over the JBL Quantum Stream except for this one particular instance. It's much easier to mount since its ports aren't situated right next to the mounting threads like the JBL.
Don't buy it if...
You need a lot of features
This is a stripped down mic with one polar pattern and just a control dial to adjust settings. If you're hoping for a mic to use in a number of different situations, this is not the one for you.
You plan on record loud or dynamic sources
The Bumblebee II sounds good on steady sources such as someone talking. But, if you get really animated or want to record a guitar, you'll quickly distort the mic.
Also consider
Swipe to scroll horizontally
| | Neat Bumblebee II | HyperX SoloCast | JBL Quantum Stream |
| --- | --- | --- | --- |
| Price: | $99.99 / £89.99 / about AU$141.04 | $69.99 / £64.99 / AU$109 | $99.95 / £99.99 / AU$119 |
| Polar pattern: | Cardioid | Cardioid | Cardioid, omnidirectional |
| Sample rate: | 24-bit/96kHz | 24-bit/96 kHz | 24-bit/96kHz |
| Connection Type: | USB | USB | USB |
| Weight: | 0.88lbs | 0.88lbs | 0.55lb |
If our Neat Bumblebee II review has you considering other options, here are two more to consider...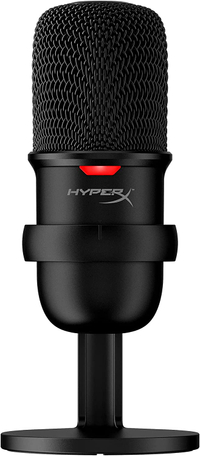 (opens in new tab)
HyperX SoloCast
The HyperX SoloCast is slim on features, but it picks up sound clearly, offers a decent amount of background noise rejection, and is easy for a beginner to use.
Read our full HyperX SoloCast review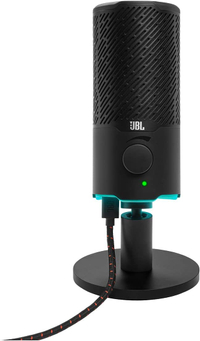 (opens in new tab)
JBL Quantum Stream
The JBL Quantum Stream is a surprisingly capable USB mic, with a streamlined design, intuitive ease of use, and great audio performance.
Read our full JBL Quantum Stream review
Neat Bumblebee II: Report card
Swipe to scroll horizontally
| | | |
| --- | --- | --- |
| Value | While it's affordable, there are better performing mics at the same price point. | 3.5 / 5 |
| Design | With a simple design, this is an easy mic to set up and use. | 4 / 5 |
| Performance | It sounds good as long as you keep the mic volume low. It's not great for dynamic sources. | 3 / 5 |
| Total | The Neat Bumblebee II is a flawed mic but is a good option for beginning streamers. | 3.5 / 5 |
First reviewed February 2023
How I tested the Neat Bumblebee II
I started my testing of the Neat Bumblebee II by checking out the controls to see how easy or difficult it is to navigate through the different settings. I then recorded myself on each side of the mic from various distances and at various volumes so I could hear what the end product was. Finally, I recorded myself tapping on the desk, mic stand, and mic itself to see how it registered vibrations and bumps against the desk.
We pride ourselves on our independence and our rigorous review-testing process, offering up long-term attention to the products we review and making sure our reviews are updated and maintained - regardless of when a device was released, if you can still buy it, it's on our radar.