With a streamlined design and intuitive ease of use, the JBL Quantum Stream is a surprisingly capable USB mic. Fine-tuning settings, whether through the onboard controls or JBL's app, is a breeze. And, the mic delivers in audio performance. Unfortunately, its port placement is one big issue. While there are some better USB mics out there, I think the JBL Quantum Stream is the perfect first USB mic for streamers.
Pros
+

Good sound quality

+

Easy to use

+

Lots of flexibility via the app
Cons
-

Ports are somewhat inaccessible

-

Mic does pick up some vibrations
Why you can trust TechRadar We spend hours testing every product or service we review, so you can be sure you're buying the best. Find out more about how we test.
JBL Quantum Stream: One-minute review
The JBL Quantum Stream is a strong first effort from a company that may be new to the peripherals game but has been an established name in audio for a long time. In fact, the brand has been doing a great job with its initial batch of computer and gaming peripherals. The JBL Quantum 810, for instance, may not top the list but is a contender for one of the best gaming headsets. Likewise, the Quantum Stream won't dethrone any of the best USB mics but is a worthy consideration for most people in the market for a USB mic.
If you're on the prowl for your first one, therefore, you should take a close look at the JBL Quantum Stream. It sounds good, has plenty of features, and, most importantly, is a breeze to set up and use. That ease of use is really what sets it apart from a lot of the competition. Depending on your setup and experience (or lack thereof) though, it might be a better option than much of the competition.
JBL Quantum Stream: Price and availability
How much does it cost? $99.95 / £99.99 / AU$119
When is it available? Available now
Where can you get it? Available in the US, the UK, and Australia
JBL Quantum Stream: SPECS
Polar pattern: Cardioid, omnidirectional
Sample rate: 24-bit/96kHz
Connection Type: USB
Weight: 0.55lb
The JBL Quantum Stream goes for a very reasonable $99.95 / £99.99 / AU$119. That price tag puts this USB mic squarely in the middle of the pack whether you're getting it in the US, UK, or Australia. You can find cheaper options such as the JLab Go Talk with its bargain basement price of $49 / £49 (about AU$70) or splurge on a mic like the Razer Seiren Elite which will set you back $200 / £200 (about AU$285).
But, the Quantum Stream strikes a nice balance between price and functionality, making it an ideal option for those with limited funds on the hunt for a functional, versatile and solid-sounding mic.
JBL Quantum Stream: Design
Simple design that hides a lot of functionality
Ports are awkwardly placed
One of the things that I like most about the JBL Quantum Stream is how streamlined its design is. At first glance, it's as simple as it gets. It comes in a matte black finish with an aluminum grille covering the mic capsule and a hard, sturdy plastic shell.
It's only adorned with a silver JBL logo, an articulated dial on the front, and a mic mute button on top. The stand is also deceptively simple with its hard-plastic stem and aluminum base.
There's more going on here, however. There may only be one dial, but it's a multi-function one that can be used to adjust the headphone volume, mic volume, and switch polar pattern.
More surprises await underneath as well. An RGB ring fringes the mic's bottom edge, changing in color and intensity depending on the setting you're adjusting. For example, when muted, it's red. When you press on the dial, it turns purple to indicate that you're adjusting the mic volume. It also gets dimmer or brighter depending on whether you're turning it up or down.
The USB-C port and headphone jack are also underneath for a more minimalist look. Of course, they're a bit hard to get to as there are only a couple of inches of clearance between them and the base of the mic. When plugging a pair of headphones in with a thick cord, I am barely able to get it to fit. It gets worse if you're using a different stand that's wider at the mount as that will make the USB-C port particularly inaccessible.
As the stand has a built-in ball joint, it can articulate in any direction by about 30 degrees. However, if you prefer to use an external boom arm, you can either unscrew the base (if you want to keep that ball joint, for instance) or remove the whole stand entirely and mount it on an external stand.
JBL Quantum Stream: Performance
Sound quality is good with plenty of low-end
Controls and app are easy to use
The JBL Quantum Stream delivers where it matters. Thanks to its full 20-20kHz range, my voice comes across clear and full while retaining plenty of low-end. If I get very close to it, the proximity effect is very pronounced. But, that evens out when I back off a few feet.
There's less proximity effect with the omnidirectional mode but a lot more background noise. This is typical for omnidirectional polar patterns, especially with USB mics so you'll want to use it in a quieter recording space. Though there's not much in the way of background noise rejection, the omnidirectional polar pattern at least records evenly on all sides of the mic, making it foolproof for those just starting to stream or record podcasts.
The mic does tend to pick up some vibrations. It registers every tap I make on the table, its stand, or the mic body. The audio it picked up wasn't that loud, and I've certainly heard far worse. However, I would still consider investing in and using a boom arm or shock mount, especially if you have a tendency to get animated while streaming.
Not only are almost all the controls easily accessible via the multi-function dial, but you can finetune all the settings through the JBL QuantumEngine app. And, while it's only available for PC, it makes adjusting levels and fine-tuning the lighting a breeze (something you can't do with just the dial). The app also has a 5-band EQ as well as five different presets to choose from so that I can adjust how I sound when using it live.
Should I buy the JBL Quantum Stream?
Buy it if...
You want an intuitive mic
The JBL Quantum Stream has plenty of features on offer but makes it easy to adjust and fine-tune whether through the onboard controls or the JBL QuantumEngine app.
You're trying to balance performance with price
At around $100 / £100, this mic does just about everything right without breaking the bank.
Don't buy it if...
You need more polar patterns
The two included polar patterns are perfect for a streamer, especially a new one, but those looking to record in a variety of situations should go with something like the Blue Yeti or AKG Lyra.
You plan on using a stand with a wider mount
The port placement is awkward but not a big issue when using the Quantum Stream's own stand. But, if you plan on using a stand where the lip under the mount is wider, you won't be able to access the USB-C port.
Also consider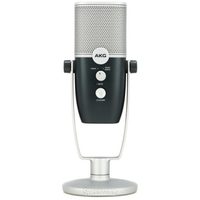 AKG Ara
At around $100 / £100, the AKG Ara is not just a stylish mic but one that delivers where it counts most: audio quality. Add in two polar patterns and this mic can cover a lot of uses whether you're recording a podcast or a guitar.
Read our full AKG Ara review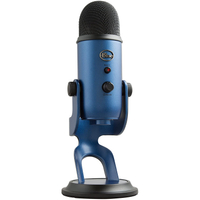 Blue Yeti
With four polar patterns, quality metal construction, and clear, full sound quality, the Blue Yeti is one of the USB mics to beat. Luckily, while it's a bit pricier than many USB mics, it's still pretty affordable.
Read our full Blue Yeti review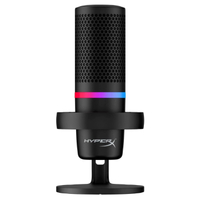 HyperX Duocast
Great sound, RGB lighting that can sync with other HyperX peripherals, and the inclusion of a shock mount make this USB mic worth considering though the software can be a bit cumbersome to use.
Read our full HyperX Duocast review
JBL Quantum Stream: Report card
Swipe to scroll horizontally
| | | |
| --- | --- | --- |
| Value | The JBL Quantum Stream may not be a budget mic, but it is affordable. And, it has plenty to offer for the price. | 4.5 / 5 |
| Design | While I'm not so thrilled about the port placement, this mic does pack a lot of functionality into a seemingly simple package. | 4 / 5 |
| Performance | Not only does it sound good, but it's intuitive to use, whether through the onboard controls or the app. | 4.5 / 5 |
| Total | The only real issue with this mic is its port placement. There are other mics with more features or slightly better sound. But, for what it's supposed to do, the JBL Quantum Stream ticks off all the boxes. | 4.5 / 5 |
First reviewed January 2023
How we test
We pride ourselves on our independence and our rigorous review-testing process, offering up long-term attention to the products we review and making sure our reviews are updated and maintained - regardless of when a device was released, if you can still buy it, it's on our radar.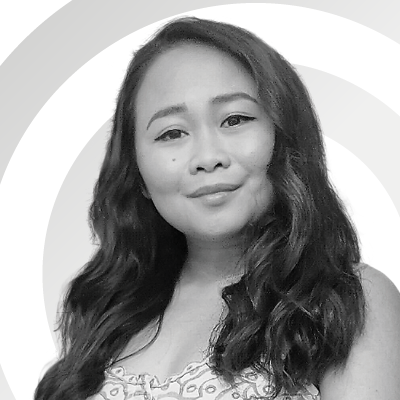 Computing Reviews and Buying Guides Editor
Michelle Rae Uy is the Computing Reviews and Buying Guides Editor here at TechRadar. She's a Los Angeles-based tech, travel and lifestyle writer covering a wide range of topics, from computing to the latest in green commutes to the best hiking trails. She's an ambivert who enjoys communing with nature and traveling for months at a time just as much as watching movies and playing sim games at home. That also means that she has a lot more avenues to explore in terms of understanding how tech can improve the different aspects of our lives.