The Sennheiser Profile is a premium USB mic with solid build quality and a decent price. More importantly, it captures excellent audio and does an amazing job of minimizing vibrations. I would give this five stars if it weren't for some unfortunate design choices that should have been better thought through.
Pros
+

Excellent audio pickup

+

Amazing job minimizing vibrations

+

Premium build quality

+

Decent price
Cons
-

Boom arm is a workout

-

Yoke offers barely any articulation

-

Only two levels of clipping indicator
Why you can trust TechRadar We spend hours testing every product or service we review, so you can be sure you're buying the best. Find out more about how we test.
Sennheiser Profile: Two-minute review
I honestly wanted to give the Sennheiser Profile that coveted five-star rating. This USB mic may not look like much, with its somber solid black style, but it delivers where it matters most – in build quality and audio capture – while keeping the price reasonably accessible to even hobbyist streamers and podcasters.
So, it's really unfortunate that, for some reason, Sennheiser's engineers have made weird design decisions, particularly when it comes to its articulations. These are, to be very fair, minor flaws that users can easily adapt to. But I also think that if you're paying more than $100 / £100 for a USB mic, it should at least have those basics covered.
Coming in two sets – one with just a desk stand and the other offering a boom arm with a C-clamp – the Sennheiser Profile will set you back a lot more than many of the best USB mics on the shelves, with the latter set costing US customers $200. And, it's kind of hard to look past its design missteps, no matter how small of a deal they are.
The most glaring issue here is the boom arm. Its hinges are so tight it feels like you're doing an arm workout just to set it up. Granted, those should loosen up over time, and most people will probably have it in a fixed position anyway, but there's also the fact that the mic itself mounts awkwardly to it. It's as if it's a third-party budget boom you found on Amazon, instead of something that's actually made for the mic. Setup, in other words, is tricky, and you really need to spend some time on it to figure out the least awkward position for the mic to be in.
Now, this mic is less than $130 / £110 if you just get the basic set that comes with a standard desk stand. That means you're paying about $70 / £70 extra for that boom arm if you're getting the streaming set. And, though it feels very premium and robust, that price is hardly fair if you consider its flaws.
Go for the basic set, and you run into another hiccup. The yoke the USB mic is attached to doesn't offer much in terms of articulation. You can tilt it up more or less 15 degrees, and that's about it. So you have even fewer physical adjustments available if you just get the desk stand.
The good news is that the mic, like the boom arm, is built like a rock – or rather, a premium rock with a soft satin finish. And while the design is nothing to write home about, especially with that solid black (read: boring and overdone) color, it has all the physical controls you'll ever need: a mic mute button, a mic gain dial, a mix control dial that allows you to balance audio between the mic and your PC, and a headphone volume control.
There are two LED ring indicators on hand, one around the mic gain dial and the other around the mic mute button. The former, the clipping indicator, turns green when you're recording at an acceptable volume and orange when you're in danger of clipping, while the latter turns red when the mic is muted.
Clipping is a very important factor to consider when you're speaking to a mic. Exceed its recording volume range, and your audio will distort and have artifacts. So, most mics' indicators have three colors to let you know if you're at an acceptable volume, in danger of clipping, and already clipping. Unfortunately, this one only has two, which means you really can't risk recording at a higher volume because it'll never tell you when your audio is indeed clipping.
Image 1 of 2
Design blues aside, there are things to love here: the cable management on the boom arm is a nice touch, the USB-C cable included is pretty lengthy, and the C-clamp mounting bracket does a great job of keeping the mic stable and in place.
The Sennheiser Profile also delivers on performance. The audio recordings I've made on it are incredible – as good as you can expect from USB mics. The sound is neutral, and even when I get really close, my voice still comes through clear and not overly boomy. And with the mic gain turned all the way, it still produces a clear, full sound without signs of distortion.
This mic will pick up some background noise, like when someone's typing on a keyboard or talking a few feet away, but not to the point that it's distracting. Sibilance is very minimal, while plosives are beautifully non-existent.
The one thing I really love about this is that despite its design flaws, the solid metal boom arm does an amazing job of minimizing vibrations. No matter how hard I tap on or shake the desk it's mounted on or tap on the boom itself, the mic only picks up the tapping audio and never the vibrations themselves.
Focus on its performance, and the Sennheiser Profile is a pretty darn impressive USB mic. Heck, if you can look past its design flaws, it's an absolute ace.
Sennheiser Profile: Price & availability
How much does it cost? From $129 / £108 / AU$239
When is it available? Available now
Where can you get it? Available in the US, UK, and Australia
This is one of the most expensive USB mics I've tested, setting you back $129 / £108 / AU$239, and that's just for the basic set, which comes with a desk stand. If you want the boom arm, you're looking at a $199 / £176 / AU$349 splurge. Is it a little more than most people would want to pay for a USB mic? Maybe, but you're getting your money's worth in performance and build.
Still, if you're looking for a cheap USB mic, you probably should look elsewhere. A good alternative, if you're on a super tight budget, is the HyperX QuadCast S, which will cost you about half the Sennheiser Profile. If your budget has some flexibility, I highly recommend taking a look at the AKG Ara instead.
Sennheiser Profile: Specs
Swipe to scroll horizontally
| | |
| --- | --- |
| Polar pattern: | Cardioid |
| Sample rate: | 24-bit 48kHz |
| Connection type: | USB |
| Frequency range: | 20 to 20,000 Hz |
| Weight: | 350g |
Should you buy the Sennheiser Profile?
Swipe to scroll horizontally
| | | |
| --- | --- | --- |
| Value | It's not cheap but it gives you your money's worth with its amazing performance and solid build quality. | 4 / 5 |
| Design | This has a really solid build quality, but there are some curious design decisions that I do not love. | 4.5 / 5 |
| Performance | The mic's incredible audio quality is made better by its boom's impressive vibration control. | 4.5 / 5 |
| Avarage rating | Though it has some design flaws, it makes up for them in a massive way with its performance and build quality. | 4.5 / 5 |
Buy it if...
You want impeccable recordings
The Sennheiser Profile doesn't just deliver crisp and clean audio recordings; it has a decent background noise rejection, does a great job minimizing sibilance and plosives, and has a boom arm that's impeccable at reducing vibrations.
You have a more flexible budget
Though this mic is well worth the splurge, it does cost more than most USB mics I've tested. That's especially true if you get the streaming set.
Don't buy it if...
You're cheap
If you're on a budget, there are other great USB mics on the market that will suit your wallet and needs more. Their performance might not be as impressive, but they should see you through your streaming and podcasting needs.
You want a mic setup with a lot of articulation
The mic has a little bit of tilt, and that's it. Plus, the boom arm is a little tricky to use, especially in the beginning. In fact, it doesn't feel like it's made specifically for the mic.
Sennheiser Profile: Also consider
Swipe to scroll horizontally
| | | | |
| --- | --- | --- | --- |
| Row 0 - Cell 0 | Sennheiser Profile | HyperX QuadCast S | AKG Ara |
| Polar pattern: | Cardioid | Cardioid | Front and back |
| Sample rate: | 24-bit 48kHz | 24-bit/96 kHz | 24-bit 96kHz |
| Connection type: | USB | USB | USB |
| Frequency range: | 20 to 20,000 Hz | 20 to 20,000 Hz | 20 to 20,000 Hz |
| Weight: | 350g | 258g | 665g |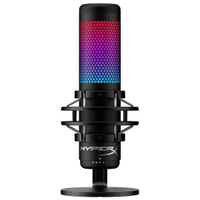 HyperX QuadCast S
The HyperX SoloCast is slim on features, but it picks up sound clearly, offers a decent amount of background noise rejection, and is easy for a beginner to use. It's also very affordable.
Read our full HyperX QuadCast S review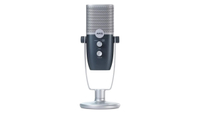 AKG Ara
Despite its lack of gain control and sensitivity to physical vibrations, this is a damn good budget USB mic that's very easy for beginners to use.
Read our full AKG Ara review
How I tested the [Product]
Tested the USB mic for a few days
Did several audio recordings with it
Recorded at different distances and mic settings
To test the Sennheiser Profile, I used it for several days recording my voice at different settings and distances, pushing it to its limits to see how it handled things like plosives, sibilance, background noise, and vibrations.
Since I'm not a streamer or a podcaster, I utilized Windows' Sound Recorder app to record my voice and listen to playbacks.
I have, however, tested a few USB mics for several months now, and have taken an unofficial crash course on mics so I can better understand the inner workings and give you guys fair reviews of the products that come to my desk.
First reviewed May 2023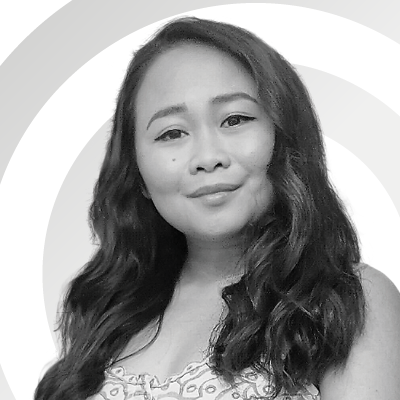 Computing Reviews and Buying Guides Editor
Michelle Rae Uy is the Computing Reviews and Buying Guides Editor here at TechRadar. She's a Los Angeles-based tech, travel and lifestyle writer covering a wide range of topics, from computing to the latest in green commutes to the best hiking trails. She's an ambivert who enjoys communing with nature and traveling for months at a time just as much as watching movies and playing sim games at home. That also means that she has a lot more avenues to explore in terms of understanding how tech can improve the different aspects of our lives.