Blue Sona: Two-minute review
The Blue Sona is a fantastic mic and somewhat of an anomaly in today's world of USB mics geared towards gamers, streamers, and podcasters. While it can certainly hold its own in the studio, it's meant for the kind of "creators" mentioned above that take the quality of their recordings seriously. And, to do that, you have to graduate from USB mics, as far as they come, to a more modular setup that includes an audio interface and a microphone that focuses on doing one thing and doing it well. The Blue Sona is that kind of mic.
In fact, the Blue Sona is really meant as an alternative to the very popular Shure SM7B, which sports a similar price and functionality, though the SM7B has been around for decades. While the Blue Sona most likely won't displace the SM7B, it's a strong contender that is a fantastic choice for anyone wanting to up their podcasting / streaming game. And, if you want to use it to record some guitar and vocals, it can do that too. It won't have the versatility of many of the USB mics out there. But, when it comes to microphones, quality and versatility usually have a fragile coexistence and you typically have to choose one or the other (or pay a lot more).
While this seemingly stripped down mic clearly favors quality, there's plenty going on here. Sure, there's just the one supercardioid polar pattern and one XLR port, but on the base of the Blue Sona's body is a magnetized cover that reveals two switches, one to roll off the bass and one to boost presence. There's also internally an shockmount to keep bumps from picking up too loudly while in use.
Additionally, a dial attaching the mic body to the mount can be tightened to keep the mic from slipping once you've oriented it to your liking. Of course, you won't be able to remove the mic body from the mount but it is threaded on the bottom to use with a mic stand or boom arm.
The Blue Sona is also made to be used and abused. That's to say that it's built very well. In fact, when I first started to screw it onto a short mic stand I had, it slipped from my hands onto my laptop, my desk, and then the ground. The only damage was a battlescar on my laptop. The Blue Sona itself was unscathed. That's because the body and mount are made of a very strong metal. Even the grille is very sturdy. There's absolutely no flex when pressing on it.
As durable as the Blue Sona is, that doesn't matter if it doesn't sound good. Luckily, the Blue Sona does. Its 40-18kHz frequency response may seem a little underwhelming on paper but this mic does a great job picking up audio loudly and clearly.
Its supercardioid polar pattern picks up my voice without too much alteration (proximity effect notwithstanding) if I move to the side an inch so I don't have to stay incredibly still when using it. But, if I go way off-axis, it will start to reject my voice as well as other sounds to favor what's in front of it. This makes this ideal for reproducing single sources like a voice while minimizing background noise. Since it just has the one polar pattern, you won't be able to use one mic for a group of people so you'll have to invest in additional units if you're planning to do a podcast or stream with guests.
On top of sounding good, the Blue Sona also excels in another way. You have to get very loud to distort it. This is great news for those who become animated when speaking as it won't clip unless you're screaming into it from less than an inch away. Additionally, it has plenty of gain on tap so that it will easily pick up quieter speakers as well.
Lastly, one of the issues with a lot of USB mics is how easily they pick up vibrations. If you were to use a condenser mic in a studio-type setting, you would most likely have it in a shockmount. But, USB mics are meant for those that don't have the funds for that kind of setup. So, they're attached to a proprietary stand that usually sits on a desk. Any time you knock against your desk or even the mic stand, you'll hear it very clearly. While they can almost all be mounted on a boom arm, this is one area where the Blue Sona trumps them all. Thanks to its internal shockmount, those bumps and vibrations are greatly minimized and that's without mounting on a boom arm.
Blue Sona: Price & availability
How much does it cost? $349.95 / £299.99 (about AU$510.28)
When is it available? Available now
Where can you get it? Available in the US and UK
Spending $349.95 / £299.99 (about AU$510.28) on the Blue Sona may seem steep, especially when compared to the plethora of capable USB mics on the market that mostly max out at the $200 / £200 range. But, that's actually not a bad price for a solid XLR mic.
While that might sound counterintuitive as USB mics are plug-and-play and an XLR-equipped mic needs an external audio interface, there are a few reasons XLR mics are a better long term option. XLR mics don't run on software so they will be just as capable 20 years from now as long as the build quality is good. And, since they don't have an audio interface built into them the way USB mics do, you don't have to throw the whole thing away if something does malfunction. Also, you can use a mic like the Blue Sona with an audio interface or console that can accept multiple mic inputs. While most people reading this review aren't going to consider the Blue Sona for the studio, it's an important consideration if you're thinking about having multiple mics at the ready for a podcast.
With that in mind, the real competition is not something like the AKG Ara or Blue Yeti as solid as those USB mics are but the Shure SM7B, a legendary mic that has probably popped up in every other Youtube video you've ever watched, not to mention was to capture Michael Jackson's vocals on Thriller. Considering that the SM7B goes for $399.99 / £439 / about AU$581.47. While I'm not able to do a side-by-side comparison of the two mics, the Blue Sona does have a lot of similar qualities as the SM7B with its great sound quality and ability to take loud sources without distorting easily.
Unfortunately for those in Australia, the Blue Sona doesn't seem to be available at the time of writing.
Blue Sona: Specs
Swipe to scroll horizontally
| | |
| --- | --- |
| Polar pattern: | Supercardioid |
| Sample rate: | None |
| Connection type: | XLR |
| Weight: | 2.43oz (69g) |
Should you buy the Blue Sona?
Swipe to scroll horizontally
| | | |
| --- | --- | --- |
| Value | This mic is a little pricey but it's worth the cost. Unfortunately, those in Australia will have to seek out alternatives. | 4 / 5 |
| Design | While you can't remove its mount, there's little else to fault on the Blue Sona. It's incredibly sturdy and will look good in any setup. | 4.5 / 5 |
| Performance | The mic sounds great and can handle loud, dynamic sources, perfect for most recording situations. | 5 / 5 |
| Avarage rating | Row 3 - Cell 1 | 4.5 / 5 |
Buy it if...
You want a great mic to handle loud sources
The Blue Sona sounds great on all sorts of sources. And, unlike a lot of mics, it can handle loud sources without distorting.
You need something robust
The build quality on this mic far exceeds that of most USB mics and is perfect if you need something that can handle lots of wear and tear without breaking down.
Don't buy it if...
You're on a budget
The Blue Sona's price tag is a bit high for those on a budget, especially considering that you'll have to also invest in an audio interface and XLR cable.
You need to record multiple sources
If you plan on recording multiple sources at once, hosting guests on a podcast for instance, and can only use one microphone, you'll want to skip this and get something with an omnidirectional polar pattern.
Blue Sona: Also consider
Swipe to scroll horizontally
| | Blue Sona | AKG Ara | Blue Yeti |
| --- | --- | --- | --- |
| Price: | $349.95 / £299.99 (about AU$510.28) | $99 / £111 / AU$219 | $129.99 (around £100 / AU$180) |
| Polar pattern: | Supercardioid | Cardioid, bi-directional | Cardioid, Bidirectional, Omnidirectional, Stereo |
| Sample rate: | None | 24-bit 96kHz | 16-bit 48kHz |
| Connection type: | XLR | USB | USB |
| Weight: | 21.69oz (615g) | 23.46oz (665g) | 35.27oz (1000g) |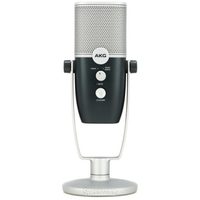 (opens in new tab)
AKG Ara
At around $100 / £100, the AKG Ara is not just a stylish mic but one that delivers where it counts most: audio quality. Add in two polar patterns and this mic can cover a lot of uses whether you're recording a podcast or a guitar.
Read our full AKG Ara review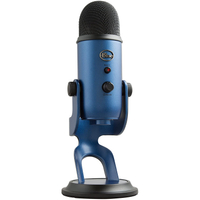 (opens in new tab)
Blue Yeti
With four polar patterns, quality metal construction, and clear, full sound quality, the Blue Yeti is one of the USB mics to beat. Luckily, while it's a bit pricier than many USB mics, it's still pretty affordable.
Read our full Blue Yeti review
How we tested
We pride ourselves on our independence and our rigorous review-testing process, offering up long-term attention to the products we review and making sure our reviews are updated and maintained - regardless of when a device was released, if you can still buy it, it's on our radar.
First reviewed March 2023