The Kodak Luma 400 is a solid portable projector. Its small size and lightweight design make it an easy addition to your next outdoor excursion, but if you're on a tight budget or after a great performance, you might want to consider other options.
Pros
+

Light and compact

+

Great design

+

Plenty of ports
Cons
-

720p video

-

Tad expensive for what you get

-

Battery life isn't long
Why you can trust TechRadar We spend hours testing every product or service we review, so you can be sure you're buying the best. Find out more about how we test.
Two-minute review
The Kodak Luma 400 is a fine portable projector that excels in some areas but fails in others.
Its small, lightweight design makes it perfect for taking with you on the go; you'll almost certainly find space for it in your rucksack. The device is really easy to set up too, and comes with an easy-to-navigate OS and a remote that doesn't bog you down with a massive array of unnecessary buttons.
The Kodak remote smartphone app is even better; it makes watching your favorite streaming services a breeze. With screen mirroring, you can use the projector to enhance your mobile gaming experience too.
Unfortunately, the Kodak Luma 400 fails where it really matters. For its price ($450 / £450 / AU$780), we would have liked to see some more noticeable improvements to the projector's visuals and audio.
The 720p image is passable, but the minimal HDR support and low brightness (just 200 lumens) mean you'll have to wait for it to get pretty dark to be able to watch something at a decent size.
Plus, even when it's pitch black, nighttime scenes of films and shows you watch using this projector can be near impossible to follow - the characters and scenery turn to unrecognizable shapes thanks to the mediocre contrast.
Keeping the Kodak Luma 400 at max brightness can help, but then you run into a battery life issue. If you aren't able to plug this into a power source (either outlet or a battery pack), you'll be lucky to get through a feature-length film.
Audio is also, to put it mildly, not great. The sound situation can be greatly improved by even a budget Bluetooth speaker, but it's a shame you have to forgo some portability to compensate for what should be a fundamental feature.
Price and availability
You can pick up the Kodak Luma 400 for $450 / £450 / AU$780 in the US, UK, and Australia.
This is slightly more expensive than its predecessor, the Kodak Luma 350, which you can pick up for around $330 / £300 / AU$650, and about half the price of the Samsung The Freestyle portable projector ($899 / £999 / AU$1,299).
It's not an unreasonable asking price, but it can be hard to justify the increase from the Kodak Luma 350's price as in most regards it's not much of an upgrade. The Luma 400 is brighter by 50 lumens and offers a higher resolution picture, but for a lot of use cases, you'll find saving some of your budget could be a smarter move than getting the latest Kodak projector.
Design
Small and compact design
Plasticky articulated stand
Decent number of ports
The Kodak Luma 400's projector head is rather sleek with an almost sci-fi design that's reminiscent of a Star Wars droid and almost identical to the Luma 350. Unfortunately, the projector's stand feels very plasticky, and massively undercuts the much more premium look of the device. That said, the stand at least provides excellent articulation and support - providing more than enough function to make up for its lack of fashion.
Talking of the more practical design elements, the projector head has several ports and controls built into it. There's a wheel to manually adjust focus and an on/off switch on the sides, with menu controls on the top.
At the back, you'll find a 3.5mm audio output for headphones and speakers, a USB-C charging port for the projector, a USB port to plug in a USB stick or charge your phone, an HDMI port, and a DC charging cable port.
Given that the Kodak Luma 400 is designed to be a projector you take out on the go, this number of ports is more than suited to the number of devices you'll want to carry with you.
Considering that Kodak's portable projector is pretty small and light - the head measures 4.9-inch x 4.9-inch x 1.26-inch (124mm x 124mm x 32mm), and with the stand, weighs just 636g (1.4lbs) - you'd have space to take along additional media devices, all of which would help you create a fairly competent cinema setup.
For those of you that hate cables though, the Luma 400 comes with Bluetooth connectivity, allowing you to connect to external devices, like speakers, and make your Kodak Luma 400-powered cinema as good as possible.
The Kodak Luma 400 controller design is also fine. Its simple selection of buttons gives you exactly what you need and nothing more. Our only major criticism is that it doesn't light up, making it difficult to tell what you're pressing in a dark environment
To alleviate this issue – and to improve the projector's overall functionality (more on that in a second) – we'd recommend using the Kodak Luma remote app on your smartphone.
Features and battery life
Uses Android OS 9
Easy to navigate menus and alter settings
Fairly short battery life
Kodak operates using Android OS 9, an open-source version of Android, rather than Android TV. The OS is easy to navigate and includes support for many of the best streaming services out there, including Netflix and Apple TV.
But, if you aren't looking to log into all of your subscriptions on yet another device, you can wirelessly connect your phone to the projector and cast what you're watching onto the big screen. This is achieved either through Airplay on an iPhone or iPad, or the Kodak Luma remote app's screen mirroring feature.
Mirroring also allows you to project games and apps, adding more utility than the usual casting options for projectors - which are typically limited to just video services.
A portable projector has to be versatile given that it needs to be usable in a variety of different environments. As such, the Kodak Luma 400 comes with numerous, easy-to-use features that ensure that the projector can be set up to best suit your viewing situation.
The digital zoom helps you create a picture that's just the right size for your screen; manual keystone correction lets you set the screen to the right shape; and the focus slider keeps the image looking as sharp as possible. There's also an option to select different projection modes depending on if your projector is sitting behind or in front of the screen, and whether it's on the ground or hanging from a ceiling.
You're also given the option to select different brightness levels, though even on Eco Mode, you'll want to bring a portable charging pack if you're taking the Kodak Luma on the go.
In testing, the projector came up a fair bit short of Kodak's promised 3-hour battery life. If you're hoping to use this projector to add a film night to your next outdoor excursion, you could be left disappointed - especially if you want to turn up the brightness.
Picture and audio quality
720p image with HDR 10 support
Max projection size of 150-inch
Lackluster audio
In a word, the picture quality is: mediocre. Nowadays we expect most people are used to watching films and TV shows at least at 1080p (full-HD), if not 4K. As such, dropping back down to the blurrier 720p can be a little jarring, especially if you're watching at the Luma 400's max screen size of 150-inches.
Given that this is a portable projector, a resolution downgrade is to be expected – but you can find cheaper compact options that perform just as well in this department as the Luma. Being more expensive than other models on the market, we would have expected the Kodak Luma 400 to give us more bang for our buck.
Additionally, with only 200 lumens of brightness at its disposal, you'll need to be watching in a dark environment - or have the projector closer to the screen - if you want to be able to tell what's going on.
To put the Kodak Luma 400 through its paces, we turned to Spider-Man: No Way Home, one of our favorite movies to use to test every key aspect of a projector.
During the film's earlier, brighter scenes, the projector's HDR10 support brought Spider-Man's bold red and blue suit to life. Darker scenes were much less clear though, and the entire final act of the flick (which is set at night) was nigh-on impossible to follow most of the time, even when we were sat in our pitch-black testing space. Aspects such as the Vulture's military-like costume were reduced to indiscernible blobs on the projected image.
Because of this, we recommend you keep this projector at 'High' brightness - its max setting - to get the most out of it – plus, you'll want to make sure this projector isn't too far from what it's projecting onto.
Audio-wise the Kodak Luma 400 is pretty poor. The sound has a very flat, empty, quality to it that found a way to dampen even vibrant tunes like Encanto's 'We Don't Talk About Bruno'.
That said, we found using a cheap Bluetooth speaker more than sufficed at giving the audio performance a bump up - and the audio jack works well too, if you're interested in the more individual experience that wearing headphones brings.
Buy it if
You need something compact
The small size and low weight of this projector will make it easy for you to carry this device when you go out on your next camping trip.
You need an array of ports
The Kodak Luma 400 offers a decent number of ports considering its size. It's got one of every single type you'll likely need.
You're after something simple
This projector's interface is intuitive and easy to navigate. If you're looking for something simple, the Luma 400 will suit you fine.
Don't buy it if
You want an amazing picture
The 720p resolution and poor handling of dark scenes is to be expected from a portable projector but if you're used to 4K with Dolby Vision, then the experience may be a little jarring.
You're an audiophile
While it's easy to hook up a wireless or wired speaker, it's a shame that the Luma's audio performance isn't stronger. You'll be sacrificing some portability for better sound.
You'll be away from a power source
While the Kodak Luma 400 can operate on its own battery, it runs dry pretty quickly. This projector does its best when plugged into mains power or a battery pack.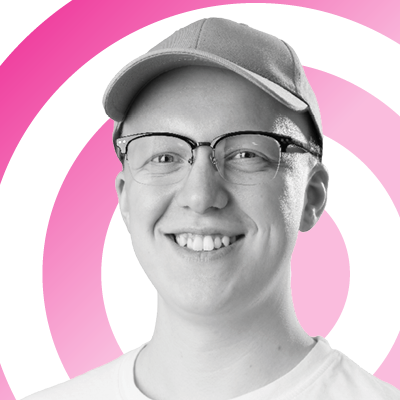 Senior Staff Writer, News
Hamish is a Senior Staff Writer for TechRadar and you'll see his name appearing on articles across nearly every topic on the site from smart home deals to speaker reviews to graphics card news and everything in between. He uses his broad range of knowledge to help explain the latest gadgets and if they're a must-buy or a fad fueled by hype. Though his specialty is writing about everything going on in the world of virtual reality and augmented reality.