Google Pixel 8 Pro vs Google Pixel 7 Pro: 12 key differences you need to know
Google's new AI-led flagship phone against its last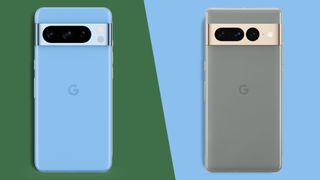 (Image credit: Future | Google)
Weight: 213g
Dimensions: 162.6 x 76.5 x 8.8mm
Screen size: 6.7-inch
Resolution: 1344 x 2992
CPU: Tensor G3
RAM: 12GB
Storage: 128GB/256GB/512GB/1TB
Battery: 5,050mAh
Rear camera: 50MP+48MP+48MP
Front camera: 10.5MP
The Pixel 8 Pro is a clever, AI-packed smartphone with upgrades across the board, including to its cameras, battery, chipset, and screen. But it also has a high price.
For
Great new cameras
Better battery life
A very bright screen
Against
More expensive than before
Some AI features feel creepy
Less powerful than rivals
Weight: 212g
Dimensions: 162.9 x 76.6 x 8.9mm
Screen size: 6.7-inch
Resolution: 1440 x 3120
CPU: Tensor G2
RAM: 12GB
Storage: 128GB/256GB/512GB
Battery: 5,000mAh
Rear camera: 50MP+48MP+12MP
Front camera: 10.8MP
The Google Pixel 7 Pro has a similar design to the Google Pixel 8 Pro and comes close to matching most of its specs, all at a lower price. But it is ultimately a step behind in most areas.
For
Cheaper than the 8 Pro
Intuitive and easy to use
Snappy interface
Against
Battery could be better
Macro Focus doesn't wow
Won't be supported as long
With the Google Pixel 8 series no longer stood in the wings and now squarely in the spotlight, we finally have full visibility on hardware and software wizardry that both phones are bringing to the table. With all that Google's new top flagship – the Pixel 8 Pro – has to offer, it's high time we compare it to the company's previous top phone to see which one makes the more better value-for-money upgrade.
We've completed a full Google Pixel 8 Pro review so we know exactly what sets this newest Pro apart from its predecessor: the Google Pixel 7 Pro.
In a nutshell, key upgrades include a new set of sensors set within the camera bar, an upgraded display, a new larger, faster charging battery, Google's new Tensor G3 chipset, and we haven't even got to the software and AI-based upgrades that the 8 Pro lords over the previous Pro.
First, here are some of the key differences between the Pixel 8 Pro and its predecessor:
Google Pixel 8 Pro is the most expensive Pixel phone yet
512GB storage option available in more markets than the Pixel 7 Pro
New top 1TB storage option (US exclusive)
New design with more rounded corners and frosted glass back
New 'Super Actua' display boasts 60% higher peak brightness (2,400 nits)
Upgraded cameras, including higher resolution 48MP ultra-wide
Pixel 8 Pro gains a thermometer
New lower-resolution 10.5MP front camera (down from 10.8MP)
4nm Google Tensor G3 chip (G2 uses 5nm node), plus 9 cores (up from 8) and higher clock speed
Faster, more power efficient LPDDR5X RAM
Android 14 and 7 years OS + security updates, compared to 3 and 5 years respectively on Pixel 7 Pro
Fractionally larger 5,050mAh battery with faster 30W wired charger (27W on 7 Pro)
Google Pixel 8 Pro vs Google Pixel 7 Pro: specs
While this doesn't tell the whole story, let's first take a look at the key specs of each device side by side.
Swipe to scroll horizontally
| | Google Pixel 8 Pro | Google Pixel 7 Pro |
| --- | --- | --- |
| Dimensions: | 162.6 x 76.5 x 8.8mm | 162.9 x 76.6 x 8.9mm |
| Weight: | 213g | 212g |
| Display: | 6.7-inch 1344 x 2992 20:9 adaptive 1Hz to 120Hz 'Super Actua' LTPO OLED | 6.7-inch 1440 x 3120 19.5:9 adaptive 10Hz to 120Hz LTPO OLED |
| Chipset: | Google Tensor G3 | Google Tensor G2 |
| RAM: | 12GB (LPDDR5X) | 12GB (LPDDR5) |
| Storage: | 128GB, 256GB, 512GB, 1TB (UFS 3.1) | 128GB, 256GB, 512GB (UFS 3.1) |
| Rear cameras: | 50MP wide, 48MP ultra-wide, 48MP 5x zoom | 50MP wide, 12MP ultra-wide, 48MP 5x zoom |
| Front camera: | 10.5MP | 10.8MP |
| Battery: | 5,050mAh | 5,000mAh |
| Charging: | 30W wired, 23W wireless (2nd-gen Pixel Stand), 12W wireless (Qi) | 23W wired, 23W wireless (2nd-gen Pixel Stand), 12W wireless (Qi) |
| Colors: | Obsidian, Porcelain, Bay | Obsidian, Snow, Hazel |
Google Pixel 8 Pro vs Google Pixel 7 Pro: price and availability
Just as the Pixel 6 Pro did before it, the Pixel 7 Pro arrived at a staring price of $899 / £849 / AU$1,299 for the 128GB model, while the 256GB 7 Pro cost $999 / £949 / AU$1,449 and the top-tier 512GB build cost $1,099 / AU$1,599 (which was never made available in the UK).
The Pixel 8 Pro starts with the same 128GB storage but now costs from $999 / £999 / AU$1,699; making it the priciest Pixel ever. This new pricing means it no longer undercuts and instead practically matches key rival the iPhone 15 Pro, while coming in a sliver under the RRP for the base 256GB Samsung Galaxy S23 Plus (although nowadays you'll find the Plus available with some degree of a discount).
Swipe to scroll horizontally
Google Pixel 8 Pro vs Google Pixel 7 Pro launch pricing

| Header Cell - Column 0 | Google Pixel 8 Pro | Google Pixel 7 Pro |
| --- | --- | --- |
| 128GB | $999 / £999 / AU$1,699 | $899 / £849 / AU$1,299 |
| 256GB | $1,059 / £1,059 / AU$1,799 | $999 / £949 / AU$1,449 |
| 512GB | $1,179 / £1,179 / AU$1,999 | $1,099 / AU$1,699 (not available in the UK) |
| 1TB (US only) | $1,399 (only available in US) | N/A |
In the US, you can also fork out for a new top-tier 1TB storage variant, which isn't currently available elsewhere. However, you'll pay $1,399 (approximately £1,150 / AU$2,200) for the privilege.
Google Pixel 8 Pro vs Google Pixel 7 Pro: design and display
The Pixel 6 series debuted a new design language with its distinctive camera bar, paired to a two-tone finish. Google refined this look with the Pixel 7 Pro opting for a monotone glass back and a polished metal camera bar that housed the main and ultra-wide cameras, segmented from the telephoto camera.
With the Pixel 8 Pro, the back glass is now frosted, the corners more rounded and the three rear camera sensors now all housed within the same pill-shaped cutout on the polished metal camera bar. It's a softer and more cohesive design that we appreciate, but does fall within the gray area of individual aesthetic preference.
IP68 certification against dust and water endures, while a subtle change from a 19.5:9 to a 20:9 aspect ratio might mean you expect a taller, thinner device, but dimensions and weight are almost exactly that of the Pixel 7 Pro. The edges of the 7 Pro's screen are subtly rounded too, while the 8 Pro adopts a flat display, which are generally considered easier to use at the expense of aesthetic charm.
Beyond proportions the big upgrades to the Pixel 8 Pro's display are a wider 1Hz to 120Hz adaptive refresh rate (the Pixel 7 Pro's range was from 10Hz to 120Hz) and new higher HDR (2,000 nits compared to 1,000) and peak brightness (2,400 nits compared to 1,500) values, meaning the phone's 'Super Actua' OLED display should serve up better visuals and offers significantly greater outdoor visibility compared to the 7 Pro.
Google Pixel 8 Pro vs Google Pixel 7 Pro: cameras
On the hardware side, the cameras on the Pixel 8 Pro have fully migrated into the same pill-shaped cutout. The new 50MP sensor now reportedly offers 21% greater light sensitivity, meaning further-improved low light performance including faster autofocus in such conditions.
The 7 Pro's 12MP ultra-wide had been replaced by a new 48MP sensor that boasts 105% improvement to how much light it takes in and lets you get even closer to subjects, when shooting in Macro Mode. The 48MP 5x telephoto, which we were introduced to on the 7 Pro, is now 56% more light sensitive.
There's also the new 10.5MP front-facing camera to touch on (the Pixel 7 Pro uses a 10.8MP fixed focus front camera), which now boasts autofocus. Now, let's talk software improvements.
There are a host of new AI-supported features that are seemingly tied to the phone's Tensor G3 chip too, meaning we're unsure whether Google can even include them in future Pixel Feature Drops for older models, such as the Pixel 7 Pro. Audio Magic Eraser can pick out different sound sources in videos and eradicate those you don't want. Best Take grabs the best faces from a run of burst photos and lets you collate them into a final image where everyone's got their best face on. Magic Editor lets you totally reframe an image, drag-and-drop subjects around and even restyle a blue sky to look like a sunset and the like.
Not only does a new set of Pro Controls allow for full-resolution 50MP image capture in RAW, you can also tweak ISO, shutter speed and focus. And as for video functionality, Video Boost promises to better capture skin tones and expose skies at right up to 4K resolution (videos are processed off-device and appear in the Photos app, when ready), while the improved light sensitivity on the 8 Pro's main sensor helps with the new Night Sight Video feature.
All in all, the Pixel 8 Pro is one of the best camera phones you can buy, and an upgrade on the Pixel 7 Pro.
Google Pixel 8 Pro vs Google Pixel 7 Pro: performance
With the Pixel 8 Pro, we now reach Google's third-generation Tensor silicon, which – as ever – prioritizes AI smarts over raw number-crunching power. Unsurprisingly therefore the Tensor G3 inside the 8 Pro can't match the Snapdragon 8 Gen 2 (inside phones like the OnePlus 11 and Samsung Galaxy S23 series) and the A17 Pro or A16 Bionic in any of Apple's latest iPhone 15 series, in terms of straight performance.
That's not to say it feels lackluster; the Pixel 7 Pro and its Tensor G2 chip still feels great in everyday use one year on from release. But the examples in the camera section above highlight where the added processing strengths of the G3 lie above its predecessor.
In our Pixel 8 Pro review, we noted that "in terms of raw performance, pushing games and graphics to new heights, the Pixel 8 Pro does just fine, but it won't win any competitions." Still, it does have the Pixel 7 Pro beat.
While both phones pack in 12GB of RAM, the 8 Pro technically packs faster and more power efficient LPDDR5X RAM, to the Pixel 7 Pro's LPDDR5 memory, while storage is still UFS 3.1 across the board, with the only real distinction being the new 1TB configuration exclusive to the Pixel 8 Pro in the US. As mentioned earlier, the Pixel 7 Pro tops out at 512GB of storage and wasn't ever released at that capacity in the UK (but is sold in the US and Australia).
There's also the Pixel 8 series' new software promise, which decimates anything that the company's Pixels have offered before and even beats key rivals like Samsung and Apple, with an astounding seven years of OS, security, and Pixel Feature Drop updates; up from three years of OS updates and five years of security updates on the Pixel 7 Pro.
Google Pixel 8 Pro vs Google Pixel 7 Pro: battery
When it comes to battery and charging, there's no iPhone 15-like generational leap (the first iPhone series to adopt USB-C), moving from the Pixel 7 Pro to the Pixel 8 Pro, but there are improvements.
Like Apple with its iPhones, Google doesn't prioritize super-fast 120W charging, as you'd find on phones such as the recent Xiaomi 13T Pro, but there is a slight uptick in wired charging speeds between generations this year. The Pixel 7 Pro topped out at 27W charging when wired, with 23W wireless charging when using Google's own second-generation Pixel Stand or 12W wireless charging using compatible Qi-standard chargers. The Pixel 8 Pro now ups that wired charging speed to 30W.
As for battery longevity, there's a move from a 5,000mAh to a 5,050mAh battery, while the Tensor G3 is built on a smaller, more power efficient 4nm node, compared to the Tensor G2's 5nm die. Collectively this does lead to some improvements.
While the Pixel 7 Pro can be an all-day phone, its weak screen-on time figures during review place it at the bottom end of this target. With the Pixel 8 Pro, our review noted that its "improved battery life lasts all day, no sweat."
Google Pixel 8 Pro vs Google Pixel 7 Pro: verdict
While the Pixel 7 Pro is still a wholly capable high-end phone, Google has improved on every major facet of it with the Pixel 8 Pro. From the new chipset, to the new cameras, to Android 14 and the impressive seven-year software promise the Pixel 8 Pro takes the lead.
The big asterisk is, of course, price. With a new higher barrier to entry and a higher storage ceiling rendering the Pixel 8 Pro the most expensive Pixel ever. Meanwhile, the Pixel 7 Pro didn't only start cheaper, it's had a year to garner further discounts from various retailers.
That means – so long as you don't intend to hold onto it much past its software support lifecycle – it'll still deliver a great all-round experience, with a particularly impressive camera that could potentially improve further with Google's occasional Pixel Feature Drops.
More Google Pixel 8 / 8 Pro stories
Sign up for Black Friday email alerts!
Get the hottest deals available in your inbox plus news, reviews, opinion, analysis and more from the TechRadar team.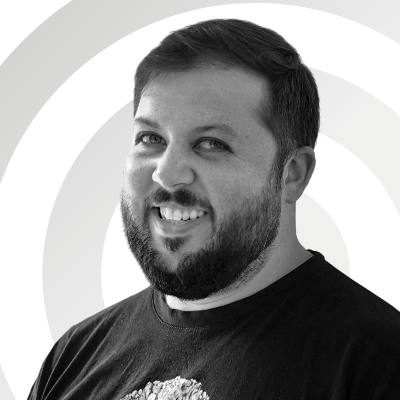 Alex joined as TechRadar's Senior Phones Editor in June 2022, but brings over a decade's worth of experience to the role, with an expertise in smartphones, tablets and wearables. He's covered keynotes hosted by the biggest brands and attended the launches for some of the most influential mobile products of the last few years. His experience was amassed at some of the most reputable consumer technology publications out there, including GSMArena, TechAdvisor and Trusted Reviews.