Google Pixel 8 launch event as it happened – from new phones and the Pixel Watch 2 to powerful AI
The Google Pixel 8, Pixel 8 Pro and Pixel Watch 2 got a full showcase at the October Made by Google event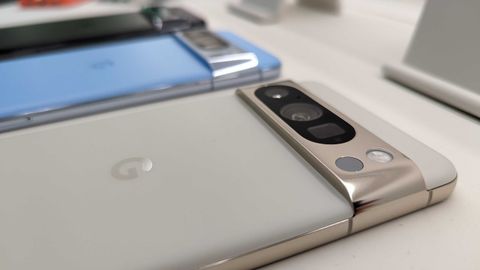 (Image: © Future)
October's Made by Google event has come and gone, seeing the full launch of the Pixel 8, Pixel 8 Pro and Pixel Watch 2, alongside the touting of Pixel Buds Pro upgrades and Bard AI tech being integrated into the Google Assistant.
TechRadar's US Editor in Chief Lance Ulanoff and Phones Editor Philip Berne were at the Pixel 8 launch event and we have a blow-by-blow account of the most interesting and intriguing part of the showcase.
So read on for a recap of the Made by Google October event.
What was announced at the Made by Google October event
The Google Pixel 8 Pro was fully revealed, bringing in a refined design, all new cameras, a more powerful Tensor G3 chip and a host of smart features including AI-powered photo editing. It starts at $999 / £999 / AU$1,699 with preorders already live and shipping on October 12.
The Google Pixel 8 also gets a suite of upgrades and new cameras with improved sensors for capturing improved low-light photos. It starts at $699 / £699 / AU$1,199 for 128GB of storage, tops out at 256GB. Preorders are live now and the phone goes on sale on October 12.
Building upon its first Pixel smartwatch, the Google Pixel Watch 2 comes with a tweaked deinsg, new chipset and a mix of AI-centric features for safety, wellness and fitness tracking, it starts at $349 / £349 / AU$549 and goes on sale October 12; you can preorder it today.
Google's Pixel Buds Pro are getting a mix of upgrades, from improved connectivity to smart conversation detection features.
Google touted a lot of AI innovations, some of which have made it into the Pixel phones, but it also revealed the Assistant with Bard. The search giant took the Google Assistant and mixed in its Bard generative Ai tech to make for a smarter and more capable virtual assistant that can understand and react to natural language instructions. Previews for select users will be coming in the next few months, with a wider rollout likely to take place next year.
Want our first impressions on the latest Pixel products? Check out our hands-on Google Pixel 8 review, our hands-on Google Pixel 8 Pro review and our hands-on Google Pixel Watch 2 review.
Rewatch the Pixel 8 launch event here
Google live streamed the Pixel 8 launch showcase on YouTube on October 4, at 7am PT / 10am ET / 3pm BST (12am on October 5 for Australian viewers). If you want to watch the whole showcase for yourself, take a look at the video below. Or read on for our live blog of the Made by Google event.
Refresh
Here's the big man himself, Mr Lance Ulanoff, TechRadar's US Editor in Chief, at the Made by Google event.
But your actual live blog host is me, Roland Moore-Colyer, TechRadar's Managing Editor for Mobile Computing, and an avid follower of Google devices since the very first Pixel phone. So, let's get into it.
So what's it like to actually be at a big tech launch event? Wel over to Lance:
"Google is holding this event in its new Pier 57 offices. It's a space old enough to be a landmark, which means Google couldn't change certain things like the impossibly long ramp to get to the event space (they're building a sort of funicular next to it for differently abled people).
"The keynote room, though, is spacious and surrounded by spectacular views (including a view - if you squint - of the Statue of Liberty).Google is teasing the Pixel 8 with an image of someone holding it but it looks so much like the Pixel 7 that you wouldn't know the difference."
Such a spot makes for a good place to test phone cameras. And to give you a taste of what that's like, Phil Berne has snapped a photo of NYC on his Pixel 7 Pro.
Oh the (mild) irony...
We're now only some 5 minutes away for the Made by Google event kick off. Fancy watching it live? Then check out the video below.
Some rather jaunty music in this holding video. And an image of the Pixel 8 Pro.
Here's hoping for some surprises.
This is the face of a man who's clearly excited for some Pixel goodness!
Let us know your thoughts on the Made by Google event by tweeting @TechRadar on... X.
Classic start to such an event with a happy-go-lucky video touting Pixel product features, from the new phones to what looks like updated Pixel Buds Pro.
Now we're joined by Google's Rick Osterloh the SVP of Devices & Services at Google. He's touting Google innovation... and AI has already been mentioned.
"The world is evolving form mobile first to AI first" - so yeah, expect a lot of AI features on the Pixel 8 phones.
A lot of the Pixel smart features are and will be using AI models based on some seriously powerful computing.
Rick is talking Pixel Buds Pro updates, boosted Bluetooth connectivity to improve connections between the buds and a phone.
There's also a new covnerstion detection mode to cut music when it detects the wearer is talking to someone else.
AI is coming to Google Home as well, with generative AI synthesising things like calendar information into a single summary. And the Home app has been given a better boost at understanding natural language.
But these updates are coming next year.
Here's the new Google Pixel Watch 2. It looks a lot like the Pixel Watch but has been "upgraded inside and out."
New aluminum housing and its lighter to wear. And the elegant but simple band mechanism is still present and correct.
There's also "all day battery" - a welcome addition - quad-core CPU on the chipset, new safety features to share your location with emergency contact if you don't check in when exercising after a set amount of time.
A trio of new sensors also helps deliver improved heart rate monitoring (40% more accurate tracking) and there's a skin temperature sensor as well. Meanwhile, this sensor data will be combined with machine learning to deliver smart information and workout tracking and advice.
For people who can get a little stressed, the new body detection feature will monitor wearers for stress over time, to help them manage said stress and suggest when they should take a moment to relax.
We're hearing from an ex-Olympian about the features; afraid I missed her name!
Google is now talking up improvements in the Fitbit app and how AI can be used to correlate data and fitness tracking information to provide coaching insights and feedback on workouts. It can also figure out how sleep tracking data can have an effect on workout performance.
So let's say you're struggling with a run, this form of generative AI will be able to tell you why you may have found certain runs harder than others.
Pixel Watch 2 preorders are live today and they will ship next week on October 12. Prices start in the US at $349.
Now we're on to new Pixel phones.
And here they are: the Google Pixel 8 Pro and Pixel 8.
No big desing surprises here.
The Pixel 8 is a tad smaller than its predecessor. And both it and the Pixel 8 Pro have smoother edges; notably the Pixel 8 Pro has lost its curved display edges.
I'm a tad disappointed by the lack of a curved display I tend to like them on larger phones.