After a new cheap fitness tracker? The new Xiaomi Mi Band 3 may be right up your street and be the perfect tracker to place on your wrist as it has just launched in China.
Announced alongside the Xiaomi Mi 8 smartphone range, the new fitness tracker has only been confirmed for the Chinese market so far but we hope to hear more about availability around the world soon.
It's the follow-up to the Xiaomi Mi Band 2, which currently features in our best cheap fitness tracker guide - and despite its super low price comes with fitness tracking, sleep monitoring and a bunch of other features too, so we have high hopes for this tracker.
Xiaomi Mi Band 3 release date and price
The fitness tracker was confirmed by Xiaomi's CEO in early 2018, and now it's official for the Chinese market since the end of May. When you'll be able to buy it in China is unclear, plus there's no word on worldwide availability yet.
The Xiaomi Mi Band 2 came out around the world after a while of being on sale in China, so we have high hopes it'll come to the US, UK and Australia soon as the company has done that in the past.
This is a very affordable fitness tracker too with the price set at 179 Chinese yuan for the most basic version, which roughly translates as $30 / £20 / AU$36. The more expensive version - that one has NFC on board - costs 199 Chinese yuan, so around $33 / £23 / AU$40.
Xiaomi Mi Band 3 design and display
If you liked the look of the Xiaomi Mi Band 2, it's almost certain you'll like the design of the Mi Band 3 as the design is remarkably similar.
It's a thin band so it looks more like a fitness tracker than a smartwatch, and the display fits on most of the front of the strap.
That screen is a 0.78-inch OLED panel with a resolution of 128 x 80, which considering the size of this display and what you'll need from a fitness tracker should look great on your wrist.
The strap is interchangeable so you'll be able to have a variety of designs, and it's made of a thermoplastic elastomer that Xiaomi says should be more comfortable and friendly for your skin.
The exact dimensions of the tracker are 17.9 x 46.9 x 12mm and it should be light on your wrist as it only weighs 20g.
Your color choices are currently graphite black, hot orange and deep blue, but there may be extra choices when it comes to other markets.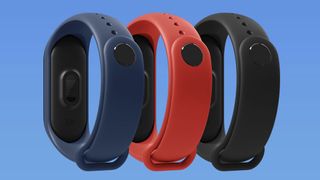 The whole fitness tracker is waterproof up to 50 meters, which is some of the best waterproofing we've seen on a wearable and will mean you're able to take it swimming and in the shower too.
Xiaomi Mi Band 3 specs and battery
Image 1 of 2
Image 2 of 2
Xiaomi hasn't explained the exact processing tech that's being used inside the Xiaomi Mi Band 3, but we can hope it'll be good enough to do most of the basic tracking things you'll need.
It has Bluetooth 4.2 technology inside and it'll be able to work with both Android 4.4 and above phones as well as iOS 9.0 and above.
NFC is also debuting on a slightly more expensive variant of the Mi Band 3, but the company has yet to reveal how you'll be able to use that connectivity.
You may be able to use NFC to make payments, but it's not currently clear how that would work in other markets outside China. It may well be the company doesn't release the NFC version around the rest of the world.
The battery inside the Xiaomi Mi Band 3 is a 110mAh cell, which the company claims will last around 20 days from a single charge. We'll be sure to test out this claim when we get the tracker on our wrist.
Xiaomi Mi Band 3 fitness and features
Despite not being an expensive tracker, the Xiaomi Mi Band 3 looks to have lots of fitness features packed in.
There's a heart rate sensor that works for the whole day and will be able to keep a track of changes in your beats per minute.
There's also pedometer features, plus when you're working out you'll get real time stats on the screen of your distance, duration and more.
That works for running, cycling and walking too, but there's no connected GPS on this tracker so it won't be able to track your location or give you a totally accurate distance measurement.
You'll also be able to setup your own goals on the tracker and be buzzed if you're near to reaching them, which should be useful to make sure you're getting the right motivation.
You can swim with the Xiaomi Mi Band 3, but it's currently unclear what stats it'll be able to show you. There's also a sleep tracking feature onboard that should be able to give you basic stats on your sleep quality.
Away from fitness, there are a few useful features on the Mi Band 3 as well as being able to tell the time.
You'll get limited notifications through to your wrist such as your incoming calls, text messages and certain messaging apps. For example, in China you'll be greeted with your WeChat or QQ messages.
It's not currently clear if the Mi Band 3 will be able to show other messaging apps in different territories, but it may be a possibility in the future. You'll also be able to set up event reminders, alarms and weather forecasts to make them easy to view on your wrist.
Xiaomi has also said it plans to create more features for notifications on the Mi Band 3, so expect to see more of these in the future when the tracker is updated in the future.