The Xiaomi Mi Band 3 isn't going to offer a top-end fitness-tracking experience, but if you're looking for a relatively basic device that's attractive, and cheap, it may suit you just fine.
It doesn't weigh down your wrist, and it offers a good range of features that you'll likely be happy with if you're mostly concerned with things like taking a quick look at your daily step count.
And, as with most Xiaomi products, the real highlight is the price.
Who's this for?
The Xiaomi Mi Band 3 is for anyone who's looking to monitor their step count or other basic fitness stats, and who doesn't want to spend lots of money on a device to do those things.
As popular as trackers from the likes of Fitbit and Samsung are, those devices can be expensive, and if you don't mind losing the odd feature in return for a much lower price the Band 3 could be right up your street.
It's also thin, light and comfortable to wear. Some modern trackers can get pretty chunky in order to fit in those extra features and beautifully bold displays, so the Xiaomi is perfectly suited to anyone who wants a smaller device.
Should you buy it?
There are downsides to the Mi Band 3. The temperamental heart rate tracker and distance tracking don't make this a viable alternative to a good GPS-toting running watch.
Only buy this if you just want basic stats like your step count and sleep tracking; you shouldn't be looking to get the Xiaomi Mi Band 3 if you want seriously accurate results that will help you to fine-tune your exercise regime.
But there's nothing wrong with just wanting a basic fitness tracker to keep an eye on your steps, and that's exactly where Xiaomi is pitching this device.
Xiaomi may be overreaching with some of the additional features, but considering that you can keep an eye on your step count for this little money the Xiaomi Mi Band 3 is a pretty remarkable little device.
First reviewed: August 2018
The competition
Don't think the Xiaomi Mi Band 3 is the fitness tracker for you? Below we've listed some alternative devices that may suit you better.
Moov Now
We love the Moov Now as it's affordable and offers some top-end, accurate tracking. Its best feature is its ability to track HIIT workouts, so you can work up a sweat at home with one of Moov's own routines. It'll also track your reps accurately, which is something a lot of other fitness trackers struggle to do.
Read our full Moov Now review
Huawei Band 2 Pro
This is another affordable tracker, and comes with a larger display and more comfortable strap than the Xiaomi Mi Band 3. The big highlight here over the Xiaomi are the VO2 Max features, which enable you to monitor the maximum rate of oxygen you can get into your body when you're working out.
Read our full Huawei Band 2 Pro review
Samsung Gear Fit 2 Pro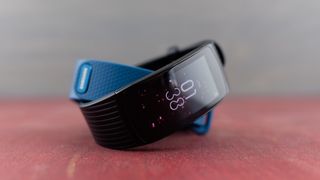 You won't be able to buy the latest Samsung fitness tracker for the same price as the Xiaomi Mi Band 3, but if you want a fuller experience it's the best option to strap around your wrist. There's a full-color AMOLED display, accurate tracking tech and much more.
Read our Samsung Gear Fit 2 Pro review