Introduction
We've been in a giving mood recently. We've put together a few guides (one for UK folks, and one for the US) featuring our recommendations that make giving the best tech gifts easy as pie, or any other yummy holiday dessert. But, you'd better believe that we also have our wishlists ready to whip out at a moment's notice.
As you're about to see, we're actually a little greedy when it comes to what we're hoping to receive from our loved ones (pretty please!) over the holidays. But, if you think about it, a wishlist is less about asking than it is about giving some much-needed guidance as to what you want. See? We are in the giving mood, after all.
Here's what each of our editors are hoping to get their hands on this holiday (boy, is our team getting big).
Patrick Goss, Global Editor-in-chief
iPad Pro
The iPad Pro is too expensive, too big to hold comfortably and clearly first generation. So inevitably, it's the piece of technology I'd be most excited about finding in my Christmas stocking. I travel a lot and obviously need to do work on the go so this fits the bill with its keyboard and pencil and...okay, I admit it, I'm really only going to be watching Amazon Prime, Netflix and Sky Go. This is the personal media device I've been waiting for.
LG 4K television
I really like LG televisions, and the 4K OLED screen is just a wonderful thing to behold. It's still too pricey for me to buy myself, but I've been sending a lot of tweets to very rich people in the hope that they befriend me and pay for a television to cheer my Christmas Day. That's likely right? In all honesty - next year that I go 4K and if I can stretch to OLED then I will definitely be doing so. January sales, I'm looking at you...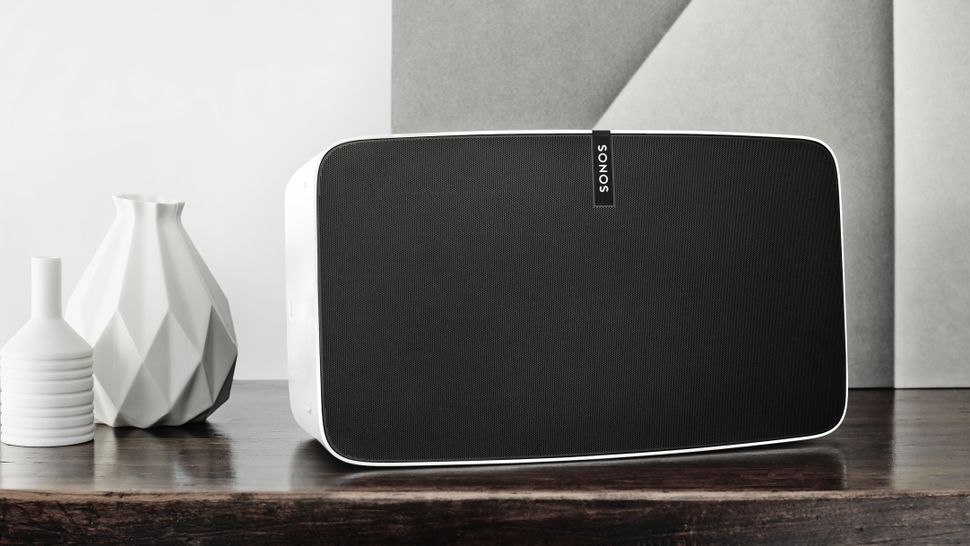 Sonos Play:5
Unfortunately I made the mistake of showing my wife how to use the Sonos soundbar in my living room, which obviously means I need to find a different room as refuge from Adele and Sam Smith. I really like the Sonos Play:5, it looks nice sounds great and it slots neatly into my house's sound system. When they upgrade the app to block any music I don't like without my other half finding out, then it'll be even better.
Gareth Beavis, Phones and tablets editor
Plantronics BackBeat Fit
The best Bluetooth headphones for the runner in all of us - these things provide decent sound, a good enough battery and mould to your ears to make sure they never fall off when you're trotting around. They come in a variety of colors too, so you can buy multiple options for your various outfits.
Samsung Galaxy S6 Edge+
This is the sort of phone that would attract envious questions from your pals when you plop it down on the table - it's a phone that eschews the normal boring rectanglular design and instead has some sumptuous curves on the side, arching subtly into the lovely back. It's one of the most powerful phones around too - and as a phablet, you've got more grunt than the normal version.
Bean Bag Sofa 24+
Is this tech? No, but I feel the need to own it so I can use my tech more effectively. I want to laze around playing with my tablet or watching TV without the strict upright rules a sofa brings - this is freeform jazz sitting man, and I dig it.
Salwa Azar, Social media editor
I would love an emoji plush cushion - preferable the crying with laughter one. We don't use emoji's much at techradar but we're always up for chair coziness, and we already have an emoji smiley-poo to keep it company so that eventually we could communicate emotions just through fun, plush cushions all day.
The next thing I'd like Santa to bring me would be an Alphasphere, it's a pretty neat music controller that lets you play the pads in a really innovative way and is slowly making appearances in live sets from bands like Koven.
The last thing I'd like tech-wise would be a Drone/GoPro Hero 4 combo (probably a Phantom DJI drone) to go on exciting adventures in landscape with. I keep getting jealous of all the stunning videos and landscape photos I see from people with drones and feel that there's even further they can go, flight regulations aside, in creative photography.
Duncan Bell, Tech lifestyle editor
Microsoft Band 2
Yeah, it still looks and feels a bit like a futuristic handcuff, but in terms of aesthetics and feel, this is at least a lot better than Band v1. It's also the only wearable I've used to date that successfully straddles Jawbone-esque step counting 'n' sleep tracking and Garmin-style run and cycle tracking, then adds some really useful gym workout features AND well-implemented, smartwatch-style notifications on top.
In short, the software allows me to ignore the fact that the hardware looks like arse, and the way it clutches my wrist like a nervous Terminator on its first day at school.
Bowers and Wilkins Zeppelin Wireless
Great sound, easy compatibility, blackest ever black design. This speaker works with Airplay, Spotify Connect and Bluetooth and makes no wild claims about "hi def audio". Instead it takes those average-to-solid sources and jacks up the sound quality in a way that's almost alchemical. Bass really punches, but without losing mid- and top-end detail, so it's good for anything from whimsical acoustic strumming to thunderous rock to full-pelt electronic assault. The very striking, Hindenburg design in extremely black black just adds to the appeal. Oh, the humanity!
Samsung Gear VR
It's Virtual Reality! For £99 ($99)!! (As long as you already own a compatible Samsung Galaxy phone anyway!!!) This is really well designed, and the sense of immersion it gives is immense, despite the fact that, by any normal estimate, the graphics are actually slightly janky. Xmas bonus: the universal appeal of VR means you can impress the hell out of everyone from grandmas to kids by handing it to them, briefly, and then demanding it back, as it's got your phone in it, and you need it.
James Peckham, Phones and tablets writer
Sony Xperia Z5 Compact
If you're looking for a new smartphone this Christmas, it's hard to go wrong with the Xperia Z5 Compact. It's one of my favourite phones of the moment and is the right size to fit in any pocket with its small form factor. Plus, it has the same camera set up as the Xperia Z5 and Xperia Z5 Premium so you'll be taking the best photos over your Christmas break.
Google Chromecast
It may be a few years old now, but my Google Chromecast is still one of the most used pieces of tech in my house. I watch a lot of TV through my Chromecast with Netflix and iPlayer as well as streaming Spotify – plus Google has even updated the product this year with a smaller, much better look. If you haven't already, grab a Chromecast this Christmas.
Everybody's Gone to the Rapture
I could recommend Fallout 4, The Witcher 3 or Star Wars Battlefront for your PlayStation 4 this Christmas, but instead I've gone for one of my favourite titles from earlier in the year. Everybody's Gone to the Rapture sees you explore the unlikely video game location of a rural English village to find out why the population has disappeared. If storytelling is your thing, pick up this PS4 exclusive ready for a few hours on your Christmas break.
John McCann, Phones and tablets deputy editor
Sphero BB-8
JUST LOOK AT IT. So cute.
Combining my love of phones with my rather unhealthy obsession with remote controlled 'stuff', fused with an uncontrollable level of excitement for the new Star Wars movie, this is the perfect* gift for me this Christmas.
My phone is on charge, my flat rearranged to form the ultimate assault course - I'm only missing one thing, the Sphero BB-8.
*Perfect, if you think £130 ($150) is an acceptable amount to spend on a gift for your favourite phones and tablets journalist.
Fallout 4
Hi. My name is John, and I'm a boring gamer. There, I admitted it. Are you happy now?
It's true, the only games I play on my Playstation 4 are FIFA and GTA. It's high time I picked up a new franchise and fully immersed myself in something new.
Many of the techradar crew have said good things about Fallout 4, plus it's one of the biggest games of 2015.
Having never played any of the series, I'm intrigued. So, sign me up.
Micro Machines for iPad
Here in the techradar office, there is a highly competitive Micro Machines league. We even have a trophy. Once the two multi-taps and eight controllers are plugged into our PSOne and the power button is hit, all bets are off.
Imagine our sheer jubilation then, when Chillingo revealed it would be bringing one of our favourite consoles games EVER to iPad, just in time for Christmas.
I literally lost my shit. Shell out a few quid on this for me this Christmas and I'll love you forever.
Marc Chacksfield, content team lead
Chord Mojo
I have always been a massive fan of music but never actually realised how different the quality of mobile music was compared to audio fed through a sound system with a decent amp and speakers. Chord Mojo goes a long way to remedy this. It's a portable DAC / headphone amplifier and having tried it out, the sound is fantastic. It may cost £399 but considering Chord's other DACs run into the thousands this is a bit of a steal and works with most new-ish smartphones.
iRig Acoustic
I have been playing acoustic guitar for a number of years now and have never found a decent recording setup for my humble budget. iRig Acoustic takes the pain out of this, acting as a miniature pickup which you can attach to your phone or tablet. Plug it in, load up the app and you can record whichever three-chord trick you feel like.
Mad May: Fury Road on Blu-ray
George Miller's Mad Max: Fury Road is the perfect road movie. It marries pitch-black humour with stunning set pieces and does this without relying too heavily on the CGI. Its practical effects are ludicrously impractical and quite obviously for a movie that is essentially one long car chase, the plot zips along at a frenetic pace. It's the perfect Blu-ray to show off your home entertainment system and Christmas would be a whole lot more boring without at least one frenzied viewing.
Juan Martinez, senior editor, techradar pro
HP ZBook Studio
I want a laptop with desktop-level power, but I don't want to carry around desktop-level weight. The HP ZBook Studio is the perfect compromise. This 15.6-inch laptop runs on an Intel Xeon desktop processor and it weighs only 4.4 pounds. It's got a 4K display, 32GB of RAM and it's capable of storing up to 2TB of data. Unfortunately, it won't be available until January, so I'll have to settle for an I.O.U.
Speck iGuy Case for Apple iPad 2
My eight-month-old daughter loves playing on my iPhone and iPad. She enjoys watching Barney, listening to the Disney station on Pandora and taking a bite out of Corning Gorilla Glass. I've got an old iPad 2 that I don't mind her roughhousing with, but I still have to watch her like a hawk to ensure she doesn't hurt herself. The iGuy case is the perfect solution. It stands upright on two "feet" and it's got two arms that make it easy for children to grab the device and go. Best of all: you can drop it on its corners and its face from up to four feet with no issue.
Nikon 1 V3 Mirrorless Camera
I have never really been interested in photography. But, recently, two things changed: I got my job at techradar, which requires me to shoot a bunch of products in all different kinds of lighting and from a variety of distances. I also became a dad. Nothing will make you want to take photos more than the birth of your first child. With the Nikon 1 V3, I'll be able to take 18.4 megapixel shots, and shoot full HD video, with almost any Nikon lens. What I like most: this camera only weighs 11 ounces.
Tuan Huynh, car tech editor
Kuna Home Security Camera
Since self-patrolling security drones aren't available yet, the Kuna Home Security Camera will have to suffice. Kuna combines a security camera into a stylish outdoor light fixture that hides its hidden function from plain site. It's a DIY installation that anyone, including myself, cannot mess up with only two wires and a few screws.
FLIR One
I'm fascinated by heat dissipation of devices and car motors so the FLIR One would be an awesome tool and toy to have. Being able to capture thermal images at my leisure would be a fun novelty that I can use in car reviews. I prefer the iOS version for camera placement as my Nexus 6's micro USB port faces the wrong way that results in thermal selfies, unless that's the next big thing. #thermalselfie
Zeiss Touit 50mm F/2.8 Macro Lens (X-Mount)
One of the best parts of covering automotive is taking pictures of the vehicles and details. I'm a stickler for interior quality details and the Zeiss Touit 50mm macro is the next lens on my list so I can get sharp close-ups of interior grain details or close up mugs of other techradar editors.
Chuong Nguyen, staff writer, techradar pro
Plastc Credit Card
Given the low acceptance of Apple Pay and Android Pay at retailers, Plastc aims to bridge the gap. This rechargeable credit card pairs with your phone, allowing you to load all your plastic cards into Plastc. The Plastc card will store the digital data on all your credit cards, and it's compatible with magnetic strip, NFC and EMV payment terminals.
Ring
Find out who's at your door even when you're away from your home. Ring replaces your doorbell and adds in a motion-activated camera, speaker and microphone that pairs with your smartphone. Now, you can monitor your front door, know when packages arrive and safely answer the door. The best part about Ring is that you no longer have to run to your front door every time the doorbell goes off just to see who's there.
Panasonic Lumix GX8
The Lumix GX8 provides all manual controls of a larger DSLR system in a compact, rangefinder-styled package. Thanks to the four-thirds sensor and Micro Four Thirds mount, you'll still get sharp images and fast focusing in a travel-ready package form factor. A smaller body and lighter and smaller lenses compared with a DSLR system makes the Lumix GX8 easier to carry and a fun camera to shoot with.
Spencer Hart, lifestyle technology writer
Tag Heuer Connected
I tested a ton of smartwatches in 2015 and the Tag Heuer Connected certainly wasn't the best. The screen is poor, battery life so-so, and Android Wear jarringly low-rent. That's a bit of a let down considering it costs £1,100. But the Tag was one of the most desirable. I was excited and proud to have it on my wrist, so for that reason, I'd love to see it under my tree come the 25th.
Bang & Olufsen Beolab 18 Speakers Love Affair Edition
All the speakers in my house look so goddamn boring and/or ugly. Clearly, I need to upgrade to these beauties, designed to fit right in with my period country mansion (the one I'll buy with my lottery winnings one day). Created to celebrate Bang & Olufsen's 90th anniversary, these £5,200 speakers should also sound as good as they look.
Leica Q
To complete my Russian Oligarch-style wish list, I'd go with the Leica Q. I've always wanted to own a camera with the famous red dot, but the cost of lenses and no automatic option has always put me off. The stylish little Q is the German brand's most advanced camera yet, with a full frame sensor, 28mm Summilux, and lovely handling. For a snip under £3,000, it's a relative bargain, right? Right?
Matt Swider, mobile editor