Michelle Fitzsimmons US Managing Editor
Chromecast
Few things would delight me more than finding this little black brick in my stocking. There's just something fun about Chromecast; it's delightfully simple and can fit in your pocket, yet it offers a smorgasbord of entertainment choices. I know people who own three of them – here's hoping Santa saved one for me.
iPhone 6 Plus
A couple recently asked me to snap a picture of them at an indoor sporting event. They handed me a large-screened phone, one I assumed belonged to the Android family.
The picture came out brilliantly despite the horrible lighting, and when I commented on the quality, the couple replied, "iPhone 6 Plus." I was smitten.
Bose QuietComfort 25
I spend 80% of my day hunched over a keyboard, pounding out articles or compiling budget reports. What gets me through dull tasks (or pumps me up during breaking news) is tunes pulsing through my headphones. Alas, I've yet to find the perfect pair, but the Bose QuietComfort 25 may be just what I've been looking for.
NHL 15
A big gamer I am not, yet I can't stop thinking about NHL 15. I know, it's no Halo, but as someone who daydreams of deking out Datsyuk, the chance to play as my favorite players is irresistible. The spays of ice, painted goalies' masks and crowd noise add elements of realism that bring the game to life.
Matt Swider US Phones and Tablets Editor
iPad Air 2
I opted for the iPhone 6 and now have "phablet envy" since many people I know opted for the larger iPhone 6 Plus. What's the best way to correct that? Spring for the even bigger iPad Air 2, of course. The 9.7-inch laminated display running iOS 8 is exactly what I need to stay productive. At least that's what I'm telling myself and Santa.
Basis Peak
I found last year's Basis Carbon Steel Edition to be the smartest fitness tracker around, and the newly announced Basis Peak looks to be even smarter. It combines motivational workout goals with smartwatch functionality so that I have less reason to take it off and veg out. Just in time for my New Year's Resolutions.
LiveScribe Echo smartpen
My phone, tablet and watch are smart, so why not my pen? LiveScribe Echo spits out normal ink on microdotted paper while simultaneously recording the sound around you. Going back and tapping what you wrote down in your notes shifts the audio back to that moment in time. It's an interactive timeline that's great for journalists and CES 2015. The Echo model, unlike the newer LiveScribe 3, is less complicated and better for my needs.
Mario Kart 8
What's more dangerous than driving around in the snow this time of year? Driving with Mario and friends. That's exactly why Mario Kart 8 for Wii U is on my wish list. Classic weapons like turtle shells and bananas make anti-gravity racing even more of a hoot. Plus, I can't pass up playing as The Legend of Zelda's Link, who was released as downloadable content this month.
Juan Martinez's wishlist
LG Ultra HD 4k OLED TV
The 65-inch LG Ultra HD 4K OLED TV probably won't fit into your stocking, under your tree, or within your budget, but it will definitely fit your needs. For $9,999 (US only for now), you'll get infinite contrast capabilities and hyper-realistic color and detail.
Canon 7D Mark II
I've maybe taken one good photo in my life. I believe the Canon 7D Mark II could help change all that. The camera's metering system features a 150,000-pixel RGB and an infrared sensor that will correctly color expose my crappy images.
Bose QuietComfort 25
There's nothing better than sitting near the fire, sipping eggnog and blasting my Jackson 5 Christmas album. With the Bose QuietComfort 25 I'll be able to hear - in an immersive, undisrupted way - Michael explain what it felt like when he saw Mama kissin' Santa Claus.
NBA 2015
The New York Knicks are the best team in the NBA. Carmelo Anthony is averaging 40 points. A 5-foot 9-inch tech journalist from Brooklyn is running the point like Magic. No, this isn't real life (or remotely realistic). But it would happen if someone were to put NBA 2k15 into my stocking.
Lily Prasuethsut US Associate Editor
Origin Chronos Z
What's a better machine to play GTA V on than the practically perfect, pre-built Origin Chronos Z? This gaming PC is one of the beefiest on the market, and it's all packed into a space saving case. Sure, I could wrangle up the parts separately, but why bother when Origin has one for me all wrapped up and ready to go?
Logitech G910 Orion Spark
I've always been a fan of Logitech – the products never fail me. That's why I'd love to get the G910 Orion Spark keyboard. It's a beautiful piece of the PC puzzle I've been wanting for a long time. It's everything I've wanted in one keyboard – comfy raised keys, detailed customization of colors and functions without being too complicated and so much more.
BenQ XL2720Z
The combination of a 1 millisecond response time and low price tag makes me want the BenQ XL2720Z right this minute. The resolution doesn't sound like anything special but the 27-incher sounds good enough for me after I blow all my money on the actual PC itself.
GTA V for PC
Steam says "early 2015" so I'm hoping that means GTA V will release for the PC right after the holidays...or least a month later. Regardless, it's going to happen! It will definitely be worth to wait with improved graphics and the promise of a whole new game thanks to first person mode.
Nick Pino US Associate Editor
Samsung PNF8500 Plasma TV
Little known Nick Pino factoid: I'm a man of few regrets. The only two memories that will haunt me forever are not bringing a resume to my first job interview and, worse, not buying a plasma TV in their heyday a few years back. The Samsung PNF8500 is my last shot of righting that wrong.
Nintendo Wii U
Don't get me wrong, I love my PlayStation 4 and Xbox One. (I think I'm contractually obligated to after writing the massive year one review updates last month...) But nothing brings me that nostalgic sense of childhood joy like a Nintendo system, and the Wii U is the best one since the N64.
Microsoft Surface Pro 3 Tablet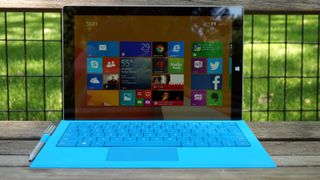 Until I find a way to wall-mount a TV to my ceiling without the potential of it falling and crushing me in my sleep, I'm in desperate need of a way to watch Netflix in bed. Basically I need a tablet, and the one that seems tailor-fit for me is the Surface Pro 3.
Dragon Age: Inquisition
I get why everyone freaked out over Dragon Age 2 - it was different. Combat was slower and Hawk felt a bit cookie-cutter. Whatever everyone else thought of it, though, I loved it. I have high expectations for Inquisition and, from what I hear, it delivers on each and every one of them.