A brilliant tablet that has further raised the bar for the rest of the competition. If you're in two minds what to go for - this is your choice.
Pros
+

Sleek

+

Superbly powerful

+

Lovely screen
Cons
-

Volume silencer gone

-

16GB is too little storage
Why you can trust TechRadar We spend hours testing every product or service we review, so you can be sure you're buying the best. Find out more about how we test.
It was hard to see how Apple could improve on the first iPad Air - arguably the finest tablet ever produced at the time.
And then it went and did so with the iPad Air 2. You can talk all you like about what counts as "too thin" but there's no denying that this tablet is a feat of engineering that for the time pushed the limits of what makes a premium slate. Plus, unlike the iPhone 6 Plus it doesn't bend either!
Not only that, but the relentless desire to make the thing thinner has resulted in a better screen too, as the layers that make up the backlight, touchscreen digitizer and LCD screen are so close that Apple now claims there is zero air in between them.
The result? A less reflective display that looks brighter and more colorful. And it really is.
Since its arrival though, Apple has launched a new fleet of slates, with the iPad Pro 11 and iPad Pro 12.9 (2018) taking up position at the top of the firm's tablet offering and the iPad 9.7 launching as budget option.
So, in the face of that competition - and the other slates that have launched since the Air 2 - is the iPad Air 2 still worth buying?
Update: Apple has announced that iPadOS 15, the newest version of its iPad-dedicated operating system, will work on the second-gen iPad Air, so you'll get features like seamless multitasking, an app library and home screen widgets that can be placed anywhere.
iPad Air 2 price
Starts at around $399 (£379, AU$569)
You can now get it for cheaper, but you can no longer buy from Apple
Check out the latest iPad deals and sales
The launch of Apple's new Pro slates and iPad 9.7 have resulted in the lowering of the iPad Air 2 price which now starts at around $399 (£379, AU$569) - originally $499 (£399, AU$699) - for the 32GB, Wi-Fi only model.
That's not as much of a drop as you might expect but then this is still a very capable tablet.
You can't buy the iPad Air 2 directly from Apple anymore, but you can find it at other retailers around the world and if you take your time to search around you'll likely find it even cheaper than the prices above.
That said, it's becoming increasingly hard to find it new - and that rarity may be contributing to the still quite high price - so if you want it you should snap it up fast.
Of course, with the much newer iPad 9.7 starting at $329 (£319, AU$469), the iPad Air 2 isn't quite as compelling at it once was.
That said, if you're happy to get a pre-owned or 'refurbished' Air 2, the price drops significantly - we've seen it for under $250/£250.
Design
A solid tablet that can be held easily for hours
The iPad Air 2's design does warrant the high price
At 6.1mm thick, the Apple iPad Air 2 is still one of the slimmest tablets on the market. It's not actually the thinnest, but we're at the point now where fractions of a millimetre really don't matter.
iPad Air 2 specs
Weight: 437g/444g
Dimensions: 240 x 169.5 x 6.1mm
OS: iOS 8.1 (upgradable to iOS 10.1)
Screen size: 9.7-inch
Resolution: 1536 x 2048
CPU: Apple A8X
RAM: 2GB
Storage: 32GB, 128GB
Battery: 8820mAh
Rear camera: 8MP
Front camera: 1.2MP
Thinness for its own sake can be an error - there is a point of diminishing returns where only marginal improvements can be achieved, at the cost of structural integrity, battery life and overall performance - but Apple hasn't reached that point yet.
The iPad Air 2 feels like a very solid tablet that can be held easily for hours without it getting uncomfortable. The iPad Air 2 is hardly a big tablet, but the Samsung Galaxy Tab S2 is both smaller and lighter with the same size display.
Where the Apple device wins though is the overall packaging. Samsung's option is good, but clearly an assemblage of distinct parts. The plastic back, the larger-bezelled screen and the rim are all competing parts, where the iPad Air 2 is a complete package, smooth and easy to hold in one hand.
I was almost loath to put it in a case - it needs to be protected if you're going to be running it around town, as that back and chamfered edges will scuff up eventually - but if you're going to be a sofa-warrior with your new tablet, the Smart Cover will do just fine and won't obscure the impressive design.
The sad thing here is the loss of the silencing switch, which has departed due to size restrictions.
Apple would argue that this is because the new Control Center makes the option available throughout the OS with just a flick of the hand, but in truth I'm really going to miss being able to silence the tablet without even looking.
The power button remains at the top and the volume keys have shuffled a little upwards now free of the silence key, but otherwise the only real design changes are the speaker grill at the bottom of the tablet (now a single row of holes, rather than the two before) and the Touch ID on the home key.
You'd be hard pressed to tell the difference between the iPad Air 2 and the iPad Air without a spotter's guide, but the iPad Air 2 has a deeper black bezel which helps enhance the picture - plus it now comes in gold to join space gray and silver.
The camera stays where it has been, both front and back, with the new 8MP iSight snapper not jutting out as it does on the iPhone 6 and 6 Plus. The fact no tablet camera needs to be that high res, nor should people be taking pics with a tablet anyway, is something to discuss in another article.
Does the iPad Air 2's design warrant the high price tag? Yes, more than any other tablet on the market. It brings a premium build, quality finish, great looks and while it doesn't need to be this thin, the structure doesn't seem to have had an effect on the actual performance of the tablet, and does add something in the palm.
Before the launch of the Apple iPad Air 2, I'd have been hard pressed to predict Apple's improvements.
I wondered if Apple might have shaved some weight off, added some bits to the camera, shoved an upgraded processor in there (or at least matched that of the iPhone 6) - but that seemed like a very middling upgrade.
But somehow, the combination of the above, plus the improved screen and Touch ID, has created a very complete package. Not one that I'd ever recommend to those that have the iPad Air, but definitely a brilliant jump for anyone coming from the iPad 3 or earlier.
Pencil lasers
Thinner, lighter and even more premium
Apple showed off its improvements to an already-impressive tablet by lasering through the pencil it used to demonstrate the thickness of the iPad Air. While the width is obviously a design element, it's worth reiterating here as it's a really key feature of this tablet.
The 437g weight is more important than the thickness, in fairness. The width of the thing is largely unnoticeable in the hand, especially when we're talking millimetres, and is more of a marketing tool.
But the lower weight, combined with the smooth, ceramic-style back, makes the new Apple iPad Air 2 feel like a really premium product.
On top of that, it's closer than ever to perfect when it comes to being a laptop replacement when teamed with a Bluetooth keyboard. The reduced weight and thickness enhance the tablet's elegance and portability, and that pushes the iPad Air 2 further into consideration.
Touch ID and Apple Pay
On the iPhone, Touch ID is a brilliant addition. It's a way to add a passcode without really noticing it's happened, and (when widely implemented) will allow you to pay for things on the go without your credit card around.
This makes a lot of sense to me, and is a really great addition to the mobile ecosystem.
I'm not as bothered about it on the iPad Air 2, mostly because I don't feel the need to secure my tablet as much as my phone. I take it out of the house less, I pull it out of the bag less, and generally don't worry about security on it as much.
It's still a great feature - I was confused when Apple didn't include it on the original iPad Air - but given the fact that the iPad is an unwieldy substitute for a credit card, it's not vital here.
It's a nice-to-have feature, rather than a crucial one. Apple is making a big deal about the fact you can secure apps with it as well, but this is only useful if you want to secure certain apps (which, admittedly, some people will want to do - it's more convenient to only have the key things locked down).
It would be nice to have the Mail app use Touch ID, and then I could get rid of it on the lock screen. I'm already considering turning it off, as it's more cumbersome to press given the dimensions here, and the fact the tablet mostly stays at home.
Apple Pay has now launched in both the US and UK. You can use it on the iPad Air 2 but only on purchases within the App Store itself: don't go lugging it out of the house and try to buy your shopping with it.
A8X chip
Excellent all-round performance
Better efficiency = better battery life
The A8X chip is screamingly fast, according to Apple, and nothing I've been able to do on the new iPad has suggested otherwise.
It's hard to know how to really push a tablet with this kind of power, as the likes of Real Racing or Sky Gamblers have always looked rather good on the larger screen.
And even though this is second (and a bit) generation 64-bit architecture from Apple, which does have some efficiency upgrades, we're still light years away from that being a useful addition, when really all it does right now is make apps a bit bigger and take up more room internally.
The big change here appears to be to the battery life - it's no coincidence that the graphical capabilities of the Air 2 are 2.5x that of the Air, and that means stuff can be run more efficiently.
There's also the ability to use the touchscreen more effectively - the response time of the touch is much increased here, and browsing with the iPad Air 2 is a pleasurable experience.
That's not directly linked to the chipset at the heart, but it does help.
All new screen
Our favorite feature: brighter and more vibrant
Better outdoor performance with reduced reflectivity
The new screen technology on the iPad Air 2 is one of my favorite changes here. The improvement in thinness is negligible, the camera superfluous, but the screen of a tablet is something that always needs refining. I love it when brands show ambition, whether they do it by increasing the resolution, the contrast ratio or the brightness.
The iPad Air screen was pretty neat in itself, with resolution of 1,536 x 2,048. The Air 2 has kept that sharpness, but because the internal layers of the screen are laminated together, there is less air between the components (in fact, Apple says there's no air whatsoever) which leads to deeper blacks and more vibrant colors. Pictures really come alive when viewed on the iPad Air 2, markedly so compared to its predecessor.
The other benefit of that compressed screen is that it reduces reflectivity - combine that with the anti-reflection coating, and watching films with a light behind you isn't impossible.
Credit: Republished with permission from DisplayMate Technologies
Laboratory testing at DisplayMate Technologies compared the iPad Air 2 with its predecessor, as well as the iPad Mini 3 to explore the difference. As you can see from the graph above, the average screen reflection on the iPad Air 2 is down to 2.5 per cent compared to the 6.5 per cent recorded by the iPad Air.
Similarly, the iPad Air 2 more than doubled the score of its predecessor when it comes to contrast rating for high ambient light.
Credit: Republished with permission from DisplayMate Technologies
Apple would like you to believe that you can watch anything without difficulty, but that's not the case. However, the reflections are much diminished, and it's a satisfying step forward on the screen front.
New camera
Nice pictures, but nothing special
Now does slow motion video capture
I'll return to this in more depth later in the review, but it is one of the key features. Apple has bundled an 8MP iSight camera on the rear of the new iPad Air, and thanks to the A8X chip, the tablet can now also take slow motion video, like the iPhone 6 and 6 Plus.
The new resolution does produce nicer pictures, and the ability to time lapse or see bigger panoramas is a plus, but I'm still not bothered by the additional technology stuck on the back of the tablet.
However, if you're one of those people that finds it acceptable to use a tablet as a camera in public, this is the best and most feature-rich option from Apple. Doesn't mean you should use it, though.
The interface on the iPad Air 2 is something that will be familiar to anyone who's used an Apple product in the past. It was the first device (along with the iPad mini 3) to run iOS 8.1 right out of the box.
Since launch Apple has applied some significant updates to its platform with iOS 9 first, and now the iPad Air 2 sports the latest version of Apple's operating system - iOS 12.
This could change in mid-2019 when Apple releases iPadOS, its new operating system for tablets that's set to overhaul the way you use your iPad. It brings new features like gestures and improved markup, so look out for that if you're a huge iPad fan.
Between iOS 8 and now plenty has been added and changed. iOS 8 and 9 are covered below in our original review, but key updates that have since arrived include Apple's Files app, new emoji, drag and drop, a redesigned App Store, a revamped Control Center, grouped notifications, Siri Shortcuts and screen time reports, among many other things.
This all helps ensure that the iPad Air 2 still feels current and useful, despite now being quite old by tablet standards. Below you'll find our more detailed impressions of the interface based on previous software - though much of this will still apply.
One iOS 9 feature exclusive to iPad owners is proper multitasking, enabled through three new modes. The first of these is Slide Out, which dedicates around a third of the screen to a second app. Then there's Picture-in-picture, which puts a window at the corner of the screen ideal for watching videos in while continuing to interact with other apps.
Perhaps most useful of all though is Split View, which at launch was only available for the iPad Air 2 and lets you run two apps side by side, with each getting half the screen.
The larger 9.7-inch screen of the iPad Air 2 is great for navigating around the grid of icons, but not so much if you're looking to use this device one-handed.
Although if you are, you've probably not understood basic ergonomics. And possibly physics, as this is a two handed device and as such the lower weight makes it easy to tap and swipe around.
I won't run through the impressive tweaks that run through iOS 8, as they're ably covered in my colleague Matt Swider's iOS 8 review, but suffice to say that everything is much slicker on the iPad. Got an iMessage? The notification from the top of the screen lets you answer it without having to exit the app.
Want to switch the Air 2 on silent? (This one is important as the hardware switch allowing you to do just that has disappeared) Then it's a quick trip into the Control Center, found at the bottom of any screen on the tablet - although it can be something of a nightmare trying to pull it up when swiping skywards from the home button.
But anyway - you can look at the rest of that yourselves in the dedicated review - and iOS 8 works superbly on the iPad Air 2 and the update to iOS 9 improves things even further. What I want to talk about is the improved touchscreen responsiveness: it's brilliant.
Clearly a response to Google's constant refinement to its Android software (which began with Project Butter in Jelly Bean and really made a difference to touching the front glass of Android devices) the iPad Air 2 features a much more responsive touch panel which makes it much simpler to register swipes through.
It's one of those things that you don't really notice until it comes, as I never really thought the Air lagged previously. But the slick Samsung Galaxy Tab S showed that it could be so much better on a tablet, and Apple has stepped up here with the Air 2.
And talking of stepping up - it's done something magical to that A8X chipset at the heart of the tablet. It's nearly 40% faster than the competition, including the iPhone 6 and 6 Plus and all the other top smartphones. In the GeekBench 3 tests, the iPad Air 2 averaged 4,500, compared to around 2,800 for any big handset you can think of.
Apple promised big upgrades, but this is so huge that I have to wonder if there's some kind of optimization here - although the faster speed under the finger and smooth graphics (Zen Garden, for instance, runs much more smoothly on the Air 2 than the iPhone 6 Plus) show the improvements are evident in normal use too.
That said, Apple has since outdone itself several times over, most recently with the A12 Bionic in the iPhone XS, iPhone XS Max and iPhone XR, and the A12X Bionic in the iPad Pro 11.
Battery life
Up to 10 hours of web browsing or watching video
Very low idle power drain, but gaming takes its toll
Apple decided to go for design over battery life with the iPad Air 2, and while this is a bugbear of mine when it comes smartphones I don't mind it here, it's less of a hindrance in a tablet.
The battery life of 10 hours of web browsing or watching video has been ported over to the newer iPad Air from the original, but given that had a thicker chassis it's really impressive that the power has been preserved, which is largely down to that improved A8X chip chugging along at the heart of things.
The screen is still as hungry as ever before, as the battery test was pretty power-sucking compared to its rivals. The iPad mini 2 only took down 16% in the looped video test the previous year (a Full HD 90 minute video from 100% at full brightness), where the iPad Air 2 went down by 21%.
It's not a terrible result though - while you'll lose about 20% watching streamed video at full brightness over 80 minutes' use, the general power consumption when out and about is bordering on negligible.
It's also a better result than the new iPad 9.7, which dropped 23% in the same test.
I've left the tablet in a bag for a quite a few hours and come back to only find 2% gone, so Apple's really worked on making sure apps don't chew down power without you looking.
It's a slightly different scenario when it comes to gaming, as the longer sessions really take it out of the power pack, especially with the higher-power titles.
It's not terrible, but I wouldn't feel comfortable taking the iPad Air 2 on a long haul flight if I was thinking of playing Real Racing 3 for three hours. Mostly because I would have played too much of one game, but also because my battery would be in danger of running out.
Apple doesn't release battery size figures, but reportedly this one is 7,340mAh, which is about what we'd expect, and for most people the battery on the tablet, even if browsing the web or using the tablet as a laptop replacement, is pretty good indeed.
I don't think battery life is that much of a worry for most tablet users given than you'll have to be pretty forgetful to not plug it into power once in a while before it runs completely dry.
I wish I could somehow type the long sigh I emit whenever I begin to talk about the camera on any tablet - and Apple's only gone and made the camera better here, which makes things worse for people like me trying to hold off the barbarians.
Like the selfie phenomenon, the idea of bringing a tablet as main camera to important events suddenly seems to be acceptable. I've seen people taking pictures of a bride walking down the aisle with an iPad mini, and missed a big goal at a football match because someone thought it the right time to try and take a picture of themselves on a tablet.
The problem is, companies like Apple are extolling the virtues of using the large screen as a more ample viewfinder.
No. Use a phone screen if you must, or even get a proper camera. But don't use a tablet. While you'll get acceptable shots with the iPad Air 2, and the resolution gives a clearer picture, it's still not a great experience - and you break a basic law of civilization in the process.
But if you must use the camera, at least Apple has imbued the iPad Air 2 with some of the higher-power tricks. Slow motion video is included this time around (although only to 120 frames per second (fps), not the super smooth 240 fps that comes with both the new iPhones).
There's time lapse mode, burst mode (front and back cameras) and a larger panorama mode making it easy to take wider pictures of over 40MP using the tablet screen.
I don't mind the idea of using this for time lapse, as the larger screen and longer battery are actually pretty handy for setting up a shot - but why you'd have a tablet at a beautiful landscape which might require a panorama is beyond me. Group shots, maybe.
The other win here is the built in editing suite in the Photos app - it's good on the iPhone, but with the larger screen it's great for touching up photos.
The new iCloud shared photo stream is also a really handy way of sharing photos between an iPhone and an iPad - simply have both devices logged into the same iCloud account, favorite something on one and it will instantly appear on the other.
The overall camera prowess of the iPad Air 2 isn't that bad, but it's nothing special. In side by side comparisons with the iPad Air, the photos have very little difference bar sharpness, and the low light capabilities are nothing to write home about, and certainly not in the iPhone 6's league.
Camera samples
Click here for the full res shot
Click here for the full res shot
Click here for the full res shot
Click here for the full res shot
Click here for the full res shot
Click here for the full res shot
The iPad Air 2 is a great device for consuming media on - but the storage options have changed since its launch back in 2014.
Originally you got to choose between 16GB, 64GB and 128GB models, but Apple has since ditched the first two and replaced them with a 32GB iPad Air 2. Of course, even more recently it has ditched the Air 2 entirely, so you'll be relying on third-party retailers to get it in any capacity.
We're pleased Apple has finally cut the 16GB option, as we found it regularly filled up, and when it came to updating iOS we had to delete a raft of apps to do so.
If you're not using the iPad Air 2 for movies or TV shows, then you're really missing out. It's a great device for a marathon movie session thanks to being light with a less reflective screen and improved color and contrast ratios.
It's actually even visible in daylight (just), though of course it's bettered for that and just about everything else by the likes of the iPad Pro 11.
The single speaker is impressively powerful too - I wouldn't have thought with the thickness shaved, the mono speaker would be any good, but it's rich, strong and really pumps out the bass on the new iPad.
It's really good for showing off movies or video clips to friends, although if it were front facing then it would be a much better experience.
And through the headphones, the experience follows Apple's established prowess in music, with rich and punchy sound coming through even lower end cans.
Gaming on the iPad Air 2 is something to behold. Its rich, immersive screen is perfect for either the point-and-prod gaming on the go (it's no surprise to see popular TV game show app companions as high sellers on the App Store) or a speedier car game.
Both of these are easy to play, the choice is fairly vast and while the selection isn't particularly strong (there surely have to be more game titles coming soon that take advantage of the sheer number of sensors, GPU performance and Metal, which allows a stronger and slicker game play performance on the iPad) it will only get better - plus there are plenty of kids' games to pass off to your children if you're brave enough with your new tablet.
Some summaries are easy to write. 2013's iPad Air, for example: a stunning tablet, with an obvious case for winning the first 5 star review I'd given to such a device.
It was a sign that the market had evolved to the point of delivering a truly useful tablet.
But I remember wondering how that could be topped, whether Apple would just give it a tiny push and call it all-new (like it did with the iPad mini 3, lest we forget).
The challenge is even greater here, as not only does Apple have to top its own lofty goal, but also beat off the much-improved competition from Samsung, Google/HTC and Sony. So how has the iPad Air 2 fared? Well, very well.
We liked
When I saw this getting unveiled onstage, I was nonplussed. Better screen? A bit thinner? I needed to be convinced. Then I held it, and I really was.
It's not just lighter, it's perceptibly lighter. I originally wrote here that I thought there was no way tablets can get any thinner, without some genius move in engineering. Of course, they did, but not by much - the iPad Pro 11 is 5.9mm thick to the iPad Air 2's 6.1mm.
Still, it feels like there should be a danger that this tablet is too fragile, although it hasn't seemed to be in testing.
I really like the improved screen, and there will probably be a few smug faces over in South Korea looking at the fact colors seem more vibrant on the new iPad Air 2, rather than focusing on natural hues.
The battery life is impressive, the power under the hood unprecedented and generally, everything on this tablet really just works.
And in comparison to the competition, it's not even that expensive since the more recent price drop.
We disliked
The 16GB option was too small, but Apple has now ditched that giving you 32GB and 128GB models which suit this slate much better and makes the entry level option far more approachable.
The dislikes are beyond nitpicking: the slow motion video is capped at 120fps (although that is irritating as 240fps on the iPhone 6, a less powerful device, is actually awesome) and you can't get text messages, only iMessages, on the tablet.
If that's all I can find wrong with the Air 2, that has to bode well.
Verdict
Apple has improved on perfection with the iPad Air 2, making something that anyone using a tablet from 2012 or earlier should be thinking very strongly about upgrading to.
The combination of power, better screen, improved design and upgraded OS make this a very, very compelling device - and that's before getting into the fact the app ecosystem is so much stronger than on Android.
It's even better now iOS is capable of scaling apps so seamlessly - the days of low-res iPhone apps are gone. It's another hammer blow to the Google tablet market, although I'm fully confident that's going to catch up in quality soon.
It's no good just saying that a tablet has good design, power or specifications. The ultimate success or failure of any device depends on how it's packaged and whether it comes in at the right price.
Apple has drawn on all its strengths to make a tablet that seems to have no flaws, and it remained the best tablet for a long time. In fact, even in 2018 it's still pretty good.
The good news for you tablet fans out there is that even if you're not a fan of the iPad Air 2, or want to make sure you're getting the best value for money, there are plenty of other decent options, such as the following:
iPad 9.7
Apple doesn't sell the iPad Air 2 - or even the iPad Pro 9.7 - anymore, but it does still sell a 9.7-inch slate, namely the iPad 9.7 launched in 2018.
This is a budget slate by Apple's standards, but still a little pricier than the aging Air 2. It goes a long way towards justifying its price tag though, with a faster chipset, a better screen and Apple Pencil support.
And while both slates run iOS 12, the iPad 9.7 is sure to be supported with updates for a lot longer than the iPad Air 2.
Samsung Galaxy Tab S2
As Samsung's thinnest tablet, the Galaxy Tab S2 is easy to tote around. Its 9.7-inch model's weight fits in between the iPad Air 2 and iPad mini 4. Its 8-inch tablet is even lighter.
Yet it upgrades to a metal frame, keeps the microSD card slot and uses a more comfortable, soft touch plastic back.
There's plenty of reason to invest in this reading and web surfing-friendly tablet. Its size and shape is better suited for everything but video, and for some, that's a big plus.
It has stronger multitasking functionality to rival iOS and it keeps Samsung ahead of other Android tablets, even if this update is as small as the form factor is thin.
Samsung has since launched the Galaxy Tab S3 and even the Samsung Galaxy Tab S4, but these aren't as cheap or as slim.
iPad Pro 9.7
The iPad Pro 9.7 looks, sounds and performs better than the iPad Air 2 in every way, though you have to look a little closer to realize any of these changes on the outside. It'll also cost you quite a lot more.
Its color-rich display impresses with white-balance adapting screen technology and its four speakers drown out the audio of other tablets I have used.
The faster specs keep this tablet running smoothly, while 4K video and the choice of a 256GB iPad make for an excellent combination.
The iPad Pro 9.7 is more than an a simple specs bump a year and a half after the iPad Air 2, but it's not quite the laptop replacement that Apple poses it to be.
Sony Xperia Z4 Tablet
If there's any non-Apple tablet that makes as strong a first impression as the iPad Air 2 it's the Sony Xperia Z4 Tablet. At 6.1mm thick it's just as thin and at 392g it's even lighter.
The polycarbonate build of the slate isn't quite as impressive as the iPad Air 2's aluminium unibody, but the Xperia Z4 Tablet is perhaps more durable with water and dust resistance added into the mix.
There's a whole lot of power here too and a gorgeous 10.1-inch 2560 x 1600 display, which beats the iPad Air 2 for pixel density. Yet despite all this tech it's still got a heft battery life.
It launched with a premium price tag and Sony's UI isn't the best we've come across, but the Sony Xperia Z4 Tablet is still easily one of the best iPad Air 2 alternatives around.
iPad Air
Of course there's always the option from the previous year to check out. What you get for your smaller spend is a less vibrant screen, a heavier device and a slower chipset at the heart, without the benefit of Touch ID.
It's quite a lot to lose as Apple has touched up and tinkered with nearly every element to make the Air 2 a real step forward, but for the cash you're still getting a brilliant tablet that's now playing at a more palatable budget level.
It's got all the same iOS 12 upgrades too, so while you don't get slow motion video, a lot of other treats will appear. A slightly older but my no means unworthy tablet.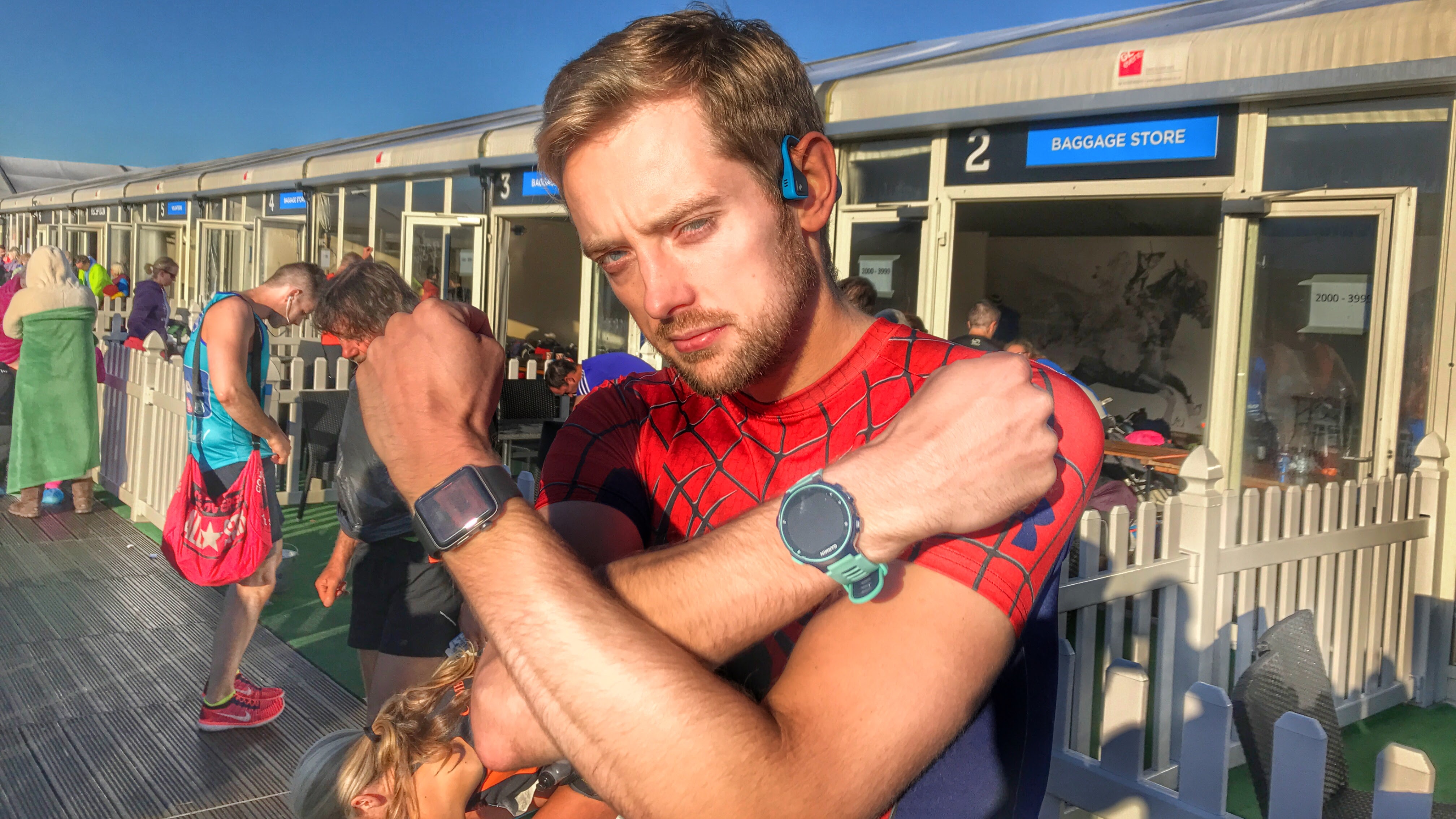 Formerly Global Editor in Chief
Gareth has been part of the consumer technology world in a career spanning three decades. He started life as a staff writer on the fledgling TechRadar, and has grown with the site (primarily as phones, tablets and wearables editor) until becoming Global Editor in Chief in 2018. Gareth has written over 4,000 articles for TechRadar, has contributed expert insight to a number of other publications, chaired panels on zeitgeist technologies, presented at the Gadget Show Live as well as representing the brand on TV and radio for multiple channels including Sky, BBC, ITV and Al-Jazeera. Passionate about fitness, he can bore anyone rigid about stress management, sleep tracking, heart rate variance as well as bemoaning something about the latest iPhone, Galaxy or OLED TV.