Joe Osborne US Senior Editor
Wii U Extended Battery
Between new Mario Kart tracks and karts, Super Smash Bros. and Captain Toad's Treasure Tracker, I'll be playing my Wii U a lot this winter.
And since I live in a one bedroom apartment with my fiancee, I'll be staring at the GamePad and plugging it in every hour or so. If only the GamePad simply came packing a bigger battery.
iPhone 6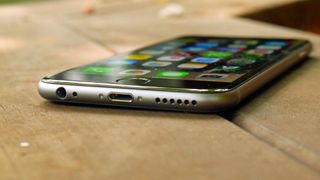 I can't count the amount of times that, between numbered iPhone releases, an Android phone has tugged me away from iOS hard. But there's something about iOS at 4.7 inches that's pulling me right on back. Oh, and the hundreds I've spent in the App Store over the past seven years – that too.
TCL Roku TV (48-inch)
While I don't play games on it much these days, my current RCA (yes, they're still around) unit is showing its age already. And since I don't have cable, this 48-inch, Roku-infused, 1080p LED panel with a 120Hz refresh rate for less than $500 has readily replaced the sugar plum fairies dancing in my head.
World of Warcraft: Warlords of Draenor
Yes, I'll be playing an expansion to a 10-year-old MMO game this winter and throughout 2015. After the weird tone and ill-fit setting of Mists of Pandaria, Blizzard has once again successfully dug its claws into me deep with this go around. I'm in this one for the long haul – I've simply come to accept it.
Cameron Faulkner US Assistant Editor
Nintendo Wii U Gamepad High Capacity Battery
The Wii U is currently my favorite console. I have many rosy things to say about it, but one flaw usually mars my experience: the Wii U gamepad's horrendous battery life. That's why for Christmas, I want the Wii U Gamepad High Capacity Battery.
Pressy
With touchscreen technology taking over, physical buttons are an endangered feature. With Pressy, I can now have a physical button that does anything I want it to. It plugs right into the headphone jack and can be programmed to take an instant camera shot, launch an app, and much more.
GeForce GTX 970 Graphics Card
In all honesty, I'll be waiting a year or two for the price of the GeForce GTX 970 Grapics Card to come down, but a guy can dream. Maybe when Half-Life 3 comes out I'll be able to rock it above 1080p resolution, with all the fancy graphical features at their highest.
Dragon Age Inquisition
Sequels tend to have the odds of success pitted against them. Coming off of Dragon Age 2, which many agree was a bruise on the series, I'm excited to try DA: I, especially hearing that it's BioWare's best in years.
Sophia Tong US Editor-in-Chief
Super Smash Bros. GameCube Adapter
I'm not even asking for the new Super Smash Bros. on Wii U for Christmas. I can pick that up anywhere.
What I'd really like is the GameCube controller adapter so I can use my old controllers to play the game. But as of right now, this $20 adapter is nowhere to be found.
Microsoft Band
I know that fitness bands aren't going to lose weight for you; you need to put in the effort. I lost 10lbs (and gained it all back) with my Fitbit Flex but I always wished it could tell me the time. Ahh, Microsoft, it was as though you were reading my mind!
Canon 6D
I'm been wanting a full frame SLR for a long time, and I think the time right for someone to get me a Canon 6D. It's cheaper than the Canon 5D Mark II, which I had been pining for and I don't really need the Mark III. And it's "only" $1,899. What a bargain!