Windows 11 è sul web, ma Microsoft non l'ha ancora annunciato
Il nuovo sistema operativo Windows 11 è ormai visibile ovunque in rete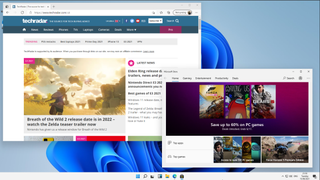 (Image credit: Microsoft)
Quando Microsoft rilasciò Windows 10 nel corso del 2015, affermò che sarebbe stata l'ultima versione completa di Windows, poichè il sistema operativo avrebbe ricevuto aggiornamenti due volte l'anno che lo avrebbero tenuto aggiornato indefinitamente, in maniera simile all'approccio adottato da Apple per macOS 10. In ogni caso quell'affermazione sembra davvero antiquata, ora che le notizie su Windows 11 sono trapelate ovunque in rete.
Al momento il sistema operativo non può essere scaricato, ma alcuni siti come Windows Central sono riusciti ad averne una copia e a provarlo.
L'interfaccia utente di Windows è stata rivista integralmente, e la nuova barra delle applicazioni sembra essere al momento la differenza più evidente. Windows 11 appare come una versione di macOS in salsa Windows, dove la maggior parte delle icone, incluso il pulsante di avvio, sono posizionate al centro della barra delle applicazioni. Ad ogni modo è possibile spostare tutti i pulsanti della barra delle applicazioni sul lato sinistro in modo da conferire a Windows 11 l'aspetto di Windows 10.
Molti degli elementi dell'interfaccia utente, come il controllo del volume e il display delle notifiche, sembrano più o meno gli stessi di Windows 10, ma è probabile che nuove versioni siano attualmente ancora in fase di sviluppo. In ogni caso, abbiamo l'impressione che animazioni e movimento degli oggetti siano molto più fluidi che in passato.
Image 1 of 4
Questo è solo l'inizio
Appena un'ora dopo che le informazioni su Windows 11 hanno iniziato a diffondersi sul web, l'account Twitter di Microsoft Windows ha annunciato un evento relativo a Windows il prossimo 24 giugno, che ci permetterà di avere un maggior numero di informazioni direttamente dall'azienda. Non siamo sicuri che c'entri con il leak sul web relativo a Windows 11, ma il tempismo perfetto con cui l'annuncio è stato pubblicato, ci fa pensare che sia davvero così.
This is just the Start. Tune in on June 24th at 11 am ET to see what's next. #MicrosoftEvent https://t.co/DM7SYVdc3jJune 15, 2021
Nonostante ciò, Windows 11 appare ancora molto "Windows 10", perché il menu delle impostazioni, il pannello delle notifiche e persino Microsoft Edge sembrano sostanzialmente identici, al di là dei piccoli dettagli a livello di interfaccia, per via dei bordi più arrotondati.
È praticamente impossibile che Microsoft decida di rilasciare Windows 11 con un aspetto quasi identico a quello di Windows 10, il salto generazionale sarebbe fin troppo scarno e senza cambiamenti radicali che ne giustifichino un'eventuale adozione. Crediamo pertanto che sarà necessario ancora tempo perchè il sistema operativo completo venga presentato ufficialmente e commercializzato.
Avremo molti più dettagli in questo senso dopo l'evento di Microsoft che si terrà la prossima settimana.
Get daily insight, inspiration and deals in your inbox
Get the hottest deals available in your inbox plus news, reviews, opinion, analysis and more from the TechRadar team.
Bill Thomas (Twitter) is TechRadar's computing editor. They are fat, queer and extremely online. Computers are the devil, but they just happen to be a satanist. If you need to know anything about computing components, PC gaming or the best laptop on the market, don't be afraid to drop them a line on Twitter or through email.