The 7 best alternatives to traditional cable TV
CBS and Time Warner tussle, but you can still catch your programs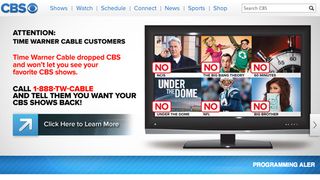 It's really hard to laugh at How I Met Your Mother on CBS or cringe at the final season of Dexter on Showtime if you're a Time Warner Cable customer right now.
Yet another network and cable TV provider spat - this time between CBS-owned channels and Time Warner - is forcing subscribers to search for cable TV alternatives amidst a blackout.
The situation has affected more than three million irate customers in eight major markets including Los Angeles, New York, Dallas, Boston and Chicago.
They're wondering how to watch the PGA Championship this weekend and, if it lasts that long, the U.S. Open Tennis and NFL football later this month - all live television not geared toward on-demand viewing.
Worse, CBS has blocked Time Warner internet customers from accessing its catalog of shows online through its official website as well as through its iPad and iPhone apps. 2 Broke Girls just got a little more broken.
As you pretend to be upset about the loss of 60 Minutes but are really fretting over missing the educational-in-name-only Big Bang Theory, let us help you circumvent this blackout and any ones in the future. Piracy is one way to go, but why not consider these options too?
1. Slingbox 500 / 350
Price: $299 / $178 at Amazon.com
Slingbox is far and away the best method for overcoming blackouts and avoiding pricey cable fees. It just takes a little bit of work and the good grace of a friend or family member to set up.
This video streaming device is designed for travelers who want to watch and control their home DVR from remote locations. Are you on an "extended vacation" from your family's hometown (a.k.a. moved away)? That works too.
The first step requires buying a Slingbox 350 or Slingbox 500. The latter simply adds built-in Wi-Fi next to an Ethernet connection and an HDMI port in addition to component inputs. We'd still recommend hardwiring either Slingbox with an Ethernet cable for the best video quality.
The second step is a little trickier. It requires someone you know and trust to house the unit and add an extra DVR to their cable bill. Explain to mom and dad or a close friend that it's like the mobile family sharing plan, but for cable TV.
Slingbox transmits the cable feed to the password-locked, one-viewer-at-a-time Slingplayer website or an app for iOS, Android, Windows Phone and Kindle Fire devices.
For big screen TV reception, connected devices also work, including the Boxee Box, WD TV Media Players, Sony Internet Player with Google TV and Netgear NeoTV.
2. Proxy, please
Price: Free at PublicProxyServers.com
CBS.com is blocking Time Warner internet subscribers from viewing video content with very few exceptions, like the CBS Evening News. If you want more than your nightly dose of Scott Pelley, however, you can use a proxy.
Proxy sites like the decade-old Public Proxy Servers throw a middleman server in between your ISP and the web server. The web server in this case is CBS.com.
In the past, this have been ideal for unblocking filtered websites at work, school or in totalitarian countries where Twitter and Facebook are banned. It's also people overseas access region-restricted Hulu video outside of the country.
In today's case, it's clutch for bypassing the fact that you're a pawn in a cable TV chess match. Checkmate.
3. There's an app for that
Price: Free on official websites and app stores, like Showtime Anytime
Content providers have finally gotten with the literal program by launching apps in which viewers can watch their favorite shows on demand and away from the traditional TV set.
HBO Go was first made available on the web three and a half years ago, and then it expanded to iPad, iPhone, Android and Kindle Fire devices fulfilling its tagline, "It's HBO. Anywhere."
Sign up for Black Friday email alerts!
Get the hottest deals available in your inbox plus news, reviews, opinion, analysis and more from the TechRadar team.