Un fabricante chino de procesadores se quiere comer a Nvidia y AMD
Zhaoxin va a desarrollar GPUs para competir contra Nvidia y AMD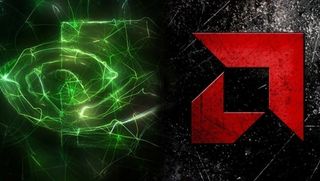 (Image credit: eurogamer)
El número de desarrolladores de GPUs se redujo a dos durante finales de la década de los 2000 gracias a la competición feroz entre los más grandes: ATI Technologies — ahora parte de AMD — y Nvidia. Pero parece que los años del duopolio están llegando a su fin.
Intel anunció que volvería a fabrica chips independientes para tarjetas gráficas en 2017. Y Apple — que hace unas semanas anunció su migración de la arquitectura x86 a sus chips ARM propietarios Apple Silicon — también está desarrollando su propia unidad gráfica independiente que compita contra las más avanzadas de AMD y Nvidia en sus iMacs, MacBooks y Mac Pros.
Y hoy — según un artículo de CNTechPost — tenemos un nuevo jugador en el tablero de las GPUs: Zhaoxin, un fabricante chino de procesadores x86.
Una GPU totalmente nueva
Zhaoxin — una empresa propiedad de la compañía de Shanghai SASAC y la veterana Via Technologies de Taiwan — ha estado diseñando y fabricando procesadores x86 competencia de AMD e Intel en el mercado chino.
Su CPU más avanzada es la KaiXian KX-6000 CPUs, con ocho núcleos de diseño propio llamados LuJiaZui y un controlador de memoria de doble canal a memoria DDR4 que lo ponen a la par con una CPU de séptima generación Intel Core i5 – un procesador de cuatro núcleos sin Hyper-Threading. O eso es lo que afirma Zhaoxin, porque es difícil de verificar.
Ahora, en un nuevo anuncio, Zhaoxin ha revelado que tiene un nuevo procesador gráfico independiente en sus planes.
Según la compañía china, saldrá a finales de 2020 o principios de 2021. Lo más seguro que es que la GPU tenga soporte para Microsoft DirectX 11.1 o DirectX 12, pero la compañía no ha dado detalles técnicos excepto que llegaría a consumir 70W, que es demasiado para laptops pero iría bien para pequeños PCs.
Al contrario que las línea de CPUs KaiXian KX-6000, que están fabricadas por TSMC con un proceso de 16 nm FinFET, la GPU utilizará un proceso de fabricación planar de 28 nm. Este proceso es menos avanzado que la fabricación de AMD y Nvidia, y parece algo extraño que se hayan decidido a usarlo a no ser que tengan en mente utilizar SMIC, el fabricante rival de TSMC, para recortar costes u otras razones estratégicas.
Teniendo en cuenta este dato, la GPU de Zhaoxin no va a competir contra AMD y Nvidia en el mercado de alta gama para gaming. Pero sí podría competir en otros, como la computación intensiva.
Si Zhaoxin termina atacando el mercado medio del gaming, uno de los escollos que se va a encontrar son las patentes de NVidia y AMD en todo a lo que GPUs se refiere. Ambas compañías tienen una gran cartera de patentes que han estado licenciando a otros fabricantes y desarrolladores.
Sabemos que Via Technologies — en parte propietaria de Zhaoxin — tenía patentes de tarjetas gráficas producto de su compra de la legendaria en los años 2000 y ahora difunta S3 Graphics, pero según parece le vendió la mayoría a HTC. Sin embargo, la propiedad de HTC es del mismo dueño de Via Technologies, así que algún apaño harán. Zhaoxin no nos ha ofrecido ninguna declaración o detalles sobre sus planes para este artículo, así que no sabemos realmente cómo lo van a hacer.
Are you a pro? Subscribe to our newsletter
Sign up to the TechRadar Pro newsletter to get all the top news, opinion, features and guidance your business needs to succeed!
Anton Shilov is the News Editor at AnandTech, Inc. For more than four years, he has been writing for magazines and websites such as AnandTech, TechRadar, Tom's Guide, Kit Guru, EE Times, Tech & Learning, EE Times Asia, Design & Reuse.