The Asus Chromebook CX1100 is a hundred quid cheaper than usual for Prime Day 2022, and it was already a great-value little unit; the kind of portable PC that's perfect for kids who need a school laptop that can power through homework and last all day long without a charge. At £129.99, it's the cheapest it's ever been right now.
Of course, there's a literal tonne of Prime Day deals available right now, so feel free to check out our deals pages if you're not 100% convinced this is the laptop for you; we've compiled all of our favourite Chromebook deals and laptop deals so you can buy with confidence in our expert evaluations.
(Not in the United Kingdom? Scroll down for the best deals in your region).
Today's best Prime Day Asus Chromebook CX1100 deals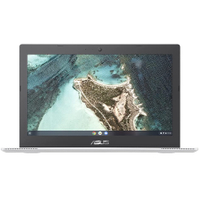 Asus Chromebook CX1100: £230 £130 at Amazon
Save £100 - One of the best budget Chromebook just got budget...er. The Asus CX1100 will work great as a sensibly-priced back-to-school laptop, with an Intel Celeron processor and 4GB of RAM powering a bright 11-inch screen and pleasingly tactile keyboard - the latter of which is spill-resistant, too!
43% off any laptop is a solid discount, but parents with kids who need a school laptop for the coming term - or perhaps ChromeOS first-timers who want a nice, cheap, entry-level Chromebook - the Asus Chromebook CX1100 is an excellent pick. It's not a powerful gaming machine and it won't run complex video-editing software, but for web browsing, word processing, and emailing? It's an easy recommendation.
Of course, since this is an 11-inch laptop, it's very compact and lightweight, meaning that even younger kids shouldn't have any difficulty carrying it around. The silver exterior, chunky screen bezels, and firm, satisfying keyboard are all durable enough to survive the rigours of the British school day, too.
More Asus Chromebook CX1100 deals
No matter where you live, you'll find all the lowest prices for the Chromebook CX1100 from around the web right here, with offers available in your region.
More Prime Day deals in the UK