Nikon D4 to come bundled with XQD card and reader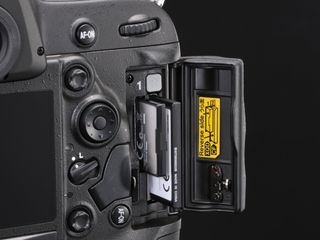 Nikon has confirmed that the initial shipments of its Nikon D4, the company's new flagship DSLR will come bundled with an XQD card and reader included in the price.
The Nikon D4 is the first, and so far only, camera in the world to use the new format of memory card, which was announced in the latter part of 2011.
Similar in size to an SD card, XQD is capable of faster read and write speeds than both SD and traditional Compact Flash cards.
So far, the only manufacturer producing the cards (and reader) is Sony.
Limited time only
A Nikon UK representative told us that the card and reader would be available as part of the D4 price until May 28th.
The D4 retails for around £4800 (body only), while a 16GB Sony XQD card costs around £145, with the reader coming in at £49, so the free bundle represents a significant saving.
Other manufacturers have yet to come on board with the XQD format, with Nikon itself reserving it solely for the flagship camera, and choosing to include CF and SD card slots on the Nikon D800.
Several memory card manufacturers have also been reluctant to enter the market while it still has a low adoption rate.
Sign up to receive daily breaking news, reviews, opinion, analysis, deals and more from the world of tech.
Amy has been writing about cameras, photography and associated tech since 2009. Amy was once part of the photography testing team for Future Publishing working across TechRadar, Digital Camera, PhotoPlus, N Photo and Photography Week. For her photography, she has won awards and has been exhibited. She often partakes in unusual projects - including one intense year where she used a different camera every single day. Amy is currently the Features Editor at Amateur Photographer magazine, and in her increasingly little spare time works across a number of high-profile publications including Wired, Stuff, Digital Camera World, Expert Reviews, and just a little off-tangent, PetsRadar.