US launch details for Galaxy S4 revealed
Galaxy S4 will be out for AT&T, Verizon, Sprint, T-Mobile, etc.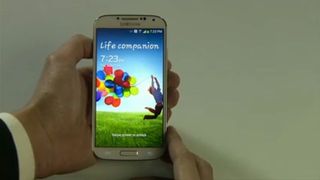 The Samsung Galaxy S4 is coming to all major U.S. carriers and even a few minor ones, with AT&T confirming that it will be the first to carry the smartphone in time for its end-of-April release date.
Verizon, Sprint, T-Mobile, U.S. Cellular, and even Cricket are partnering with Samsung to carry the Galaxy S4, although none of those carriers boldly declared that they would also be "first."
"AT&T was the first to deliver Samsung's Galaxy series and we are excited to bring the Galaxy S4 to the nation's fastest 4G LTE network," said the carrier's Senior Vice President of Devices Jeff Bradley in a press release.
"We continue to offer our customers a broad choice of devices and features to fit any mobile lifestyle, and look forward to growing our family of Samsung Galaxy devices."
Verizon, meanwhile, updated its Twitter account to make the big announcement, simply saying, "Samsung #Galaxy s4 with #4G LTE is coming to #Verizon Wireless."
Galaxy S4 also coming to Sprint, T-Mobile
Sprint will also support the Samsung Galaxy S4, confirming that it will carry the highly anticipated phone with its unlimited plans during Q2 2012.
"Sprint is excited to bring the benefit of Truly Unlimited 4G LTE data to the U.S. variant of Galaxy S 4 in the second quarter of this year," said Spring Senior Vice President of Product Development Fared Adib.
"Our customers will appreciate the ability to use Galaxy S4 to surf the Web, share pictures and videos, and use this smartphone as much as they want without worrying about throttling or overage charges on their monthly bill due to data caps."
Sprint noted that it was the top seller of the S4 predecessor, the Galaxy S3 in the fourth quarter of last year.
T-Mobile isn't being shut out like it is with the iPhone. It created a page for interested S4 buyers to sign up for an announcement about a "future release date."
Don't forget about US Cellular, Cricket
As if the four major carriers weren't enough, Samsung is also partnering with low-tiered telecom companies U.S. Cellular and Cricket.
Like Verizon, U.S. Cellular, the eight-largest carrier in the country, took to Twitter to announce its support of the Galaxy S4, but had no release date to share.
"The new @SamsungMobileUS Galaxy S 4 is coming to USCC! Stay tuned for details and presale info," tweeted the company today.
Meanwhile, neither Cricket nor its parent company Leap Wireless formally announced carrying the Galaxy S4. The seventh-place carrier didn't even update its Twitter account with the breaking news.
To get on-the-spot news, app tips and the full lowdown on Samsung's latest mobile announcements check out Samsung's
.
Instead, it decided to ask "What's on your #SpringBreak playlist?" today. Mind you, this is the same pre-paid wireless company that has almost $100 million worth of iPhones it cannot sell fast enough.
However, Samsung indicated in its official press release that the no-contract carrier is indeed on the Samsung Galaxy S4 roster.
So far, AT&T is the sole U.S. carrier declaring that it will be the "first" out of the gate with the Galaxy S4, with Sprint confirming only Q2 2012.
Sign up to receive daily breaking news, reviews, opinion, analysis, deals and more from the world of tech.