Samsung Galaxy S6 and S6 Edge are on sale: here's where to find them
AT&T, Verizon among carriers to stock the new phones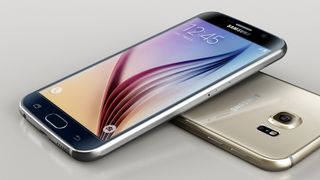 Update April 10: The Samsung Galaxy S6 and Galaxy S6 Edge are on sale across the globe starting today. US customers can pop into their carrier stores or, more easily, jump online to order Samsung's latest and greatest devices.
With reports of people lining up to buy the new handsets surfacing, the latter may be your best option.
We've tested each machine, and you can read our Galaxy S6 review or our Galaxy S6 Edge review to decide which phone is right for you.
All of the major post-paid networks and even a few pre-paid carriers simultaneously let TechRadar know they'd stock Galaxy S6 and, in some cases, the Edge version. Read on for all the details!
Post-paid carriers
No surprise, all five of the major US carriers picked up Samsung's newest flagship Android smartphone as well as its curved variant.
AT&T, Sprint, T-Mobile, Verizon and US Cellular are proudly claiming that "the next big thing is almost here" in reference to Samsung's new phones.
The Galaxy S6 starts at $199.99 at, with a contract, of course. T-Mobile is doing its own thing with pricing, offering the phone for a full retail price of $679.92 (which includes one-year of free Netflix access), or 24 monthly payments of $28.33.
Other carriers have their own choose-your-price-path options, so be sure to check with your carrier to see if you can get a better deal.
AT&T, Sprint, Verizon and US Cellular are each carrying the Galaxy S6 Edge starting at $299.99. Over at T-Mobile, the full-price phone will cost you $779.76 or $32.49 over 24 months.
Pre-paid carriers
Are long-term contracts not your thing? A few of notable American pre-paid carriers have also signed up to sell the Samsung Galaxy S6, though unfortunately we're still in the dark as to when some will carry the device.
Cricket Wireless, for one, emailed us to say that it's coming, but "pricing, availability and further details will be announced at a later date." The phone isn't even available to search on the carrier's website yet.
Equally mysterious is the S6's availability at MetoPCS, with the device also absent from its site.
Boost Mobile does have the Galaxy S6 up for sale, though you'll have to pay $649.99 up front.
Because there are no contracts involved and monthly fees generally start at $35, expect to pay in full for the phone at each pre-paid carrier. This could be why we're not seeing the more expensive Samsung Galaxy S6 Edge in this space at the moment.
Online and physical stores
New Galaxy shoppers can also head to Samsung's website to order their new phone or phones directly from the company. Samsung lets users check which phone they want then pick their carrier on its website.
Samsung is also making a big retail push at its usual vendors including Best Buy where it has its "Experience" micro-stores set up within the electronics company's stores nationwide.
Other US retailers carrying the Samsung Galaxy S6 and Galaxy S6 Edge include Amazon, Target, Costco, Samsung's Club and Walmart.
Sign up to receive daily breaking news, reviews, opinion, analysis, deals and more from the world of tech.